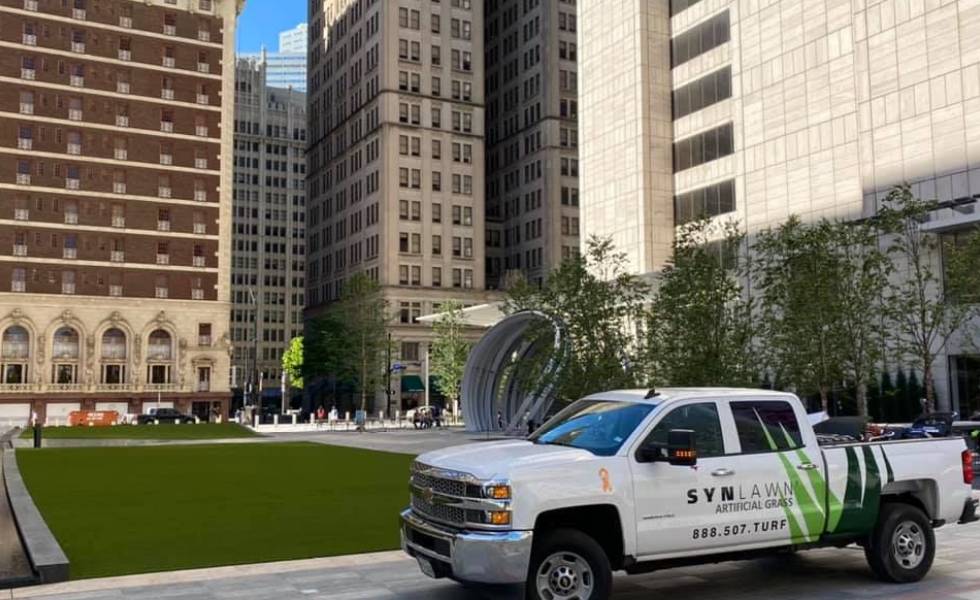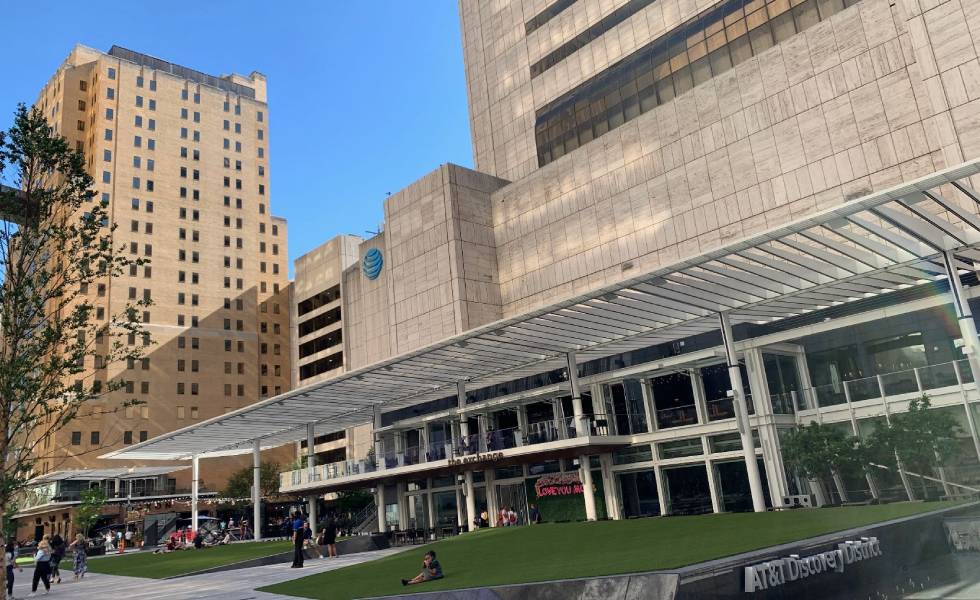 Total Square footage: 7200 SF
Product Used: SYNTipede 343
How Long it Took to Install: 2 weeks
Maintenance Info: Power broom, clean up monthly
AT&T Discovery District partnered with SYNLawn® to install 7200 square feet of SYNTipede 343. With the enormous amount of foot traffic this commercial landscape sees on a daily basis, SYNTipede 343 was the perfect solution for this landscape. For commercial landscapes in which durability and reliability are a must, SYNTipede 343 is an ideal choice. SYNTipede 343 boasts exclusive technologies including our proprietary Super Yarn™ and EnviroLoc™ backing system as well as exceptional safety standards and an unmatched limited lifetime warranty. In an area of this size and caliber, having ASTM 1292 and IPEMA certification for protection against common injuries and falls up to 10 feet is crucial for keeping visitors safe from harm. In addition, SYNTipede 343's ASTM E108 Class A fire rating helps to increase the time between fire outbreak and the arrival of first responders, giving everyone more time to evacuate safely and minimizing property damage.
Super Yarn™ and EnviroLoc™ technologies work in conjunction to ensure that our artificial grass lawns have the longest possible lifespan in comparison to other turf brands. Super Yarn ™ is a technology that contains three exclusive features. Sanitized® antimicrobial that eliminates 99% of bacteria and prevents odors, DualChill™ IR reflective technology to protect from fading under direct and indirect sunlight, and StatBlock™ anti-static that prevent static build-up in turf fibers. Furthermore, EnviroLoc™ prevents shedding of turf fibers by locking them down to our soy-based and multi-layered backing. EnviroLoc™ provides optimal draining which prevents mud and allows for use after heavy rainfall.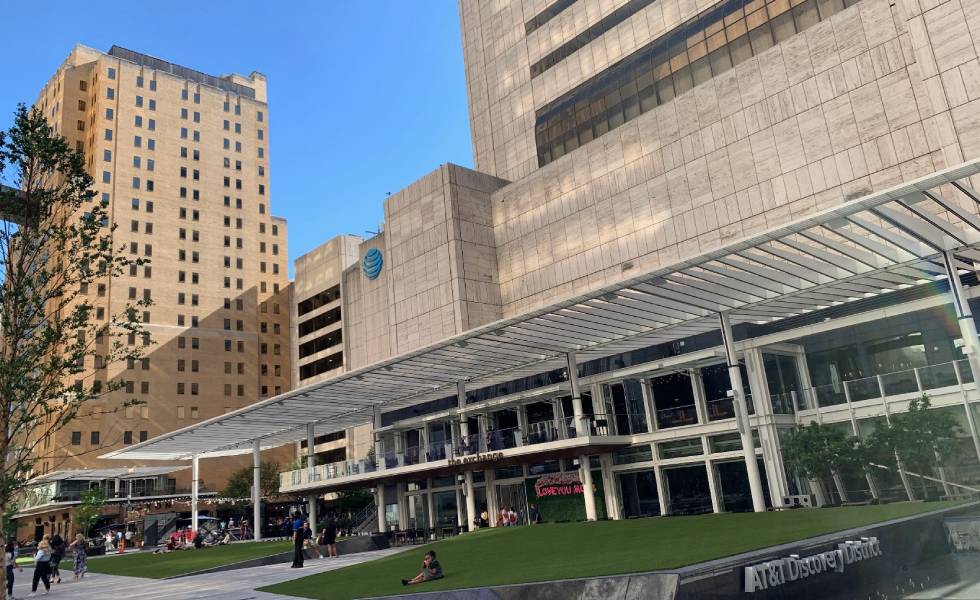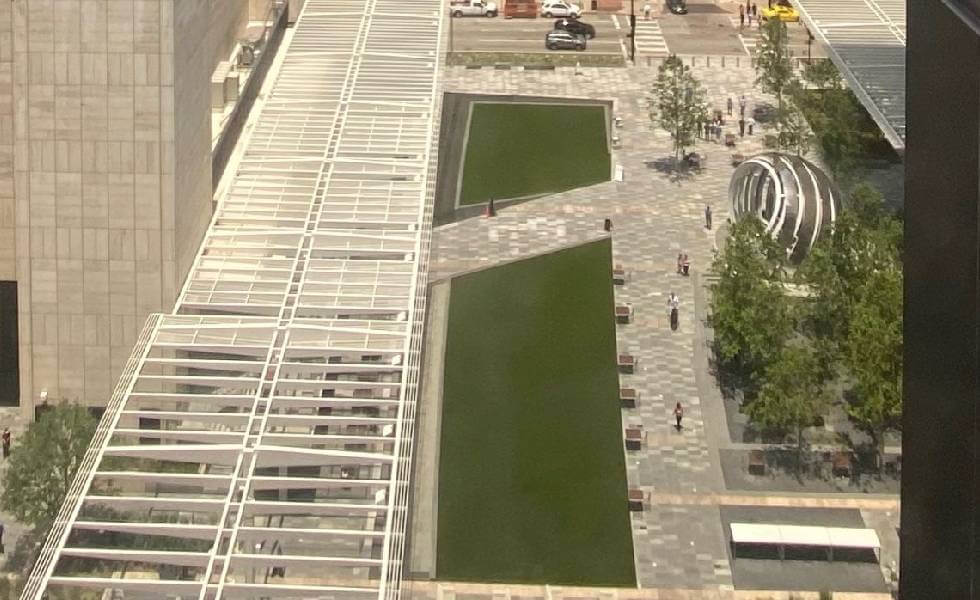 SYNLawn® Houston artificial grass is eco-friendly, ultra-realistic, incredibly resilient, and meets several safety standards. SYNLawn® synthetic lawns require virtually no maintenance making it a time and money saver for commercial property owners. The money you spend on water bills can be reinvested into your business. Like many of our synthetic grass products, SYNTipede 343 artificial turf is USDA certified meaning it recognized for being made of primarily bio-based materials. SYNLawn® is the only synthetic turf company to have turf certified by the USDA for using bio-based materials within our products.
We partner with local US soybean farmers to manufacture our artificial turf backing with soybean oil to significantly cut down on traditional petroleum-based polymers. Our turf fibers are made from sugar cane to manufacture the most kid and pet friendly artificial grass products in the industry. Additionally, for commercial properties that know appearance and impression are key to repeat customers, you can rest assured that our UV stabilized yarns will not fade and is backed by the industry's longest lifetime manufacturer's warranty.