Houston Artificial Grass for School Playgrounds and Landscapes
As parents, we do our research to find schools that not only deliver the highest level of education, but also offer the highest level of safety for our children. As a school district or private school, you shouldn't have to settle for a lesser quality turf alternative for your next school project when you can have the most realistic, eco-friendly, durable, safe, and technologically advanced artificial grass. SYNLawn is the top manufacturer of artificial turf and the perfect option for our children to enjoy in between studies. SYNLawn can assist you in transforming your next commercial school project into ultra-realistic, low-maintenance Houston artificial grass that looks wonderful all year.
Only Houston Artificial Turf Can Keep Our Children Safe
As parents, we understand the importance of our children exploring with friends, trying out new sports, and running around to burn off energy. However, one detail that's always on our mind, is their safety.
There are many synthetic grass manufacturers that swear their products are going to do the most to protect our children, but SYNLawn is truly the only company with the highest safety standards.
Our products are IPEMA and ADA compliant. This means that we can prevent common injuries and abrasions that can lead to infections as well as protect against falls up to 10 feet. SYNLawn artificial turf is also wheelchair compatible so that no one is restricted from enjoying our landscapes.
With SYNLawn you gain access to the only catalog of Class A fire-rated faux grass. Class A fire-rated products extend the critical time window for first responders to arrive at the site and put out the fire. To gain this coveted certification, our products must undergo and pass 8 unique tests. Finally, with the highest warranty against reflective light, your school landscape will not dry out and become a fire hazard, keeping not only your property safe but the lives of students and faculty.
Exclusive Turf Technologies Will Provide Your School with More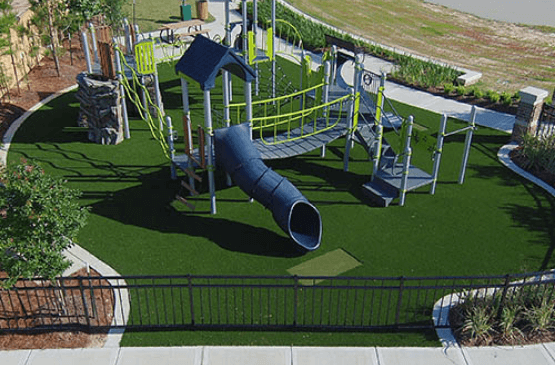 Super Yarn™ Technology
Super Yarn technology is the result of more than 50 years of research and development throughout the entire artificial grass industry. This molecularly bound formula combines three turf components that no other company can offer.
Sanitized® Antimicrobial - eliminates 99% of bacteria from turf surfaces as well as prevents the growth of bacteria and fungus and pet odors caused by ammonia
DualChill IR Reflective Technology - significantly lowers surface temperatures and protects surfaces from fading under direct sunlight
StatBlock Anti-Static - prevents the buildup of static electricity from the turf surface
EnviroLoc+™ Backing System
The EnviroLoc+ backing system from SYNLawn is created from recyclable resources including sugar cane and soybean oil. We work with US soybean farmers to secure locally sourced resources that give our products great resilience and longevity.
Due to the considerable foot traffic of school landscapes, it was vital to develop a Houston artificial turf solution that could withstand this. EnviroLoc+ is a woven backing that attaches turf fibers to avoid shedding. EnviroLoc+ substitutes more than 60% of petroleum-based components, resulting in significant reductions in carbon emissions and the ability to recycle our products.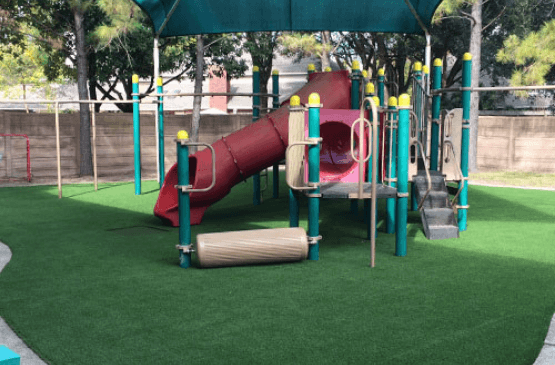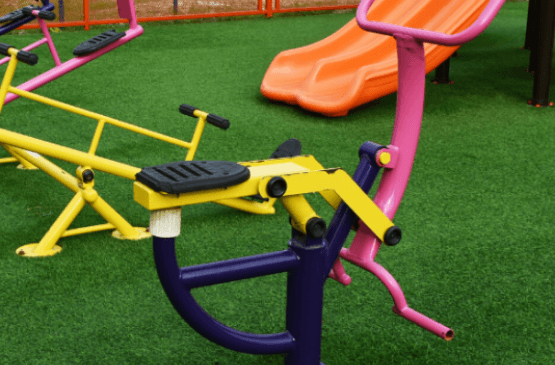 HeatBlock™ Technology
SYNLawn exclusive HeatBlock technology has been scientifically shown to mitigate rising temperatures by reflecting sunlight and thereby minimizing heat build-up and thermal emissivity.
Heat accumulates when thermal energy from the sun's rays contacts the surface of an item. Emissivity is the scientific term describing the degree to which a material emits heat. Artificial grass, like dark clothing that absorbs more heat than light clothing, can both retain and radiate heat, making it uncomfortable as summer approaches and temperatures rise.
As a result, HeatBlock technology employs infrared reflecting pigments to help distribute heat build-up, decreasing fiber emissivity by up to 20% when compared to similar synthetic grass products. Children and staff can enjoy our relaxing grass alternatives all year long without discomfort from the heat, even without shoes on.
For more information on SYNLawn products and how they will benefit your next school landscape or playground project, contact SYNLawn to schedule a lunch and learn or a free consultation today!
Please fill out all mandatory fields with an asterisk *
Your information will be held confidential with our company.