Houston Commercial Artificial Grass Lawns
SYNLawn Houston provides Commercial Artificial Grass Services to all parts of the Houston, Texas area.
Do you have a business in Houston, Texas, and are looking to beautify your outdoor space? Perhaps you are considering an artificial lawn and are wondering whether it is worth it? Artificial grass is very advantageous in many ways, and at SYNLawn Houston, we take pride in ensuring we give you the best; from consent to design to installation and completion, and beyond, you will love your new artificial lawn. By hiring us at SYNLawn Houston to install commercial artificial grass at your business, you are assured of low maintenance, long-lasting durability, and overall satisfaction.
Benefits of Commercial Grass in Commercial Setups
Installing artificial turf on your commercial premises comes with plenty of benefits. Here are some of them.
No Water Needed
Water charges can be absurdly high in Houston, Texas. If you leave your sprinklers on consistently to water your traditional lawn, you can expect astronomically high water bills. Synthetic grass helps mitigate these costs since it never needs to be watered.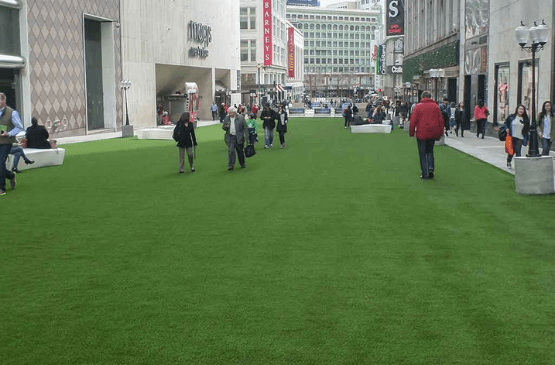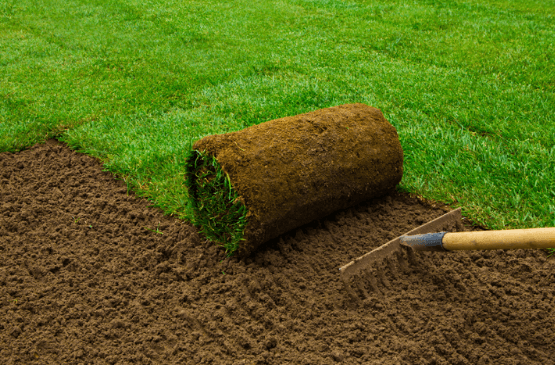 Durability
Artificial grass is much more durable than natural grass. Because synthetic grass is built to be robust, it can handle heavy use including foot traffic. It also lasts many years before needing to be replaced.
Consistently Good-looking
Unlike natural grass that may wither or discolor if subjected to harsh weather conditions, artificial grass will always maintain its beautiful, green color. It will not dry under the scorching sun or discolor due too much water from stormy weather.
Uses of Artificial Grass in Commercial settings in Houston, TX
Perhaps you are wondering how to use artificial grass in a commercial setup? It is pretty straightforward since almost all businesses can easily incorporate artificial turf onto their premises, both indoors and outdoors. Synthetic grass is easily adaptable to suit any location or use. Here are a few suggestions for applying artificial turf to your commercial business. If you don't see what you are looking for, simply call us. Our expert team of designers will custom-design the right kind of artificial turf landscape for your needs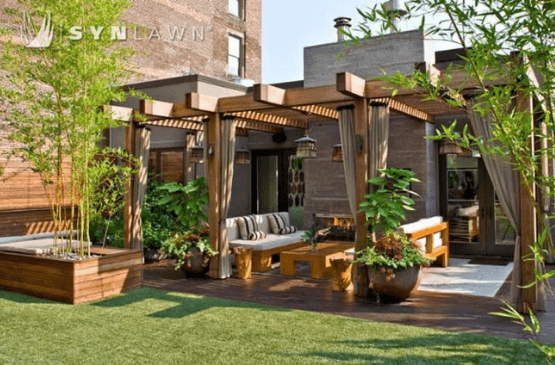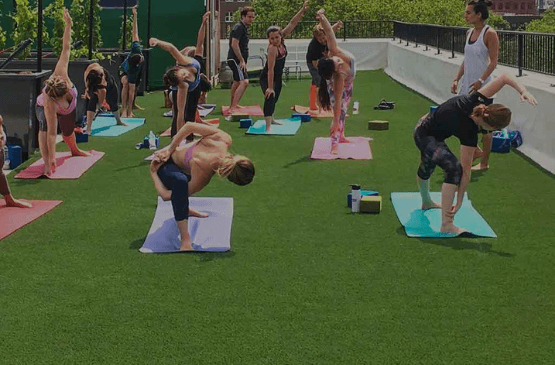 Hotels
In order to attract guests and maintain good customer reviews, hotels need to be luxurious and stylish. What better way to achieve this effect than to use artificial grass? Synthetic grass in hotels gives the impression of a perfectly mowed and well-kept lawn 24/7. This gives the customers confidence in the hotel while saving both time and money that may have otherwise been utilized in landscaping and watering.
Bookstores
If your bookstore has a reading section, then artificial turf can be a perfectly appealing option. Installing synthetic grass in your bookstore will allow readers to have a feeling of being closer to nature while reading indoors—a feeling that many book lovers enjoy. Lazing on an indoor synthetic grass lawn with a good book gives your clients the look and feel of traditional grass without the distraction of weeds, insects, and/or exposure to outdoor allergens.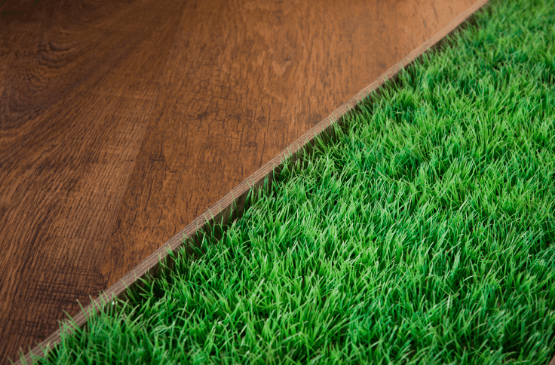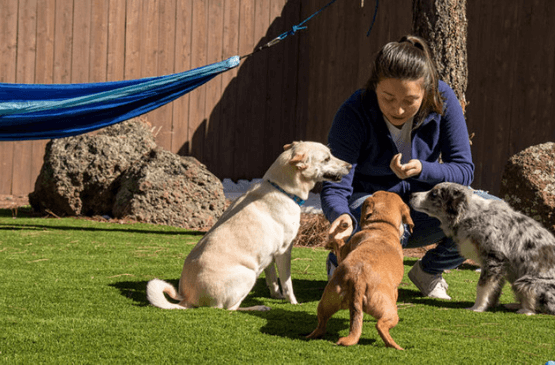 Pet Stores
Every pet store could use synthetic pet turf to ensure the pets get the best space to play and run around on. Using faux grass pet turf will protect pets from pests and parasites that may be found in natural grass, such as fleas. Our pet grass lawns are also quick draining and easy to keep clean, along with featuring odor control.
Start With a Free Consultation
Installing commercial artificial grass on your business premises can truly transform the look of your business for the better. We've been in this industry for a very long time and are familiar with the specific needs of customers in the Houston, Texas, area. Call us today for a free consultation, and our expert team will answer any artificial turf related questions you have.
Looking for inspiration? Check out our gallery of completed artificial grass lawn and playground turf installations to see if this gets your muse's attention. Or let our designers fulfill that role and provide you with excellent artificial lawn landscaping ideas for your business here in Houston, TX.
Commercial Lawn Applications
Browse our incredible selection of high-quality products to find the right synthetic turf for your needs.