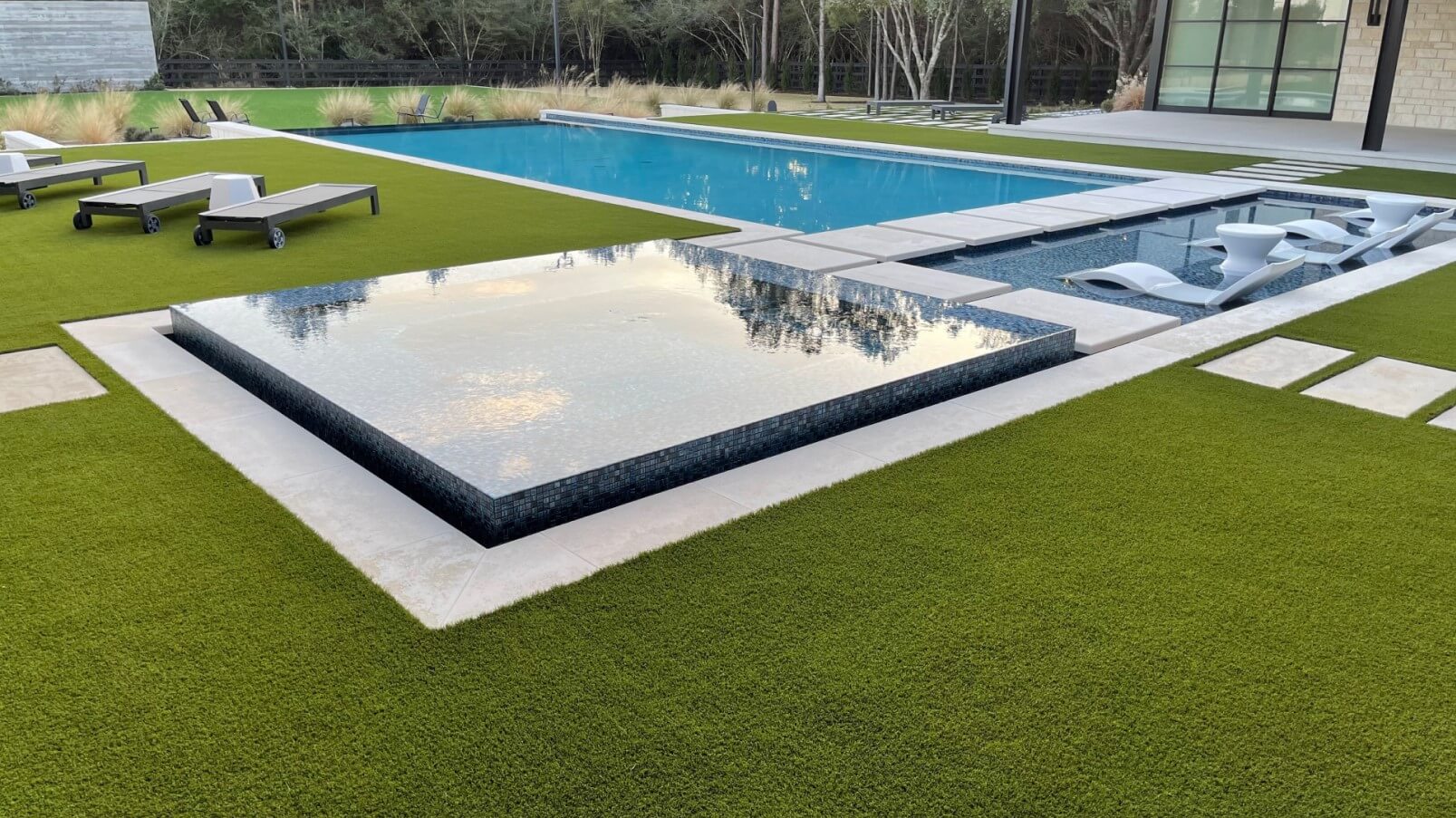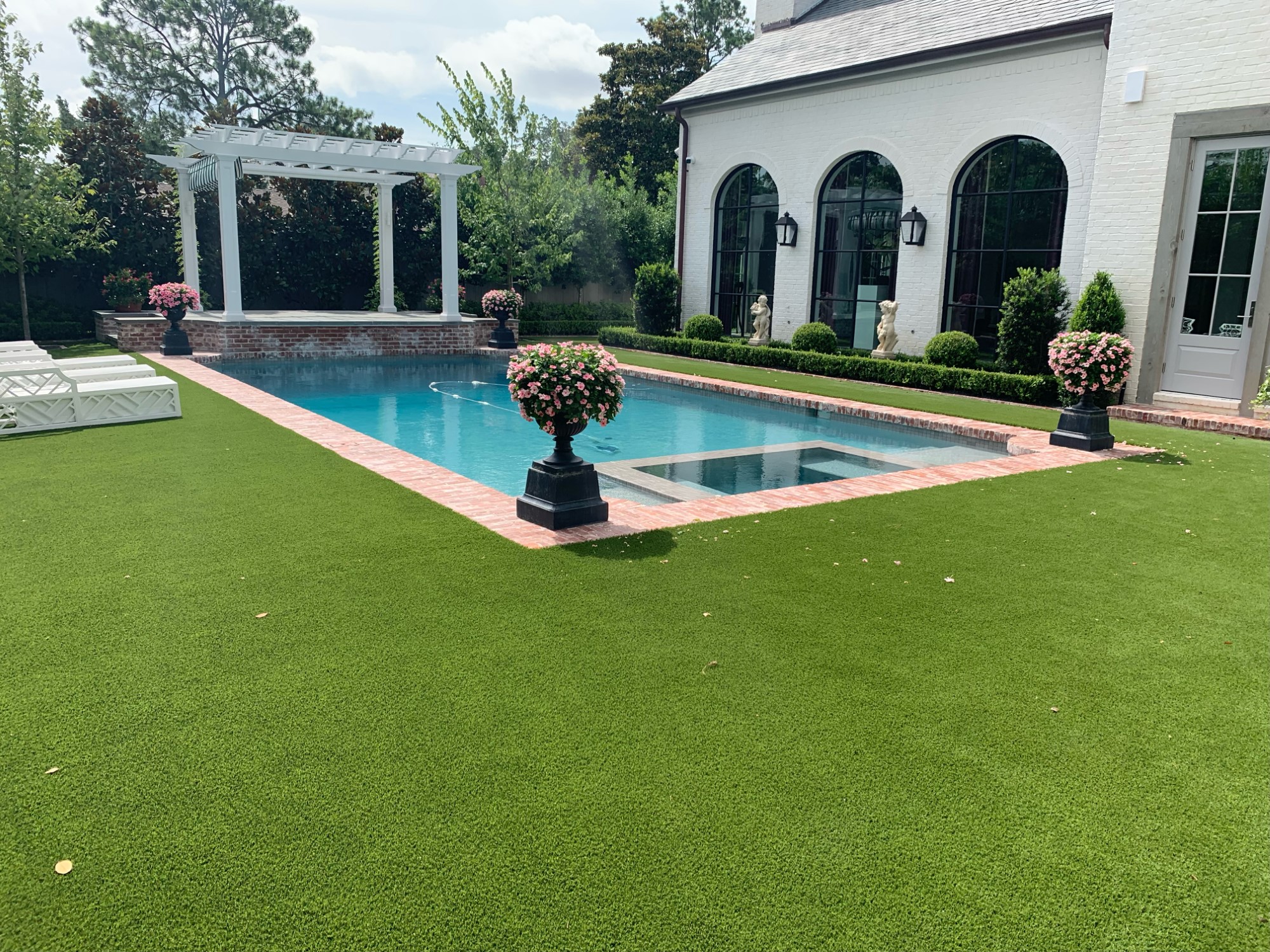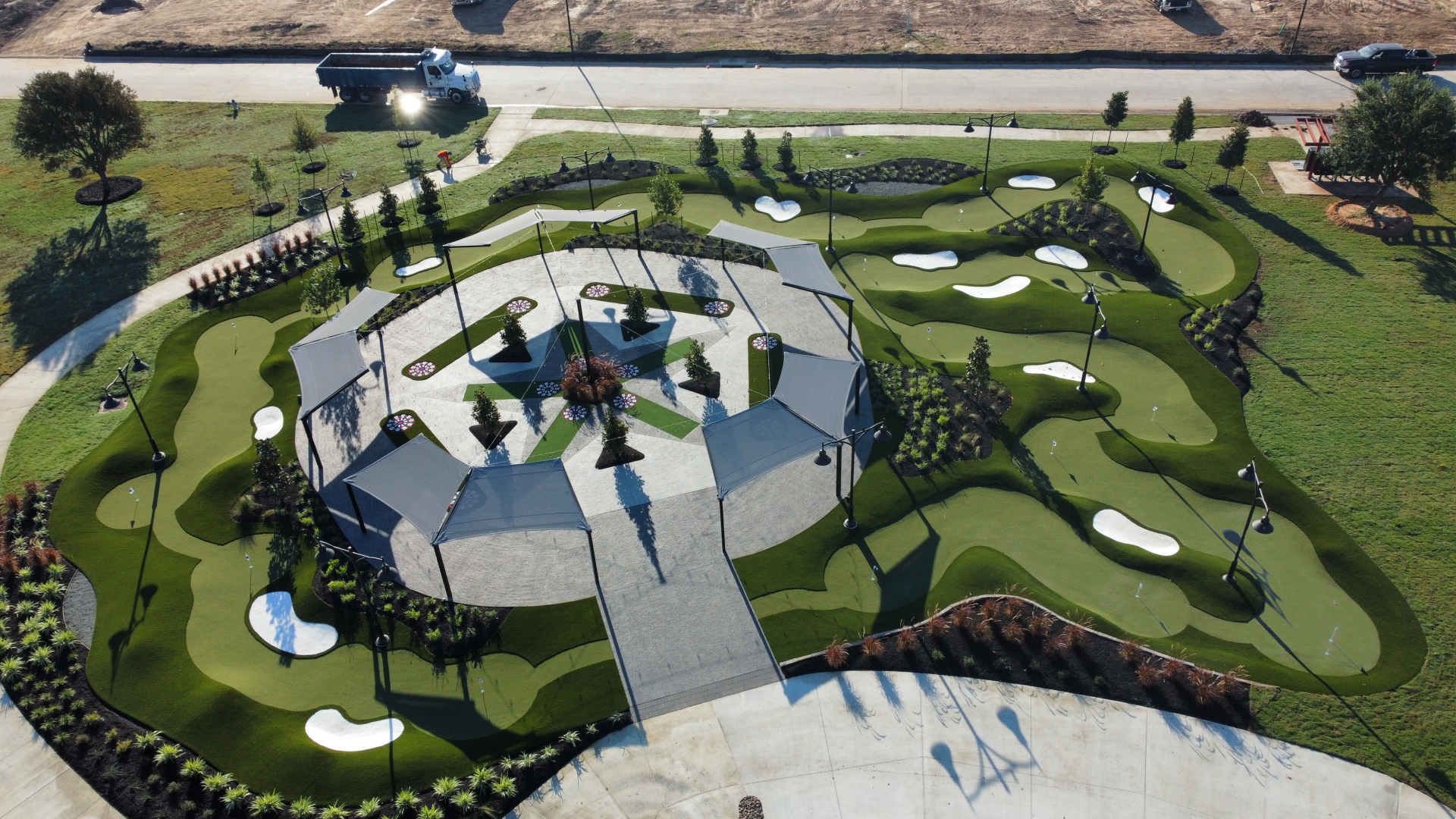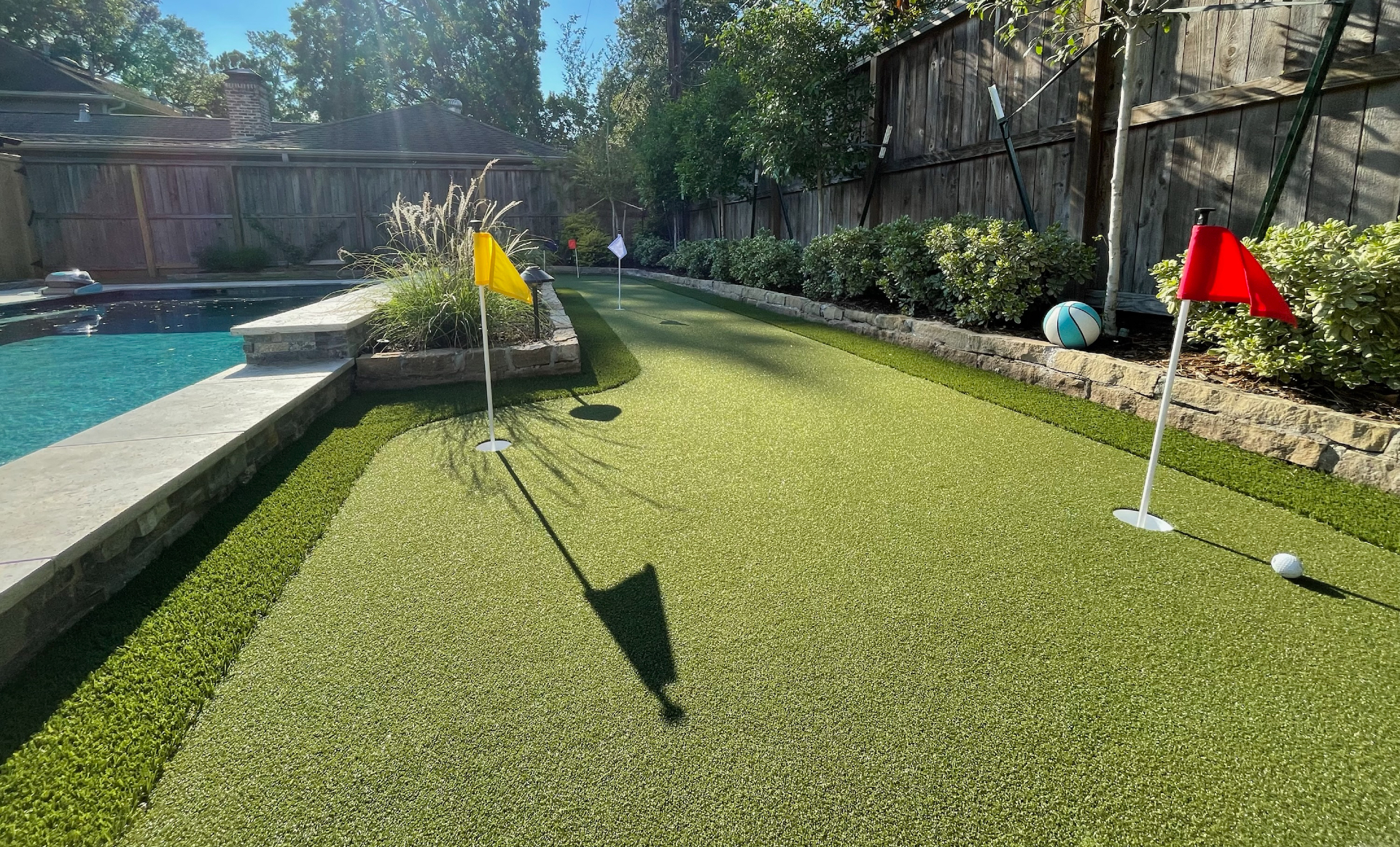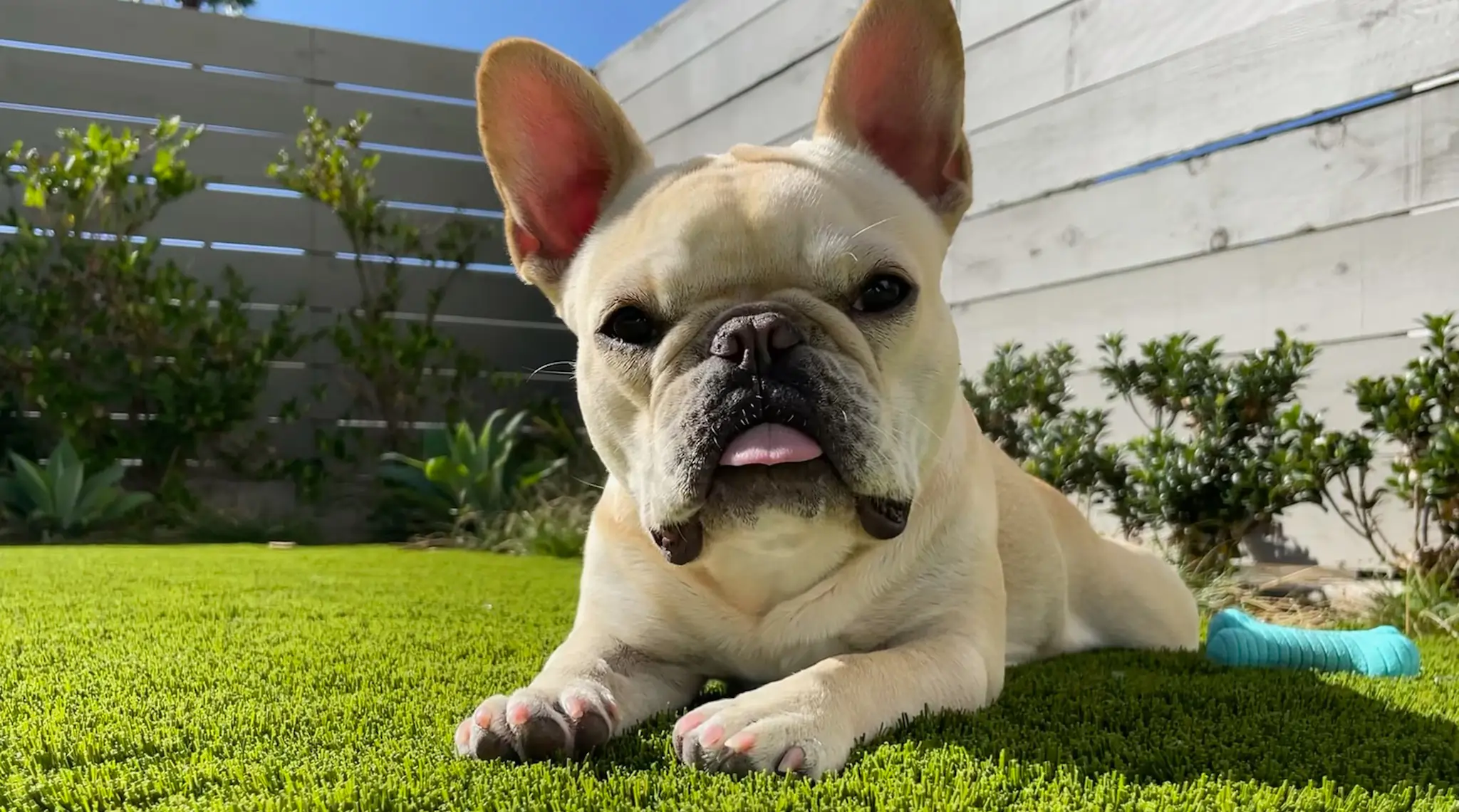 Artifical Grass
ARTIFICIAL GRASS HOUSTON, TX
For Sale & Installation in Houston, Texas
SYNLawn Houston Artificial Grass offers first-rate synthetic turf and putting green installation for homes, businesses, and more in Texas communities. Learn more about our artificial turf products and services today!
Residential
Residential Lawns
Lush, Evergreen, and Low-Maintenance
Transform your residential property in Houston with a consistently beautiful, low-maintenance artificial grass lawn. Our stellar synthetic turf is ideal for residences of all kinds, including homes, estates, and more. Find out more about it today!
Commercial
Commercial
Consistent, Cost-Effective Lawns & Landscaping
Don't rely on unpredictable sod for your commercial lawn or landscaping! Gain a surface you can trust with our consistently green and cost-effective commercial artificial grass instead – ideal for lawns, landscaping, and more!
Putting
Putting Greens
Highly Playable Golf Surfacing
Take your golf game to the next level with our specially designed artificial grass putting greens! Our highly playable synthetic golf turf provides a fully-optimized and low-maintenance surface for players of all skill levels. It is perfect for backyards, commercial properties, and more!
Pet
Pets & Dogs
Dogs and other pets can wreak havoc on traditional grass surfaces, but not with highly durable artificial pet turf from SYNLawn Houston! Our soft, easy-to-clean synthetic pet grass is ideal for household pets and dog breeds of all shapes and sizes.

Our Top Products
SYNLawn is the first and only provider of plant-based artificial grass. We utilize renewable materials along with our advanced technologies to ensure that our turf is the safest, cleanest, and most sustainable that it can be. We have instilled more than 50 years of research and development into our products to do so, and we continue to be the number one choice for new and existing customers as a result. By continuing our innovations, we can provide our customers with even more environmental and Class A fire-rated options. In doing so, we save customers time and money on maintenance, conserve thousands of gallons of water, reduce carbon emissions, and help prevent the spread of fires.
Customer Testimonials
Read some testimonials from only a handful of our satisfied customers!
SYNLawn came recommended from a friend to help me with my first turf project. They installed about 2000 ft.² and every person I met throughout the process was professional, courteous, exceeded my expectations.
SYNLawn is an amazing quality product!! My experience in all stages of my project has been spectacular! I have high expectations when hiring any contractors. William and Team Giovanni surpassed all my expectations! Professionalism, Communication, Prepwork, Installation, and cleanup were excellent! I highly recommend SYNLawn and this crew for your artificial grass needs!
We love Synlawn! This is our third time using them. Justin is great to work with and the product is exceptional. I compared it myself to other turf providers. We will always use Synlawn in the future! Use them! You won't be disappointed!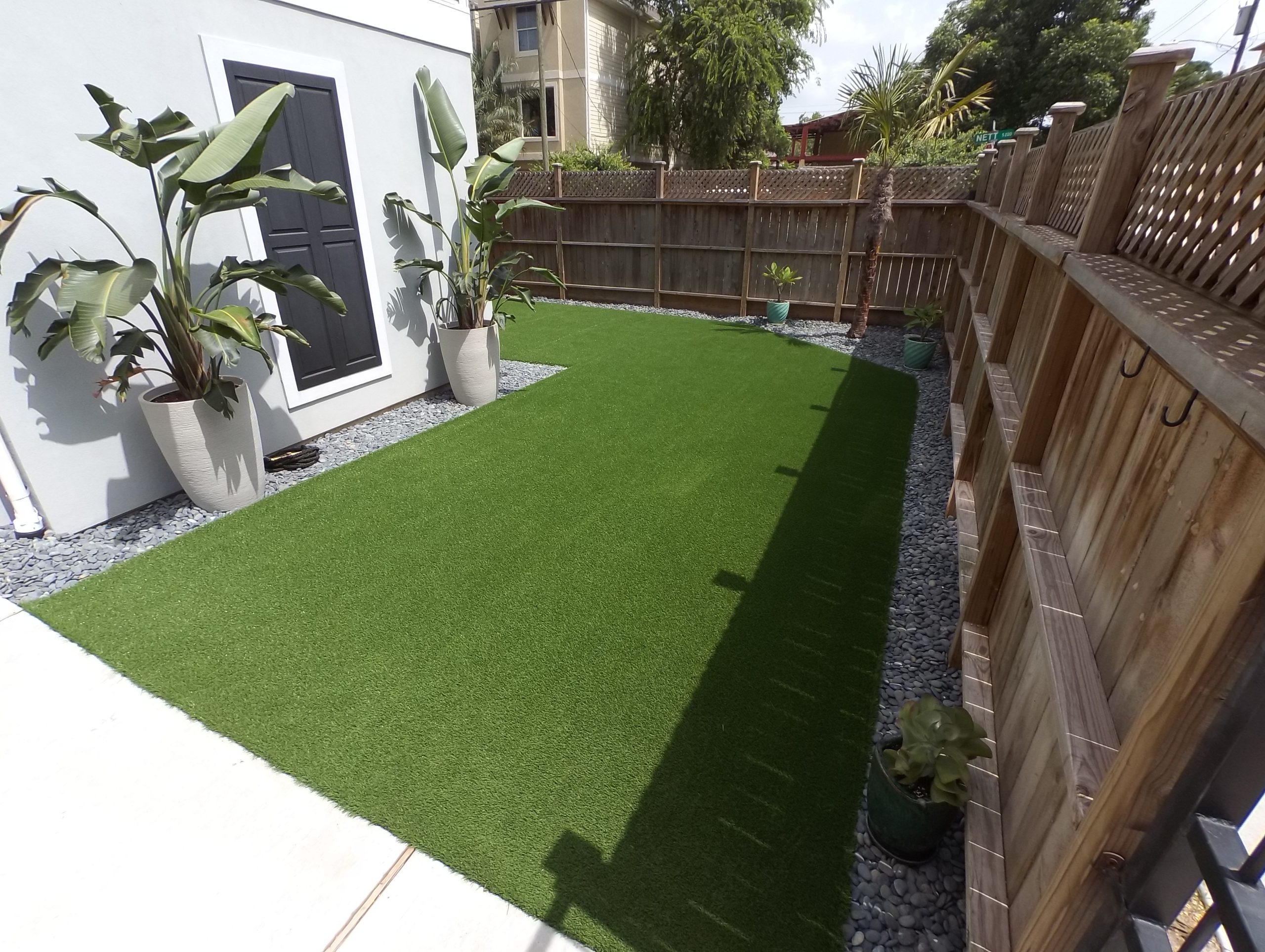 SYNLAWN HOUSTON ARTIFICIAL GRASS
Hands down there's no place quite like our beautiful Houston, Texas, and we here at SYNLawn Houston Artificial Grass are proud to provide you with hyper-realistic artificial grass to enhance that beauty for both residential and business lawns alike. We have a huge selection of synthetic turf products to choose from that are both affordable and suitable for many different settings.
At SYNLawn Houston Artificial Grass, the synthetic lawn we provide you with not only comes with a lifetime warranty at a competitive price, but it is also fully recyclable, environmentally friendly, and safe.
When you do business with SYNLawn Houston Artificial Grass, you can be assured you are getting the highest quality artificial grass available. Such high quality is certain due to us having full control over the production process. You can be sure that our synthetic grass is recyclable, durable, sustainable, and pleasing to the eye. It's no wonder why SYNLawn is the top company in the artificial grass industry.
COMMERCIAL ARTIFICIAL GRASS
Related to artificial turf being used in commercial settings, SYNLawn has what you need, no matter what project you have in mind. We are chosen by business owners not only for the wide range of products we offer, but also the opportunity for them to make a return on their investment. This is made possible due to the elimination of costs regarding fertilizer, water, and maintenance.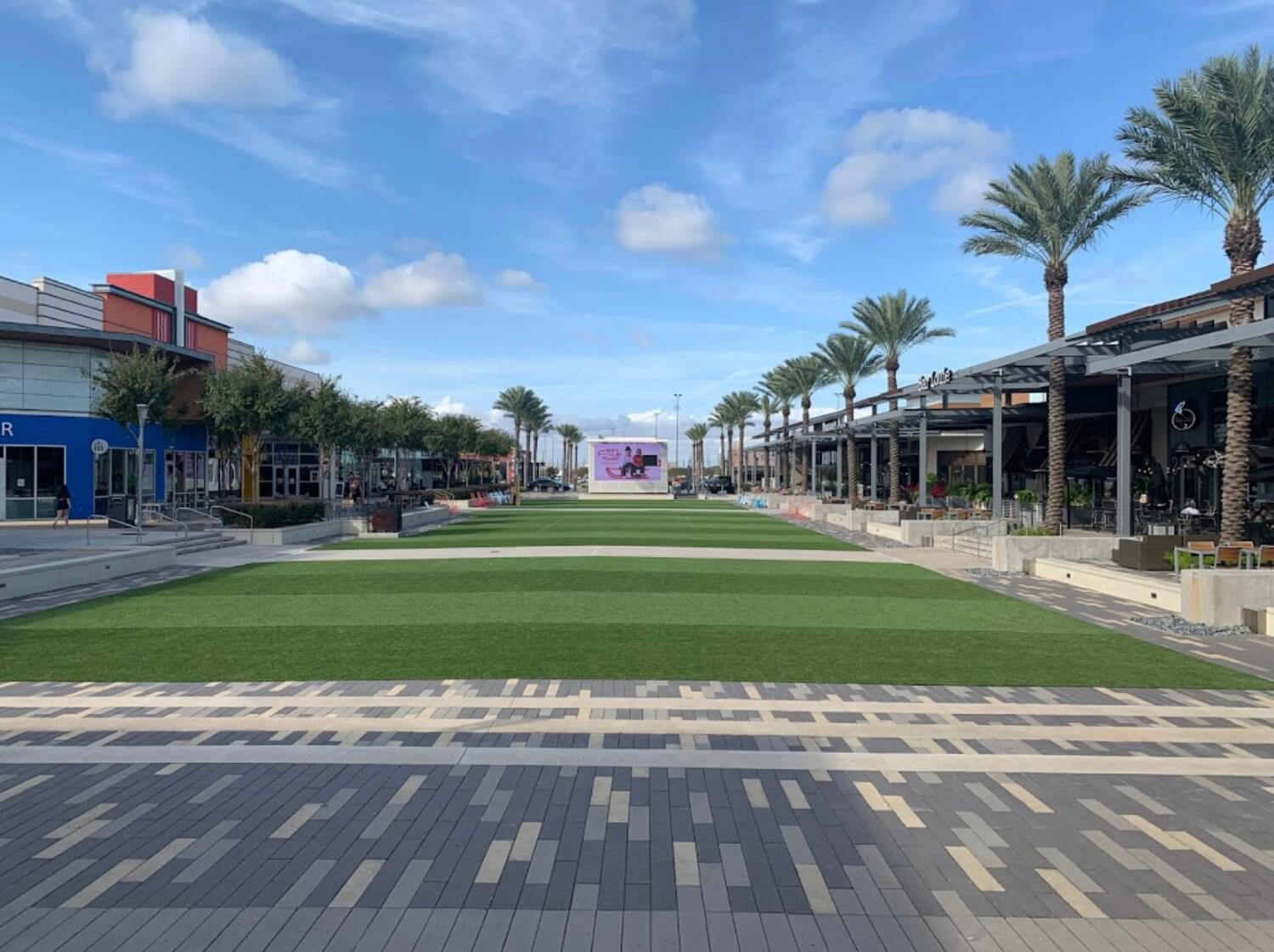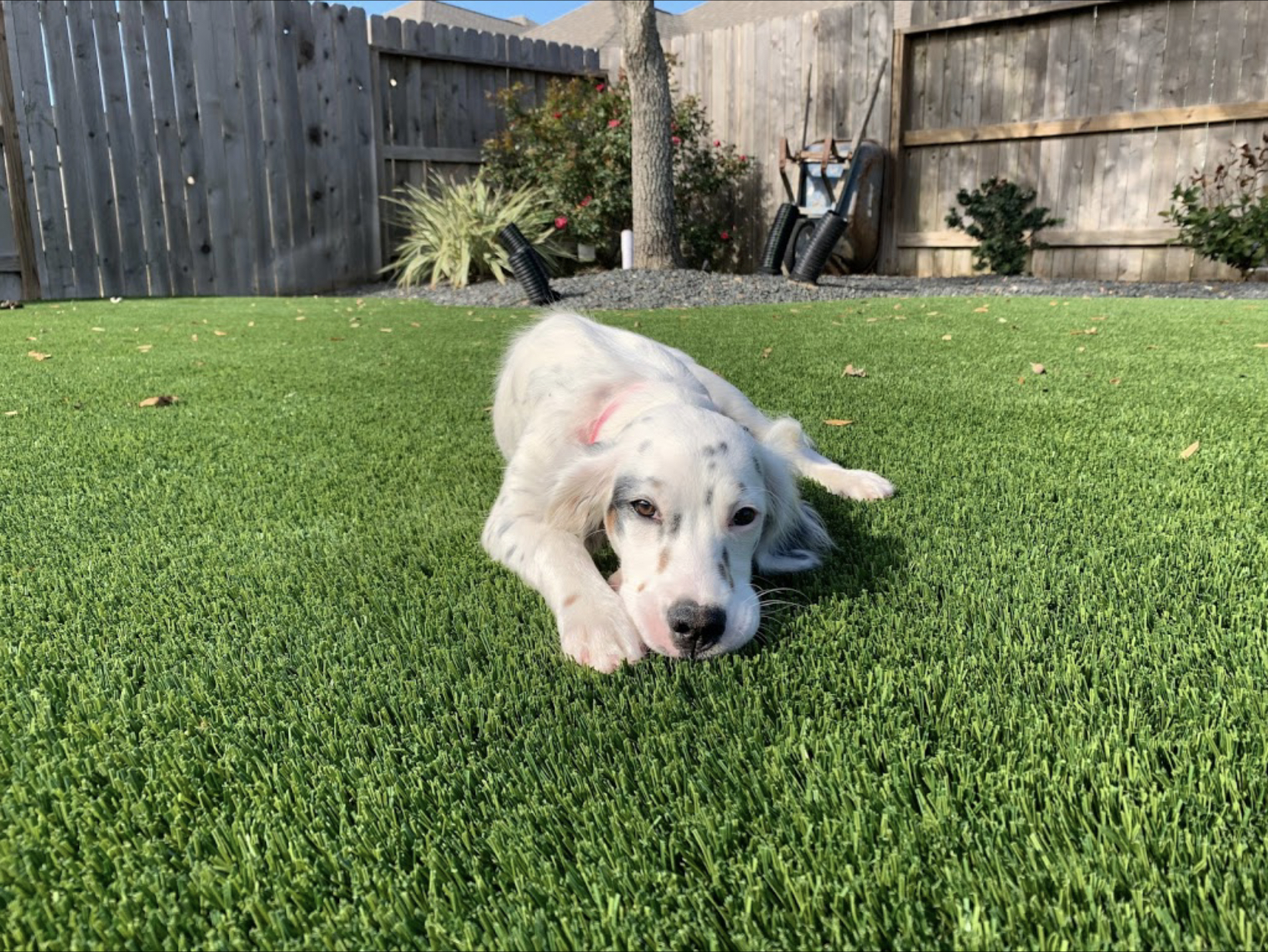 When it comes to pet and dog grass, and the associated synthetic turf pet solutions, SYNLawn is the industry leader. Due to the amazing durability of our pet turf, it is more than able to handle your pets, no matter their size or temperament. Our products are also simple to clean.
Residential Lawns
People just like you choose to get artificial grass from SYNLawn not only for how it looks, but the time and money it saves too. Work with us, and we will make your vision into a reality.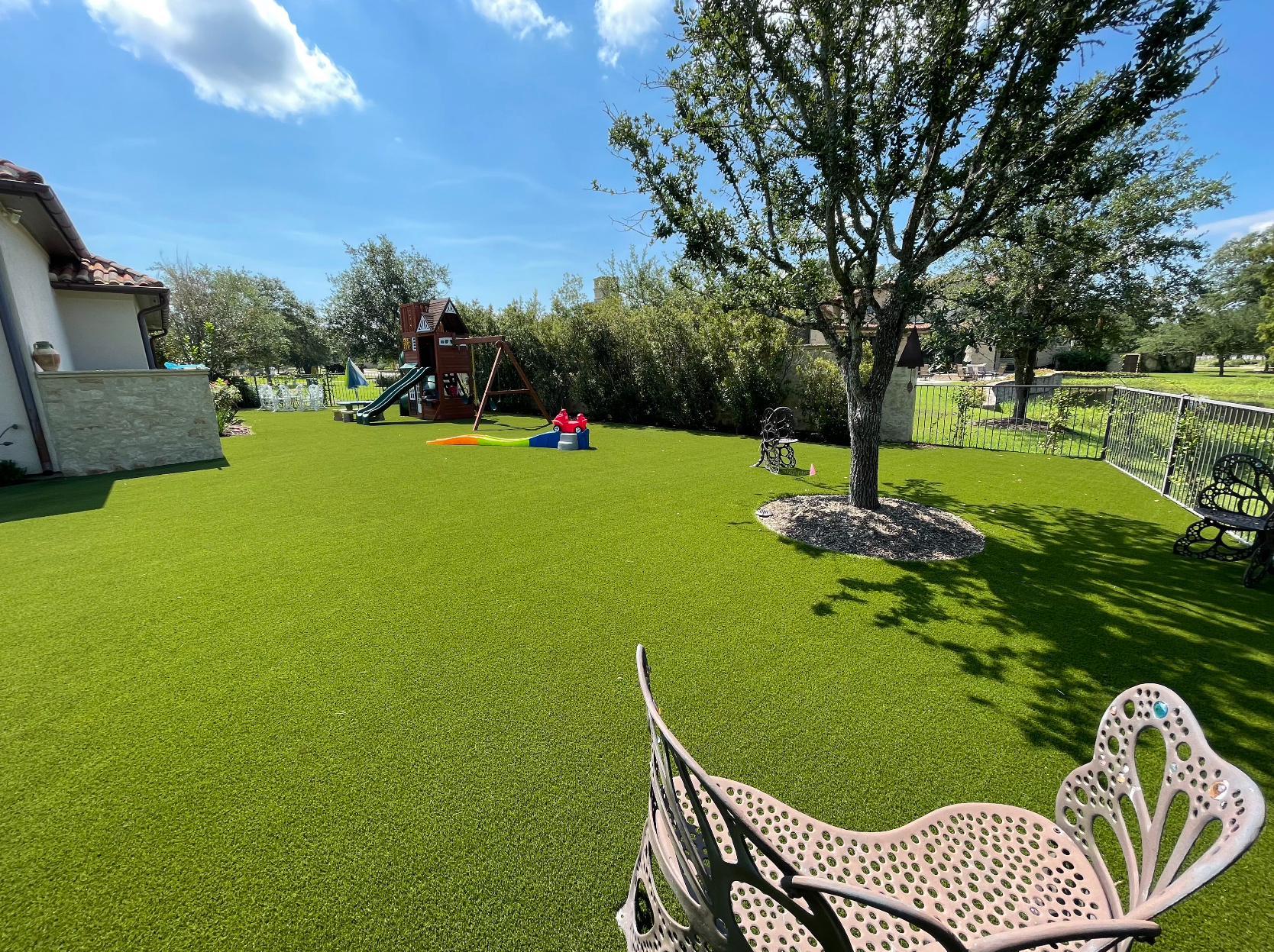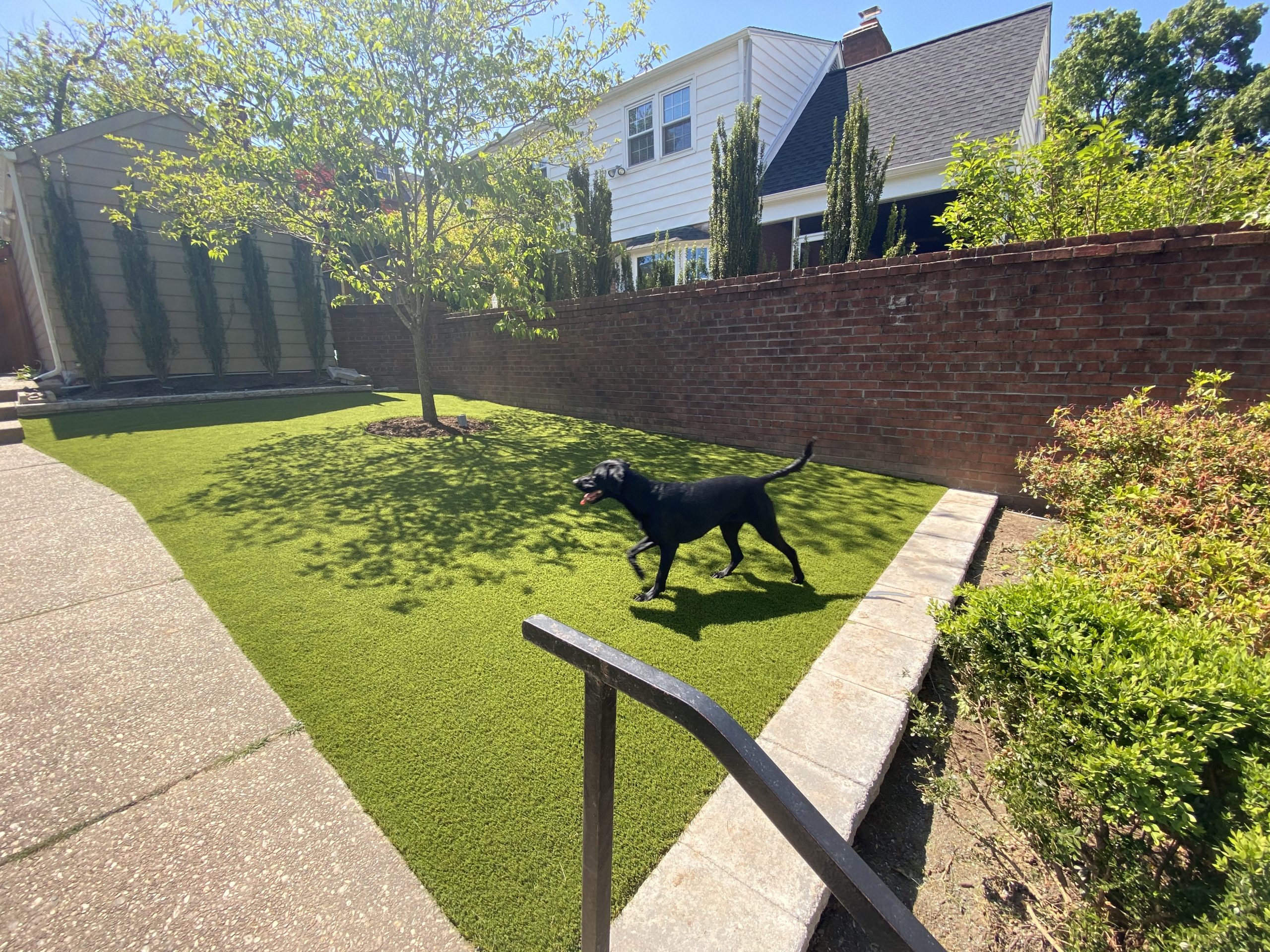 If you're the type of person wanting to install a synthetic lawn on your own, we have exactly what you need. For do it yourself (DIY) projects, we equip you with both the artificial grass and the educational resources you need. Due to our products being easy to maintain and install, it's no wonder why so many people choose SYNLawn in Houston, TX.
Why Choose Artificial Turf
Financial Savings
Synthetic grass doesn't come with all of the additional responsibilities that live grass does. No matter who you are, installing synthetic grass can save you a lot of cash.
YEAR-ROUND ACTIVITY
You will be able to enjoy outdoor activities on our synthetic turf year-round, with it always looking lush and green. You won't need to worry about your grass changing in color or overgrowing.
Earth Friendly
Switching to artificial grass is indeed doing the environment a favor. When you make the transition, you are saving thousands of gallons of water per year.
Why Choose Synlawn Artificial GRass
More than 45 Years of Experience
With our vast experience related to synthetic grass products, you can trust us to provide for your needs.
Over 200,000 Successful Installations
Our track record speaks for itself and allows us to expertly design and install artificial grass in your Houston home or business application.
Lifetime Warranty
We can offer you a lifetime warranty due to the level of control we have over every phase of our production process. Latest News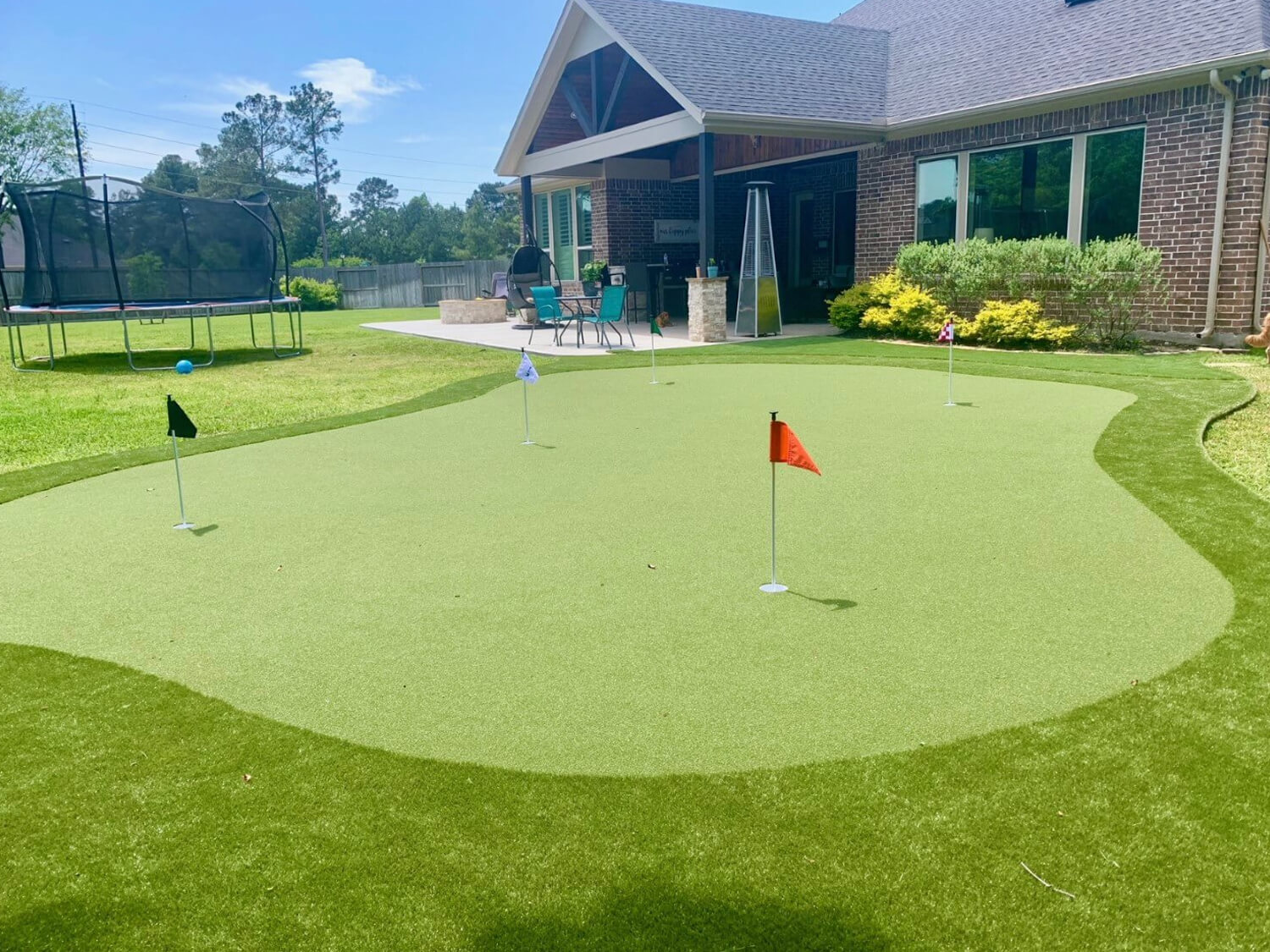 At SYNLawn Houston Artificial Grass, the popularity of our artificial grass is continuously on the rise in Houston, TX. Many residents are excited to make the change from traditional grass due to the many benefits our synthetic alternative has to offer. However, many homeowners and business owners still have questions about artificial turf and whether …
Read more
LOCATIONS
We proudly serve the Houston area including but not limited to:
Fulshear
Galveston
Greatwood
Greenway / Upper Kirby Area
Hedwig Village
Hempstead
Houston
Humble
Huntsville
Katy
Kingwood
La Porte
League City
Liberty
Lufkin
Magnolia
Meadows Place
Memorial
Midtown
Missouri City
Montgomery
Nassau Bay
Navasota
Neartown Montrose
New Caney
New Territory
Orange
Orchard
Pasadena
Pearland
Pflugerville
Piney Point Village
Port Lavaca
Richmond
Rosenberg
Rosharon
Santa Fe
Seabrook
Sealy
Sienna
Southside Place
Splendora
Spring Valley
Stafford
Sugar Land
Taylor Lake Village
Texas City
The Colony
Tomball
University Place
Vidor
Waller
Wallisville
Washington Avenue Coalition / Memorial Park
Webster
Weimar
West University Place
Wharton
Woodlands