Artificial Grass Houston, TX
Looking for artificial turf in Houston, Texas? SYNLawn Houston Artificial Grass is the synthetic turf installation pros. Whether you need a lawn, pet area, putting green or commercial space.
SYNLawn Houston Artificial Grass
Hands down there's no place quite like our beautiful Houston, Texas, and we here at SYNLawn Houston Artificial Grass are proud to provide you with hyper-realistic artificial grass to enhance that beauty for both residential and business lawns alike. We have a huge selection of synthetic turf products to choose from that are both affordable and suitable for many different settings.
At SYNLawn Houston Artificial Grass, the synthetic lawn we provide you with not only comes with a lifetime warranty at a competitive price, but it is also fully recyclable, environmentally friendly, and safe.
When you do business with SYNLawn Houston Artificial Grass, you can be assured you are getting the highest quality artificial grass available. Such high quality is certain due to us having full control over the production process. You can be sure that our synthetic grass is recyclable, durable, sustainable, and pleasing to the eye. It's no wonder why SYNLawn is the top company in the artificial grass industry.
When it comes to pet and dog grass, and the associated synthetic turf pet solutions, SYNLawn is the industry leader. Due to the amazing durability of our pet turf, it is more than able to handle your pets, no matter their size or temperament. Our products are also simple to clean.
If you're the type of person wanting to install a synthetic lawn on your own, we have exactly what you need. For do it yourself (DIY) projects, we equip you with both the artificial grass and the educational resources you need. Due to our products being easy to maintain and install, it's no wonder why so many people choose SYNLawn in Houston, TX.
Why Select Synthetic Turf?
SYNLawn is the first and only provider of plant-based artificial grass. We utilize renewable materials along with our advanced technologies to ensure that our turf is the safest, cleanest, and most sustainable that it can be. We have instilled more than 50 years of research and development into our products to do so, and we continue to be the number one choice for new and existing customers as a result. By continuing our innovations, we can provide our customers with even more environmental and Class A fire-rated options. In doing so, we save customers time and money on maintenance, conserve thousands of gallons of water, reduce carbon emissions, and help prevent the spread of fires.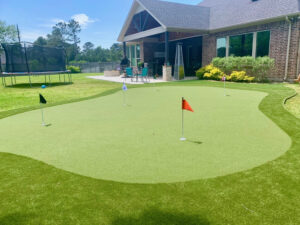 At SYNLawn Houston Artificial Grass, the popularity of our artificial grass is continuously on the rise in Houston, TX. Many residents are excited to make the change from traditional grass due to the many benefits our synthetic alternative has to offer. However, many homeowners and business owners still have questions about artificial turf and whether…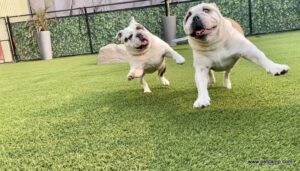 Your pet holds a special place in your heart and because of that, we as owners aim to give them the best that life has to offer so that they can stay happy and healthy. As a result, we designed Houston artificial grass for pets to accommodate them in every way and all of your…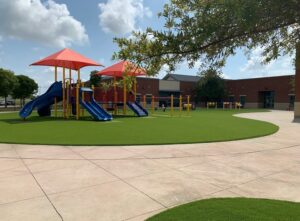 Playgrounds are a wonderful place for our children to exercise, unwind after school and on the weekend, make new friends, and explore their imagination. In an ideal world, we would design all playgrounds with surfaces that have their best interest in mind, but many are made with materials and components that tend to be a…
Why Select SYNLawn Artificial Grass?
Professional Athlete Endorsement
Tom Watson
Tom Watson shares his thoughts on his new synthetic putting green from SYNLawn artificial grass.