Tomball, TX Artificial Grass Installation
It has never been easier to achieve a stunningly lush lawn. Tomball artificial grass from SYNLawn Houston has become one of the most popular landscaping options among homeowners, landscape architects, landscape designers, and more. Artificial turf in Tomball, TX allows you to replace your traditional grass and the strenuous and expensive maintenance requirements that come with it. No more fertilizing, watering, or mowing! Instead, you can enjoy a lush and vibrant lawn space along with several additional features exclusive to SYNLawn.
Commercial Artificial Turf Installation in Tomball, TX
Business owners, property managers, and school superintendents know that there really is not a lot of time left in the day to stay consistent on lawn care. However, they also understand that first impressions matter and if their landscape is unkept, it can deter future customers from stepping foot in the door or potentially cause harm to customers, guests, and students. For this reason, they rely on SYNLawn turf for its ultra-realistic appearances and behaviors that mimic real grass all throughout the year. Additionally, our Tomball synthetic grass provides a level of durability and performance far superior to our competition. We utilize over 50 years of exclusive turf technologies and plant-based materials that extend the longevity of our products and withstand heavy foot traffic with ease.
Features and benefits of SYNLawn artificial grass in Tomball, TX include:
Super Yarn™ Technology - our antimicrobial, static resistant, and IR reflective yarn formula
EnviroLoc+™ - a plant-based backing system that locks in turf fibers, prevents shedding and drains to nourish your soil
Cooler surface temperatures
Safe for kids, pets, and athletes
ASTM E-108 Class A fire-rated options
Recyclable and reusable
The only company to provide USDA-certified grass alternatives
Made in the USA
Unmatched limited lifetime warranty
Perfect for lawns, landscapes, playgrounds, golf greens, dog parks, rooftops, retail shopping, apartments, and much more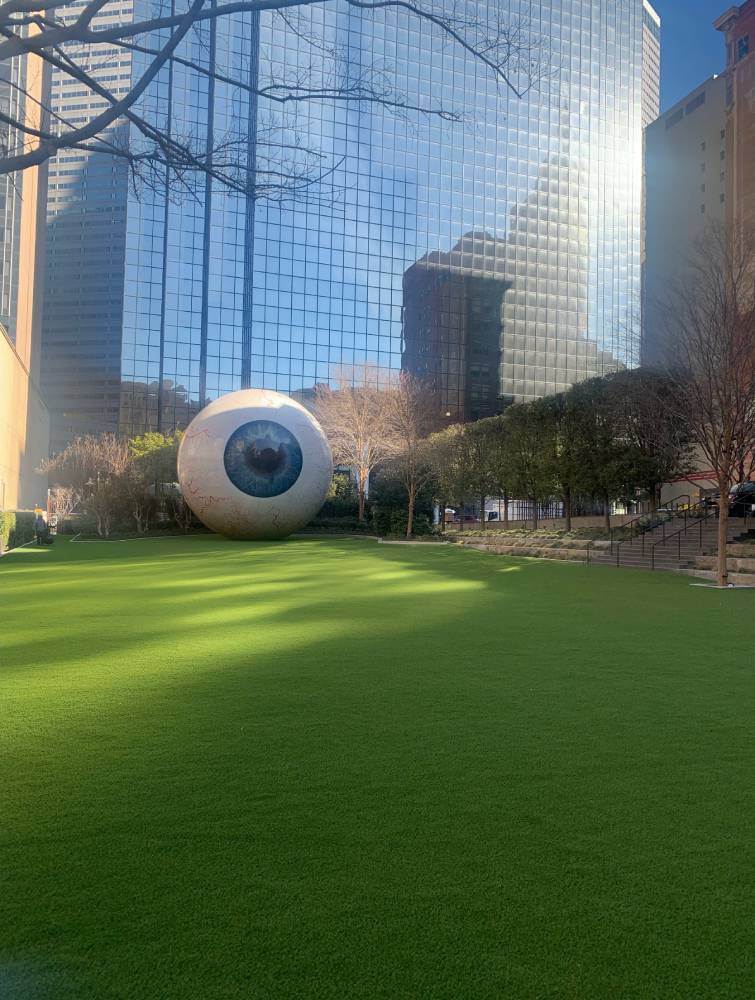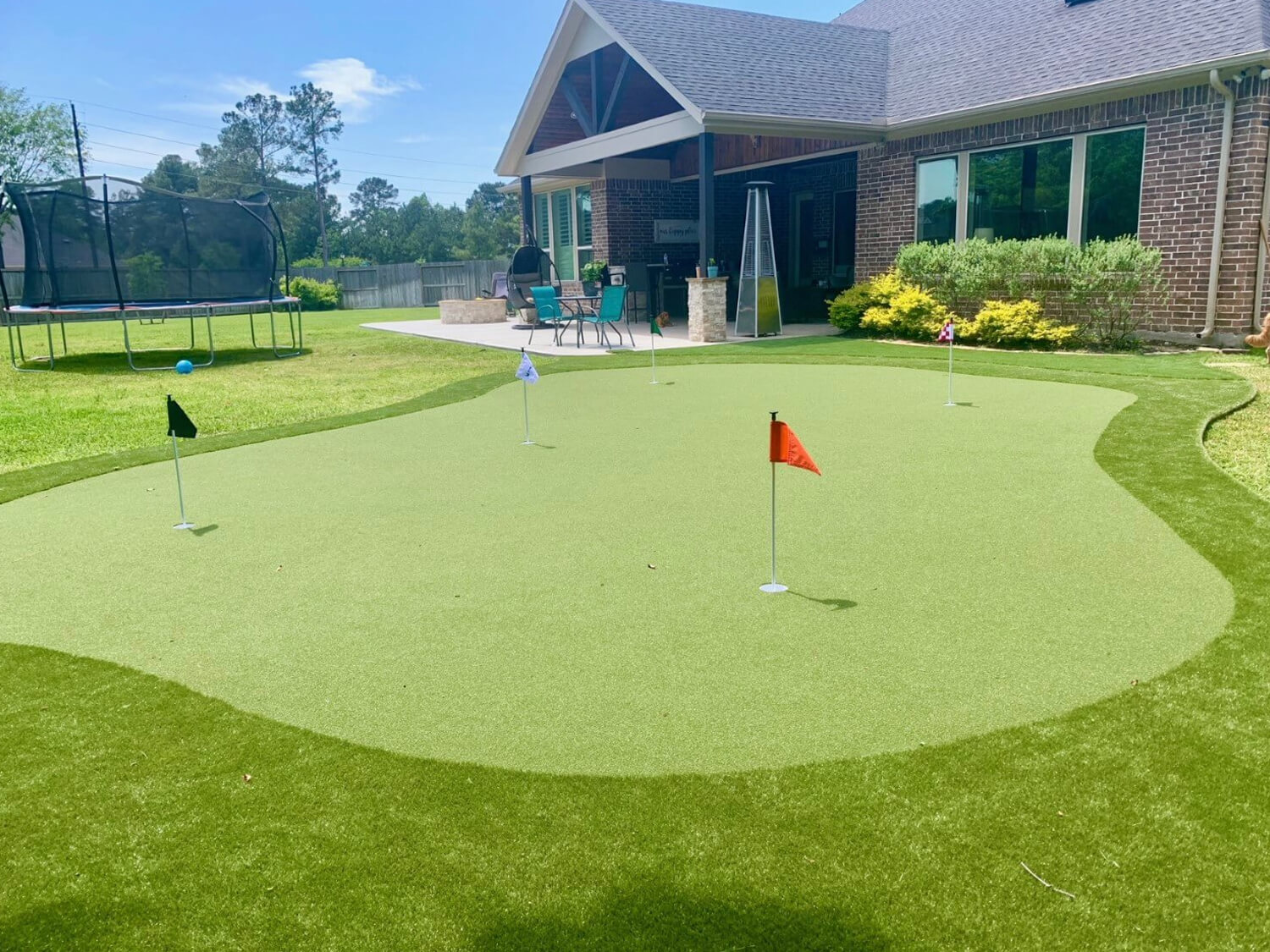 Customizable Putting Greens in Tomball, TX
Here in Tomball, golf enthusiasts all agree on one thing, SYNLawn offers the highest quality golf greens on the market. Manufactured in partnership with a professional golf coach, Dave Pelz, Tomball golf turf provides PGA-caliber performance, a low-maintenance design, and improvement to your golf game. Our Tomball putting greens offer a realistic putt, true ball roll, and natural slow-down characteristics. We give our customers creative control to customize their golf greens for full courses, mini golf, putting greens, and portability. In addition, Tomball golf putting greens are durable enough to practice chipping, flop shots, or putting. You can also select different turf options for the fairway, fringe, collar, and more to increase your challenge!
Playground Turf and Athletic Field Turf in Tomball, TX
SYNLawn offers several options for play. Our playground turf and athletic surfaces provide superior durability and exceptional safety standards to ensure all ages can safely utilize our surfaces. Highly active children and athletes are no match for our dense thatch and omega-shaped turf fibers designed to preserve the appearance and resilience of our products. Our products are IPEMA and ADA certified to prevent common injuries and abrasions, won't shift on impact, and are fully wheelchair accessible. SYNLawn Houston playground surfaces do not leave behind an abrasive black rubber crumb that can cause burns on impact, and we offer several options for shock-absorbing padding. Furthermore, we offer an antimicrobial infill that prevents infections and maximizes drainage for use immediately after rain falls.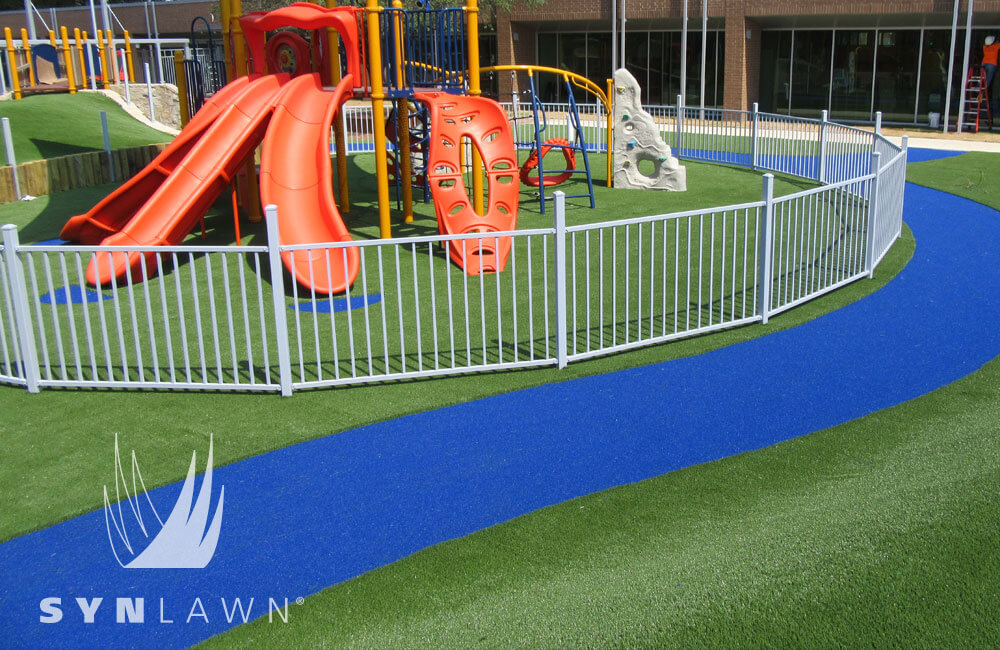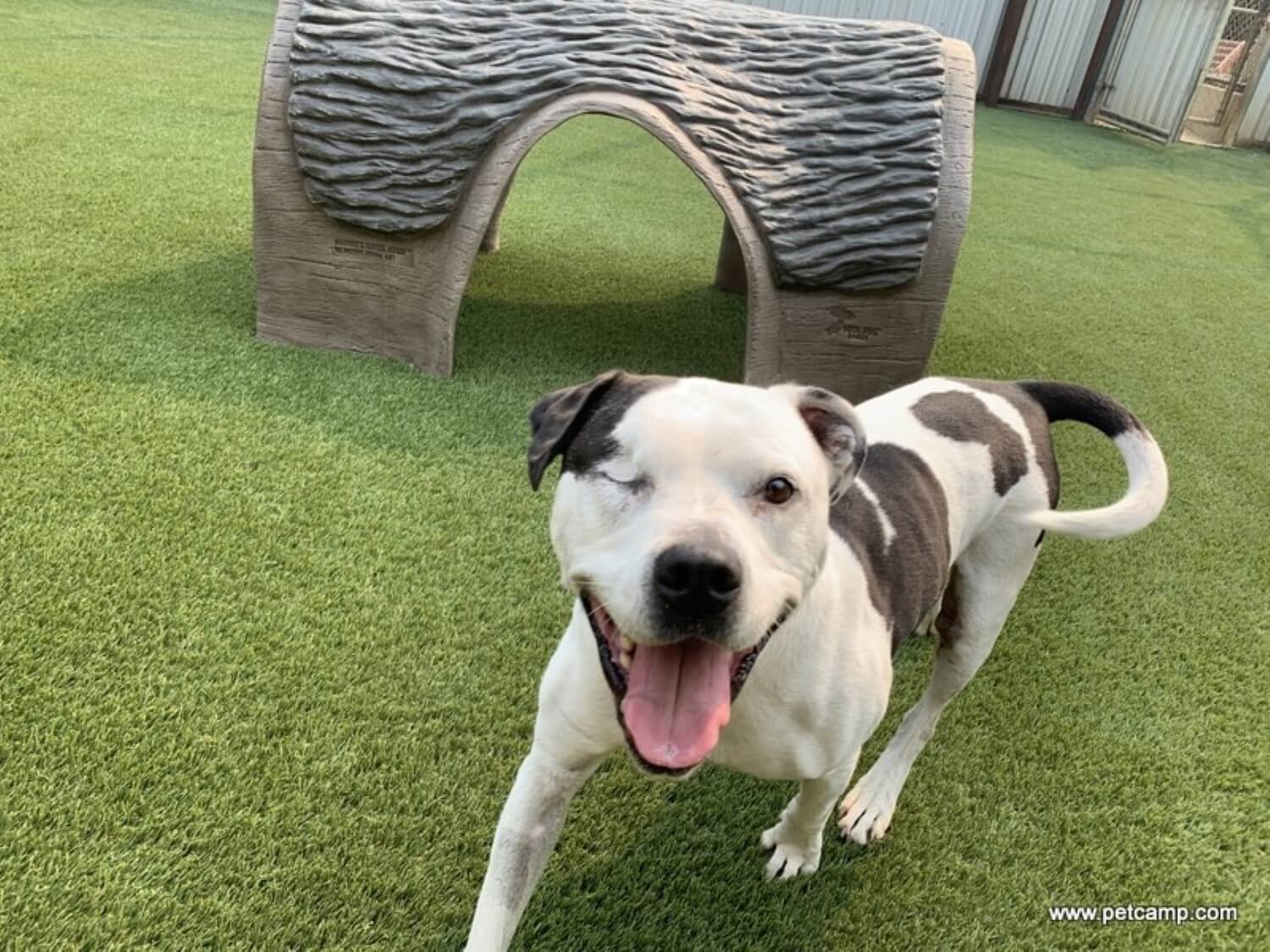 Give your pets the safest, cleanest, and 'greenest' place to play. We know you love pets, and we do too. That is why SYNLawn has designed artificial turf specifically for pets that won't track mud, become a home for unwanted pests, and won't shed or tear if you have a pet that likes to dig. Every pet owner wants a place for their companion to live their best life, and that is why they choose SYNLawn!
Cooler surface temperatures thanks to HeatBlock™ to prevent burned paws
Enhanced durability during heavy activity
Odor and stain resistant
Superior drainage to prevent mud accumulation and odors caused by ammonia in pet waste
Natural look and feel
Made in the USA from soy and sugar cane
Additionally, we are helping residential homeowners and commercial properties conserve tens of thousands of gallons each year. Statistics show that nearly 70% of one home's water consumption comes from landscape irrigation. In states where drought conditions are reaching alarming levels, you can be part of the solution and commit to environmental sustainability alongside SYNLawn. Cut your water bill in half today and get your weekends back to spend more time with your family and friends!
SYNLawn provides ultra-realistic artificial grass solutions at affordable pricing with the option for payment plans available. We have more than 50 years of experience researching and developing our products to meet the specifications of every one of our customers. We work closely with US soy farmers to locally source renewable soybeans and other materials to replace carbon-emitting components, as well as conserve thousands of gallons of water each year. For more information about our Tomball artificial turf, contact SYNLawn Houston to schedule a free consultation and get a quote today!
Please fill out all mandatory fields with an asterisk *
Your information will be held confidential with our company.