Houston Indoor Putting Greens
Golf enthusiasts in Houston dream of having indoor putting greens to practice on rainy days, and those dreams can come true with SYNLawn Houston. We are the area's leader in artificial grass and indoor putting greens.

It's not just residences that can enjoy artificial indoor putting greens, but businesses as well. Mini golf is no longer a game only played outside. The popularity of indoor mini-golf grows every year because rain, heat or other bad weather shouldn't keep people from having a good time. It's like mini-golf for your home!

Check out the many reasons why indoor putting greens are the perfect choice for your home or business.
Rain, rain go away in Houston, Texas
Many golfers look forward to heading to the course on the weekend after a long week at work. It's a way for people to meet up with their friends and relax, but Mother Nature often has other plans. You can still golf outside with a slight drizzle, but if there's thunder and lightning, you're stuck at home.
Indoor putting greens let you golf anytime you want, no matter what Mother Nature has in store. You can enjoy a blissful game of mini-golf while the wind rattles the windows outside. Of course, the biggest threat to a golf game is the weather, but people who use indoor putting greens that use our revolutionary artificial grass don't have to worry about the weather.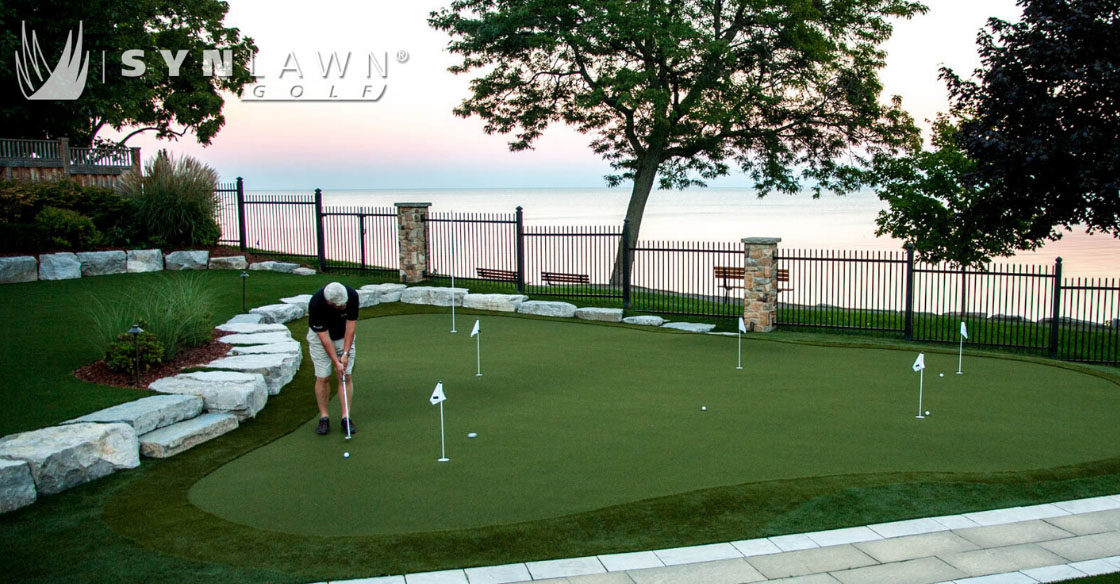 Do you know how much maintenance goes into creating those perfect greens on golf courses? Think about the hundreds of gallons of water pumped on them to keep them healthy and green, not to mention the herbicides and pesticides poured over them to keep bugs and weeds at bay. Golf courses pay professional lawn maintenance workers to administer these types of treatments. 
Most people can't afford such a high cost for putting green maintenance. Indoor putting greens from SYNLawn Houston are free of timely maintenance. Turf doesn't need water because they don't grow. There are no expensive maintenance contracts. You just install our turf in an open space at your home, and you're ready to go.
Indoor Putting Green at your office
Are you an executive that lines in the office? Do you have outstanding employees and want to treat them to something special? Indoor putting greens are perfect for offices.
Many people do their best thinking when on the putting green, so do it in your office and avoid the golf course. Put a few in the break room and let your employees unwind over lunch by practicing their putting game. It's the perfect way to get them ready for the yearly corporate golf outing.
It boosts the morale of your employees and gives them something to do during their breaks. Why not make an entire activity room for them? It's sure to get the office more excited about work!
Improve Your Game at Home
If there's one thing every golfer knows, it's that practice makes perfect. If you want to putt like a PGA pro, then you need hours of practice, and you'll get that with our indoor putting turf. Spend your nights and weekends improving your putting game while everyone else waits for a tee time.
Indoor putting greens are the perfect choice for people who want the golf course's convenience without going there. You want your game to improve, and this is the best way to do it. You can move and change the angles to understand best how you play. Don't let your game get stagnant, and order your indoor putting greens today!
Get your indoor putting greens from SYNLawn Houston
Our professionals have years of experience to help you pick out the indoor putting greens perfect for your circumstances. We take into consideration the type of green you want, your play style, and your ability.
Our experts are golfers themselves and know the importance of improving your golf game. If you have any questions, they are there to answer them. For more information about indoor putting greens in Houston, get a free quote today!
Please fill out all mandatory fields with an astrerisk *
Your information will be held confidential with our company.