No Other Houston Artificial Turf Company Meets Fire Safety Standards Like SYNLawn®
At SYNLawn, everything we do to manufacture our products is done with our customers in mind. Although we don't always think about the possibility of fire when we begin the process of designing our dream landscape, the unfortunate possibility is always there. SYNLawn is changing the game again in an effort to provide even higher safety standards.
For the first time, contractors will be able to completely comply with the expanding number of rules governing the construction of green rooftops, atriums, and public spaces. This new generation of lawn products is being praised for their feel, durability, and long-term sustainability. Our products offer both financial and safety benefits. For example, if you live in a fire-prone area, you may be able to save money on your insurance. Additionally, we utilize infill to protect our grass fibers while also acting as a fire retardant. We test our products on a regular basis to ensure that they work properly.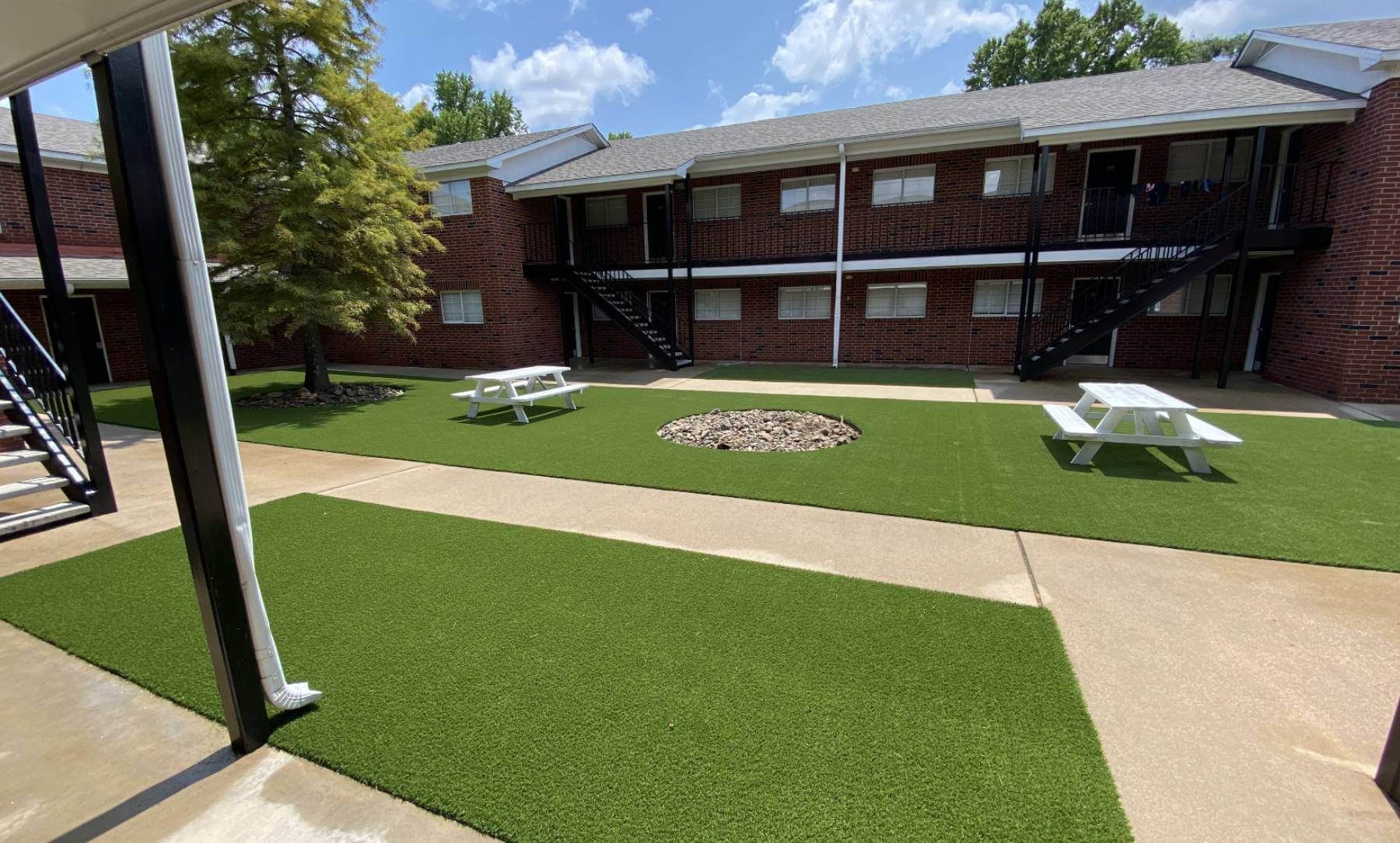 The Only Manufacturer of Class A Fire Rated Houston Artificial Grass
SYNLawn offers the only artificial grass in Houston with a Class A fire rating. SYNLawn products can both create a barrier for your home and stop the spread of fire. While there are many companies that try their best to deliver the same level of protection and quality, none can compare to SYNLawn.
The two most common ways for a wildfire to ignite your home are burning embers falling on your property and actual fire encroachment. Thankfully, SYNLawn is the first and only artificial grass manufacturer to have a product that meets ASTM E-108 criteria and receives a Class A fire rating. Our products have to be reviewed and pass eight separate flame and brand tests in order to be classified as Class A.
Four burning tests: two flame spread tests, and two intermittent flame tests
Intermittent flame tests require fifteen 2 min exposures to 1400° F flames with 2 min intervals between each exposure
A spread of flame test requires a single 10 min exposure to 1400-degree flame
All tests are performed in the presence of 1056 + 44y min air velocity
Not only will our products protect your home and property advancements, but Houston artificial turf provides the strongest warranty against reflective light. Reflective light can cause traditional grass and other synthetic grass products to fade. Not only that but reflective light can serve as a catalyst for fires, by drying out grass or melting competitor products. With SYNLawn you avoid all of the potential fire-starting threats that would otherwise need to be on your list of concerns.
SYNLawn® Synthetic Turf Survives Cosmopolitan Hotel Fire
One of our proudest examples of what sets our products above the rest is our direct credit for containing a fire that broke out on the 14th floor of The Cosmopolitan Hotel in Las Vegas.
When the hotel was initially built, the 13,000 square feet on the rooftop of the hotel had previously been installed with a competitor's artificial grass and as a result, the installation melted simply from being over-exposed to direct sunlight. Having been replaced by our incredible SYNRye 211, the hotel avoided complete disaster.
Back in 2016, when the fire broke out on the roof, guests naturally panicked and began to evacuate. Although surrounding palm trees and cabanas were a loss, our turf simply melted by the fire and turned black without flaming up and contributing to the blaze. Had it not been for SYNRye 211 the damage would have been incalculable. ASTM E-108 Class A fire-rated products extend an absolutely crucial time window that first responders rely on to arrive and extinguish fires. We are proud of our products and confidently praise them as the highest rated in fire safety.
Summertime brings fun but also can bring dry and dangerous conditions.
Learn about SYNLawn Fire Safety Ratings.
Our products are the direct result of our customer's needs and more than 50 years of research and development. For more information on how our products can keep your property safe while providing the most realistic, low-maintenance, and eco-friendly environment, contact SYNLawn today to schedule a free consultation!
Please fill out all mandatory fields with an asterisk *
Your information will be held confidential with our company.