Sport Surfacing in Houston, TX
SYNCourt systems have lived up to their name. The dynamic and colorful appearance combine its inherent safety, maintenance, and performance characteristics to make SYNCourt an obvious choice for all types of sports surfacing
Whether you are a homeowner looking for a backyard baseball court or a school facilities manager requiring a more kid-friendly surface, SYNCourt employs an innovative, centralized design and construction process that improves quality, lowers cost and streamlines installation.
Customers Come First Philosophy
The secret to a long-lasting court lies in expert design, service, and installation. We promise to deliver everything needed before, during, and after installation to keep your court performing for years to come
Custom Court Built Just for You
Let us custom-design a court just for you...any size, any color combination, any game, any size logo, everything you want. When you work with SYNCourt, you will work with our in-house designers to get a custom solution that fits your backyard, activities, and budget.
Made in the USA
We are proud that all our surfacing options are made right here in the USA.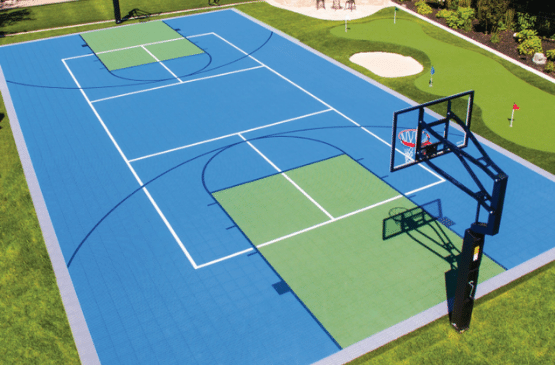 Highly Customizable Tile Surfaces
Our customized playing surfaces are built for performance and durability, allowing you to enjoy the games, hobbies, and sports of your choosing. All of our tiled surfaces are suitable for hockey, four square, badminton, shuffleboard, and futsal. Its colors and logos can be easily customized to fit your unique branding and are produced at our state-of-the-art warehouse to ensure precision and endurance.