League City, TX Artificial Grass
Transform your landscape in League City, TX with ultra-realistic artificial grass from SYNLawn Houston. With it, you can alleviate the hassle of consistent landscape maintenance and enjoy luscious and vibrant turf year-round. Your home or business can also help conserve thousands of gallons of water each year and significantly reduce your carbon emissions. At SYNLawn Houston, we offer highly realistic, low-maintenance, and eco-friendly artificial turf that is manufactured to create environments that are exceptionally resilient, sanitary, and safer for everyone. Learn more:
Commercial Synthetic Grass
Business owners in League City, TX choose SYNLawn Houston for their commercial artificial grass needs. They do not have the time to stay on top of landscape care but understand the importance of creating the perfect first impression on their customers. Fortunately, our League City synthetic grass is the result of numerous years of research and development and includes a variety of exclusive technologies and features that are not found anywhere else in our industry, including: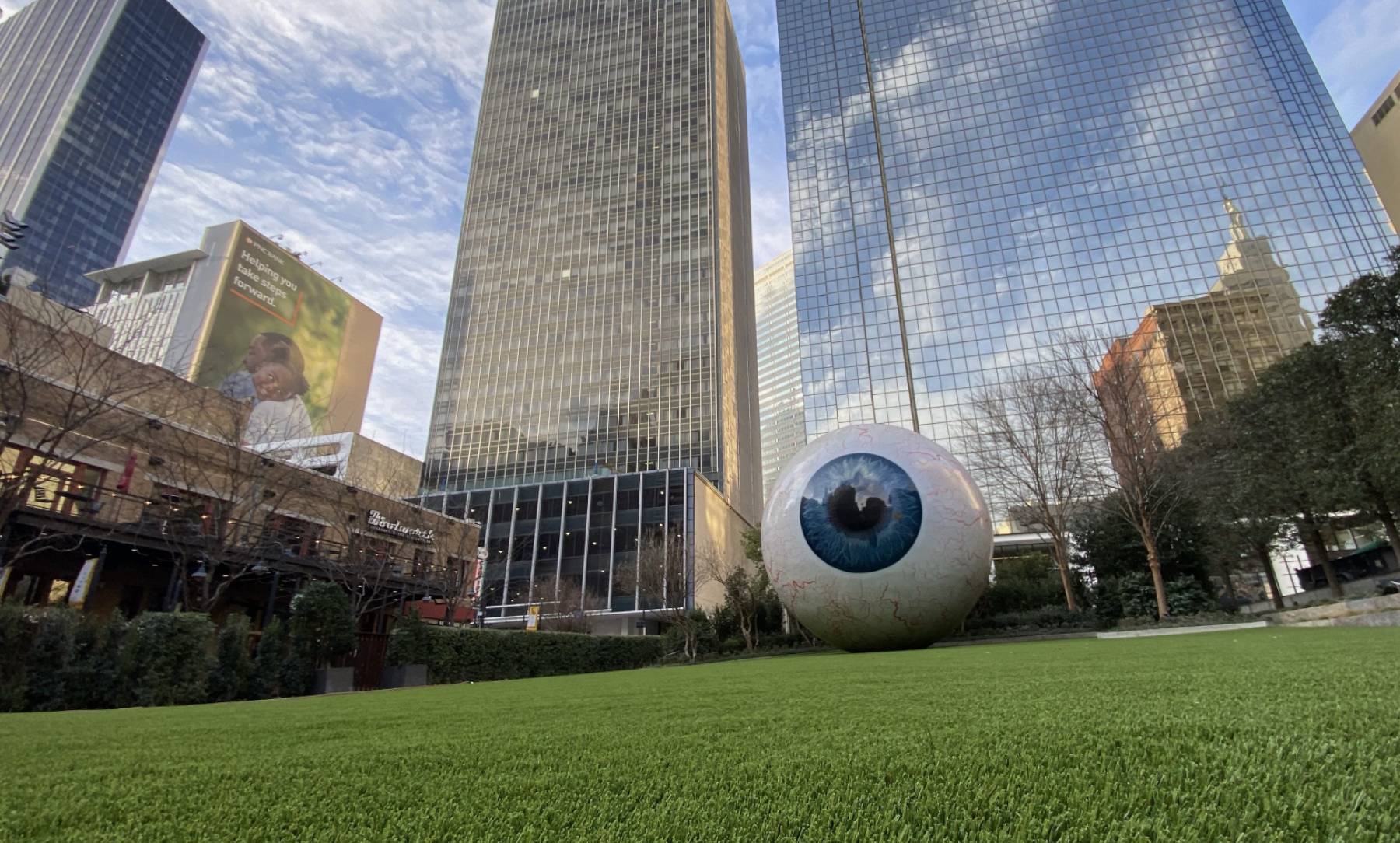 Golf Turf Installation in League City, TX
At SYNLawn Houston, our artificial golf turf goes beyond everyday synthetic grass. In order to start again and reimagine the golf turf formula, we teamed up with golf professional Dave Pelz. In doing so, our League City, TX artificial putting green installations provide exceptional durability for practicing drives, putting, chip shots, and flop shots. Never again will you need to worry about your club becoming stuck on your green or shell out cash for pricey repairs. Our SYNLawn golf turf can also be customized. This means that you may fit it into nearly any area and add obstacles to boost the difficulty or LED cup lights to add a personal touch.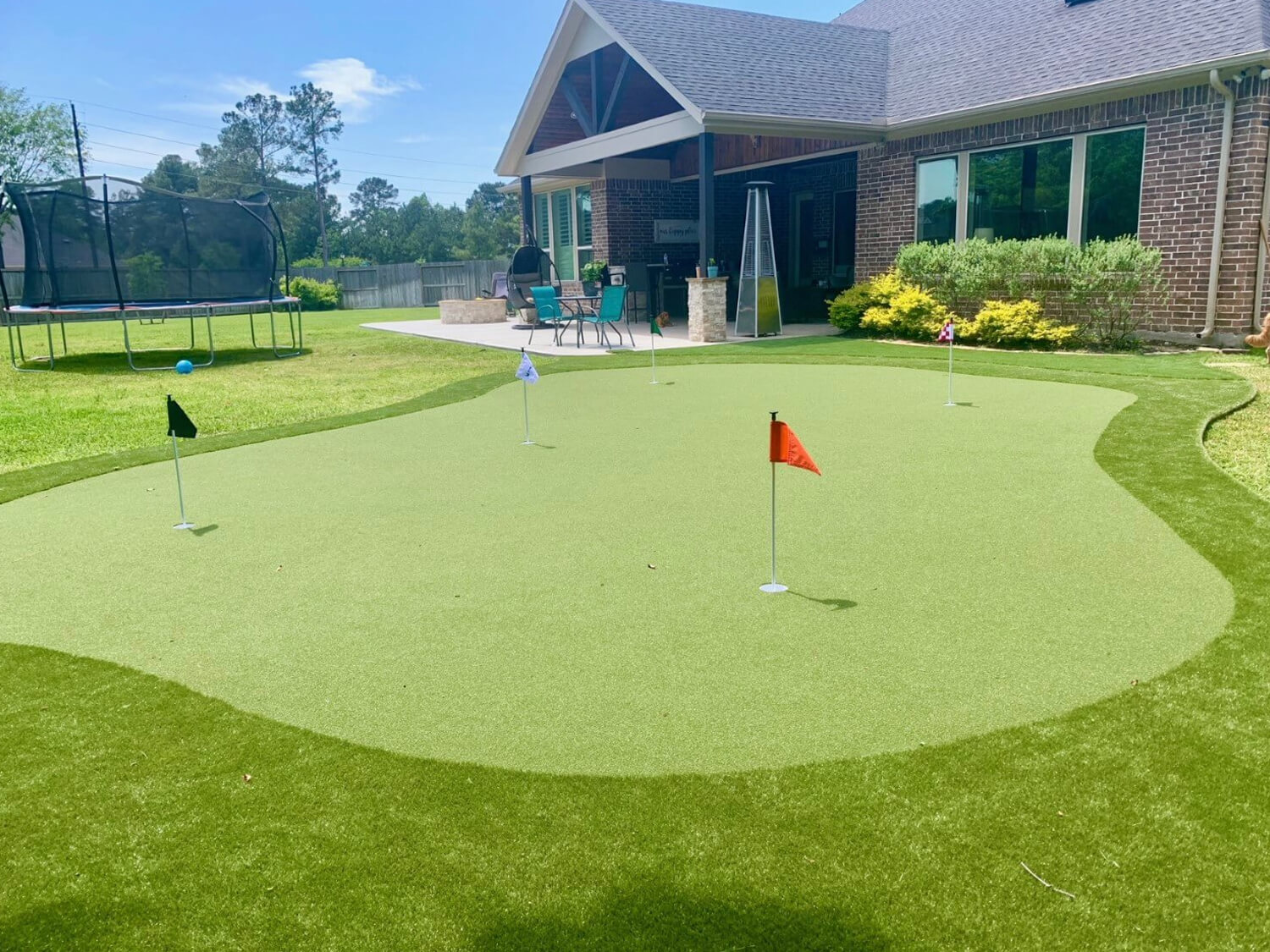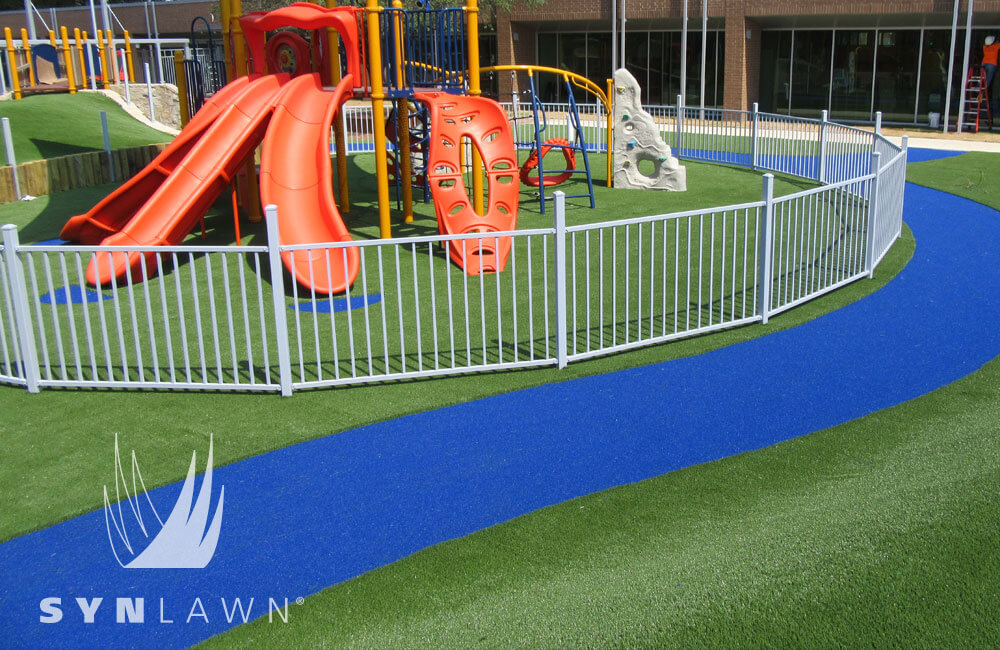 League City, TX Playground Turf for Schools, Play Areas, and More
For a variety of applications, including playgrounds, the team here at SYNLawn Houston takes pride in our capacity to offer artificial playground turf systems that have unparalleled quality and outstanding longevity. Our ideas for playgrounds start with a secure base. Our top aim must be to ensure everyone's safety. Our IPEMA and ADA certifications create a safer area where kids may play with less fear of suffering potential injuries with falls of up to ten feet. In addition, compared to our competitors, our HeatBlock technology provides much cooler surface temperatures.
SYNLawn® Pet Turf Installation in League City, TX
Give your pup their new favorite place to play with our stellar artificial dog and pet grass. With it added to your home or business, you can enjoy a reduction in muddy paws, stains, odors, and holes in your lawn. Instead, you will enjoy year-round luxury, vibrance, and fun with your pup while eliminating the need for traditional maintenance of any kind.
Sanitized® antimicrobial controls pet stains and odors and eliminates up to 99% of bacteria
Omega Technology provides long-lasting blade integrity
EnviroLoc+ multi-layer backing system locks in turf fibers to extend the life of SYNLawn products
Maximum drainage of up to 1,200 inches per hour allows for immediate use after it rains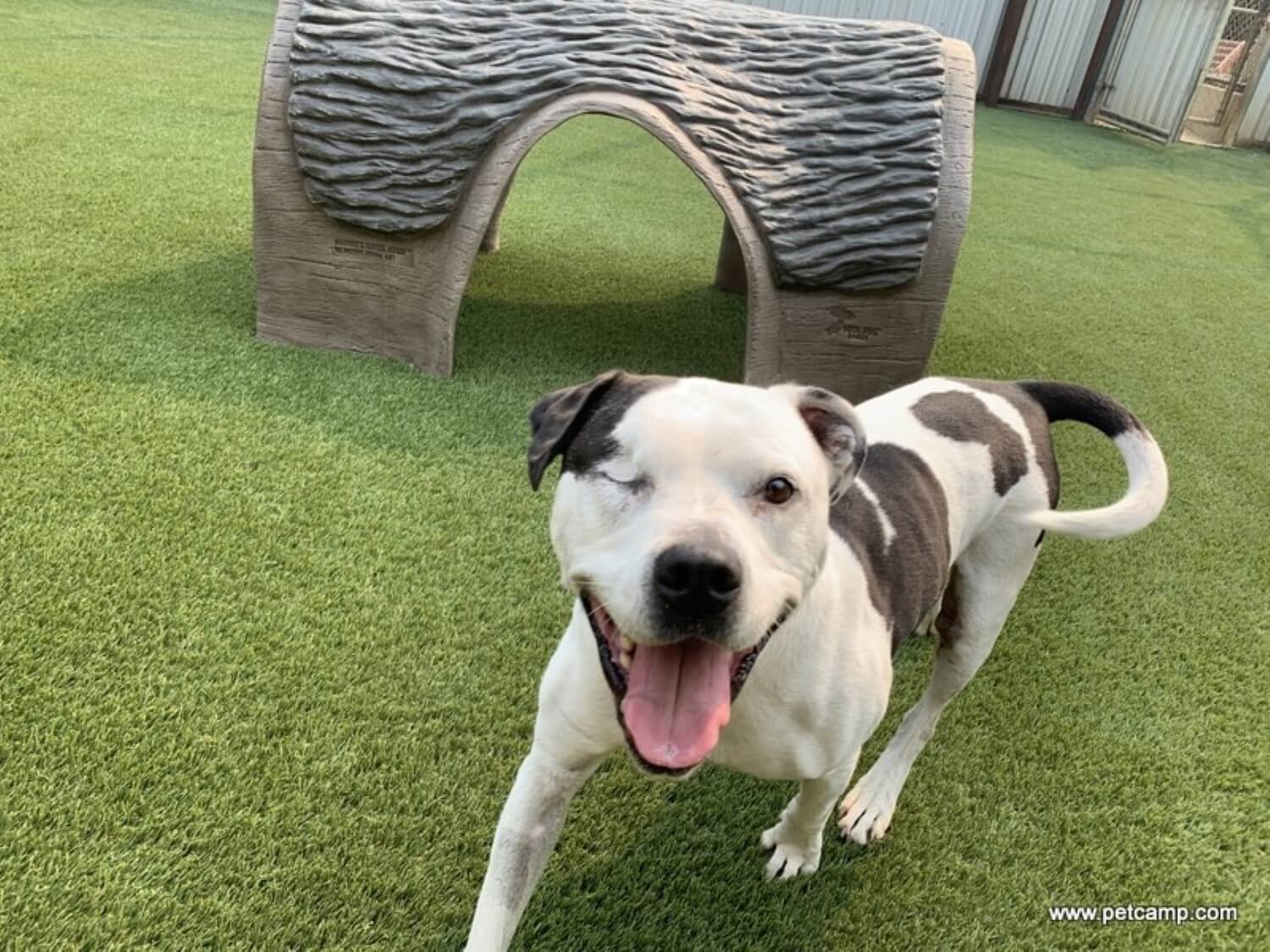 VistaFolia® Faux Plants and Plant Walls
VistaFolia's artificial living walls are one of the most luxurious ways to add energy and brightness to any interior or exterior design. They are low maintenance because of the non-fading synthetic plants, and they are engineered to resist harsh weather. They can also be customized with eight various vibrant colors and opulent textures, and they can easily handle elaborate patterns.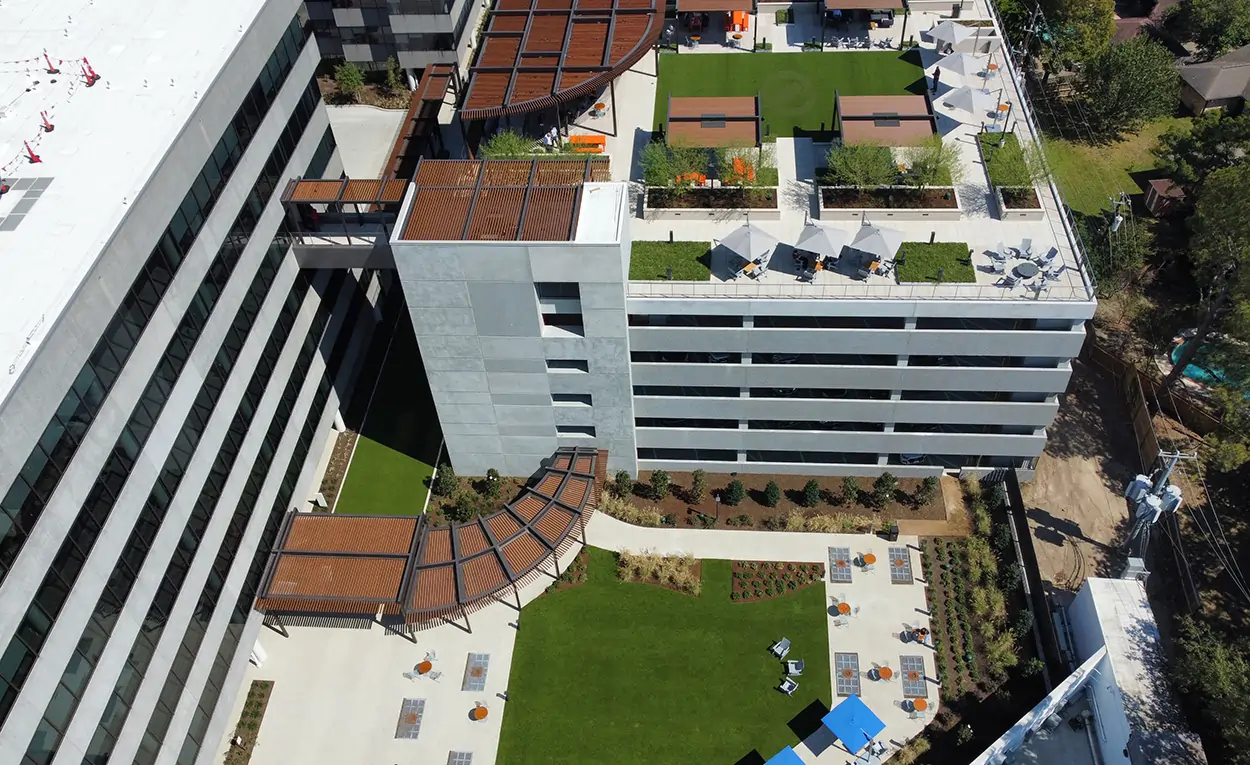 Roof, Deck, and Patio Turf
Give your outdoor living area a makeover with the help of SYNLawn synthetic turf in League City, TX. Our state-of-the-art, ultra-realistic artificial turf offers a place to get together and fill out empty and awkward spaces. Transform your roof, deck, or patio into the garden you have always wanted with our artificial grass: a place to play with the kids, the perfect grill spot, and so much more. Our League City artificial grass for roofs, decks, and patios offers a more appealing look to your outdoor living area than concrete or wood and will remain lush and vibrant all year long regardless of the weather conditions.
Are You Ready to Get Started?
At SYNLawn Houston, our team has helped commercial and residential properties in League City, Texas revitalize their surroundings for many years with our artificial grass options and professional installation. We offer top-quality League City synthetic turf at affordable prices with payment plans available to help accommodate any budget. To learn more, contact SYNLawn Houston today to take advantage of your free consultation!
Please fill out all mandatory fields with an asterisk *
Your information will be held confidential with our company.