Bellaire, TX Artificial Turf Installation
Residents in Bellaire are converting to SYNLawn® synthetic grass because it is the most realistic and technologically advanced.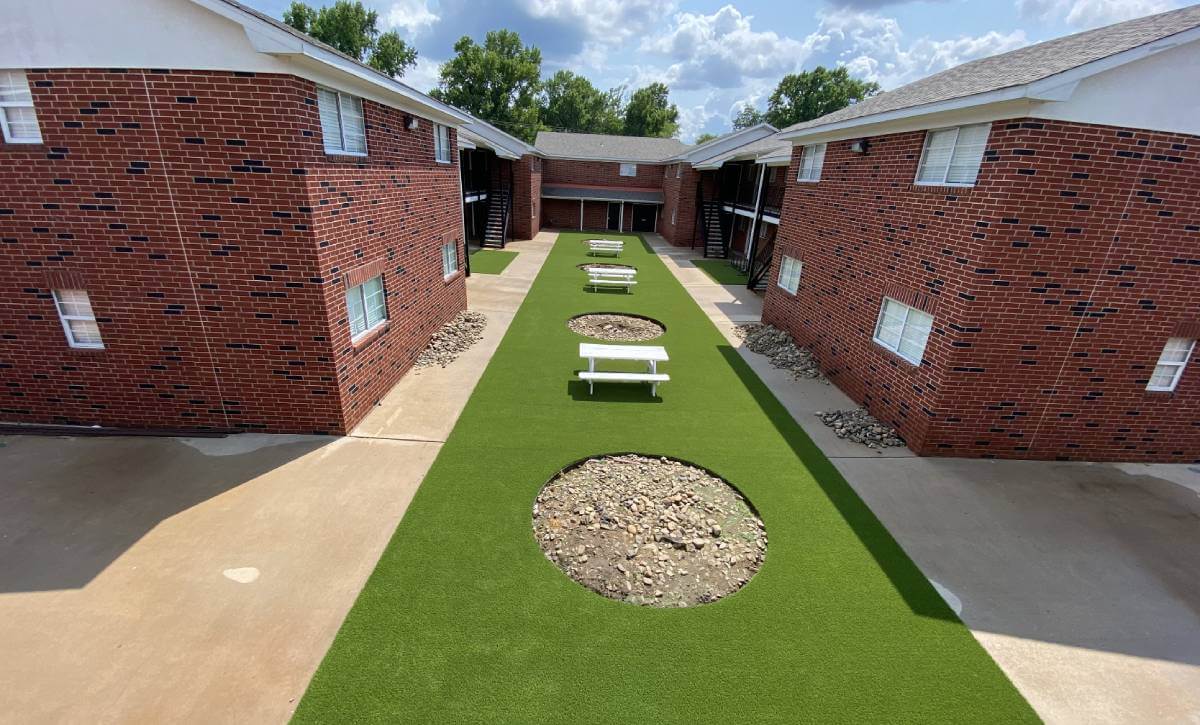 Our cutting-edge fake grass provides a plethora of benefits to homeowners who want to change the look of their landscape with ultra-realistic grass without having to maintain it on a weekly basis. Residential clients benefit from the time and money savings given by our products all year round. Our Bellaire artificial grass can be used in backyards, front yards, dog runs, play areas, patios, roofs, decks, and other spaces. SYNLawn® Houston artificial turf is environmentally friendly and recyclable; made in the United States with the assistance of local soy farmers.
Commercial Artificial Grass Installers
SYNLawn® Houston understands the importance of your commercial property's front entrance to visitors and customers. Commercial property managers in Bellaire utilize SYNLawn® artificial grass to save time on maintenance and focus on what is most important in their line of work. Furthermore, environmentally conscious customers like our Houston commercial artificial grass since they are produced from recyclable eco-friendly materials. We collaborate with US soy farmers to replace petroleum-based commodities with sugar cane and soybean oil. Our products are perfect for a variety of commercial applications, including athletic facilities, common areas, retail malls, roofing, and facility landscaping.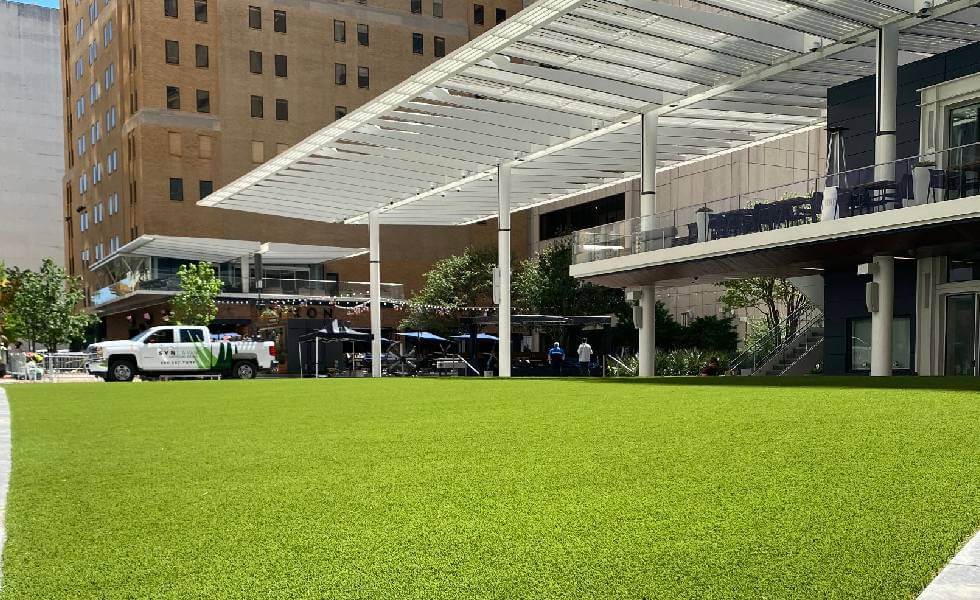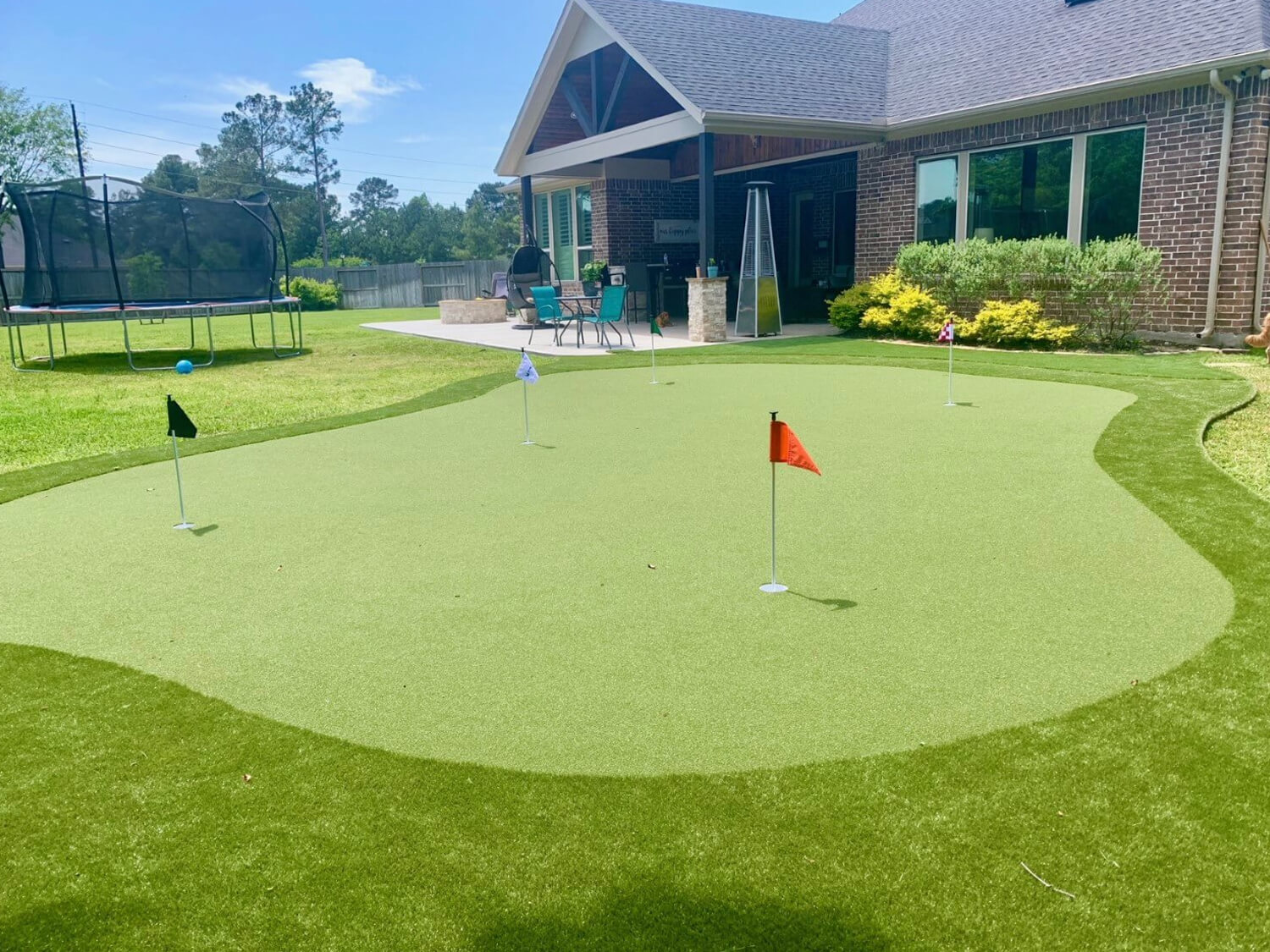 Bellaire Golf Turf and Putting Green Installation
At SYNLawn®, we collaborated with renowned golf coach Dave Pelz to create Artificial Putting Greens and golf green turf that perform like PGA courses. As a result of this collaboration, we are able to create Bellaire golf greens that perform to the same standards as professional golf courses. Our golf turf is suitable for a wide range of uses, including the backyard, inside, rooftops and more. We also offer portable options that you can carry with you everywhere you go.
SYNLawn® artificial golf turf in Bellaire, TX provides exclusive benefits including:
Provides a realistic putting experience with a true ball roll
Extremely resilient surface to improve your chipping skills on
Ability to install LED lights in each cup for nighttime practice
Add sand traps, tee lines, tee boxes, slopes, obstacles, and more
Water is unable to settle beneath the putting green turf and wash the base out
Effective drains in each cup prevent backfill of water and mold
Engineered by an ex-NASA engineer to imitate the performance of natural grass
Bellaire Pet Turf Both You and Your Pets Will Love
Our environmentally friendly Bellaire Pet Turf is constructed of recyclable materials that help the environment while also offering a safe place for children and dogs to play and rest. Our Super Yarn™ technology features a cutting-edge antimicrobial by Sanitized® which destroys 99 percent of odor-causing bacteria while repelling fleas, ticks, and other pests. Your pets will be able to enjoy their new play area all year long without digging holes, tracking dirt, or getting their paws burnt.
Odor resistance through the incorporation of Sanitized® and Envirofill® pet-friendly infill
Stain-resistant and very easy to clean with optimal drainage to keep surfaces usable after rain and hose usage
No watering, fertilizing, or mowing ever needed
No brown spots caused by ammonia from pet waste
No digging or holes in your lawn space
Prevents moles and gophers from destroying the lawn
No dirt or mud to be tracked into your home from paws
No pests such as fleas or ticks, help prevent the spread of disease
Added upgrades available for even the most destructive dogs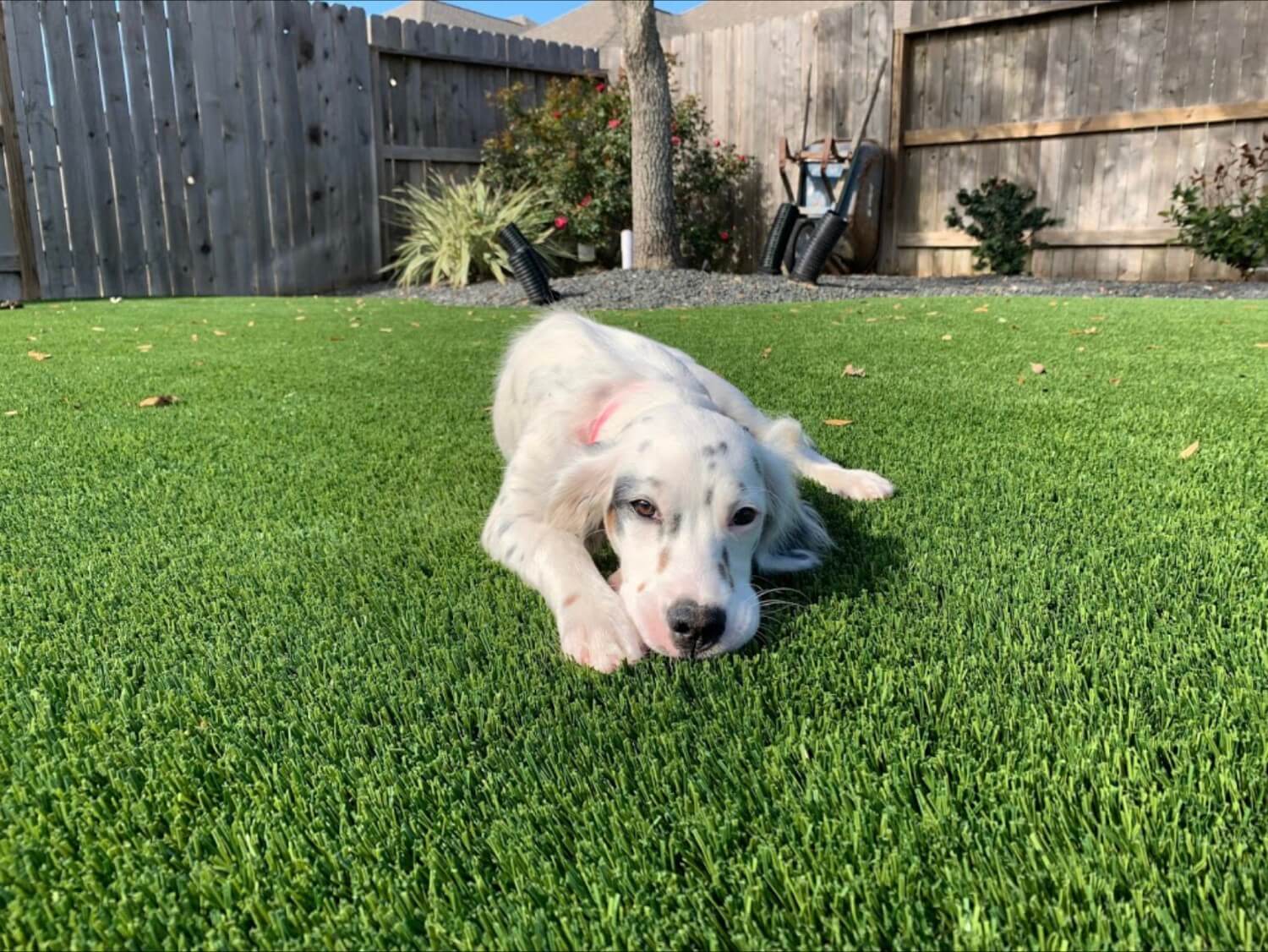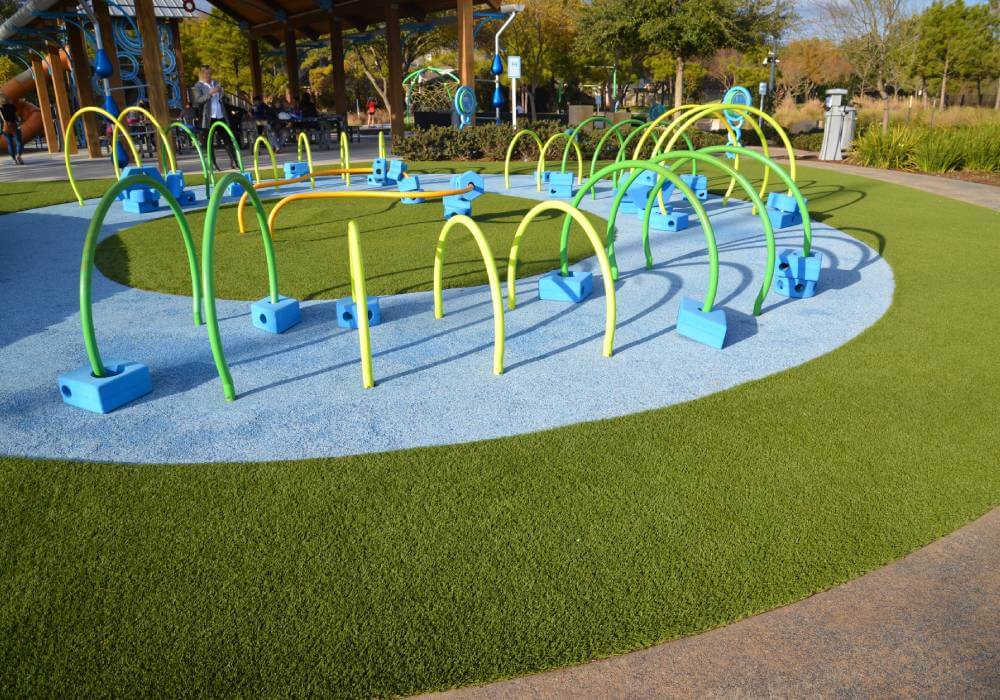 Playground Turf Installation in Bellaire, TX
Our highest priority is to provide your children with a safe atmosphere in which to have fun in their own way. As a result, SYNLawn® Houston playground systems meet ADA and IPEMA specifications. We maintain our dedication to safety and quality by providing you with slip-resistant surfaces that can protect children from ten-foot falls and have been treated with Sanitized® Antimicrobial technology to prevent germs from spreading. Our playgrounds are also handicap accessible and among the most child-friendly in the business.
Bellaire Roof, Deck, and Patio Turf Installation
Bellaire artificial grass from SYNLawn® Houston is simple to install on your Roof, Deck, or Patio. Our products are designed to transform any unappealing or unused room in your house into a gathering location. Design a completely new rooftop lounge area out of the coolest fake grass available for maximum comfort, even in the summer. Our low-maintenance, eco-friendly products provide a delightful poolside patio addition where kids and pets can rest and dry off. SYNLawn® also provides artificial grass solutions that are ASTM E108 Class A fire rated, making our products even safer. SYNLawn® turf provides the perfect addition to poolside decks with added pavers. We work closely with pool designers, pool builders, pavers and more, to create luxurious landscapes for residential and commercial properties.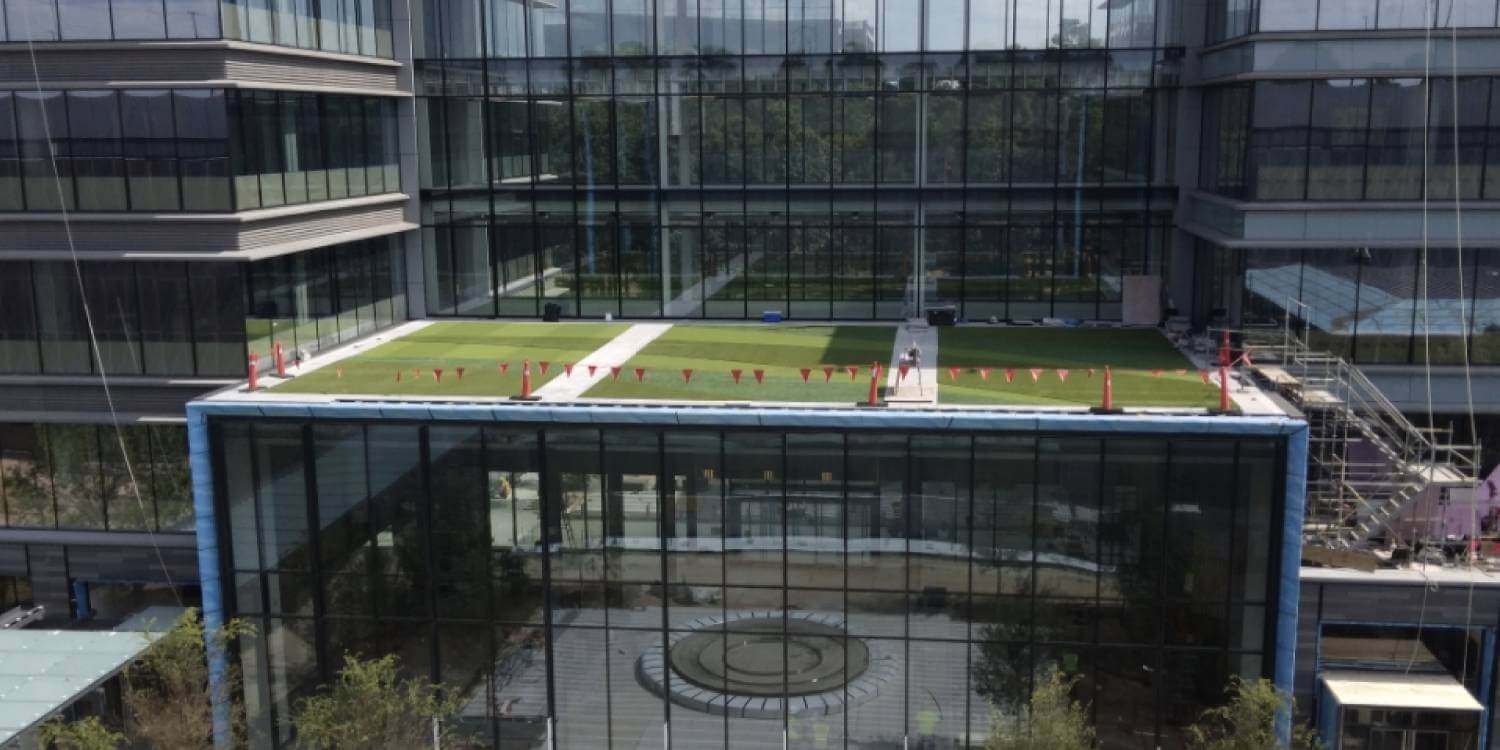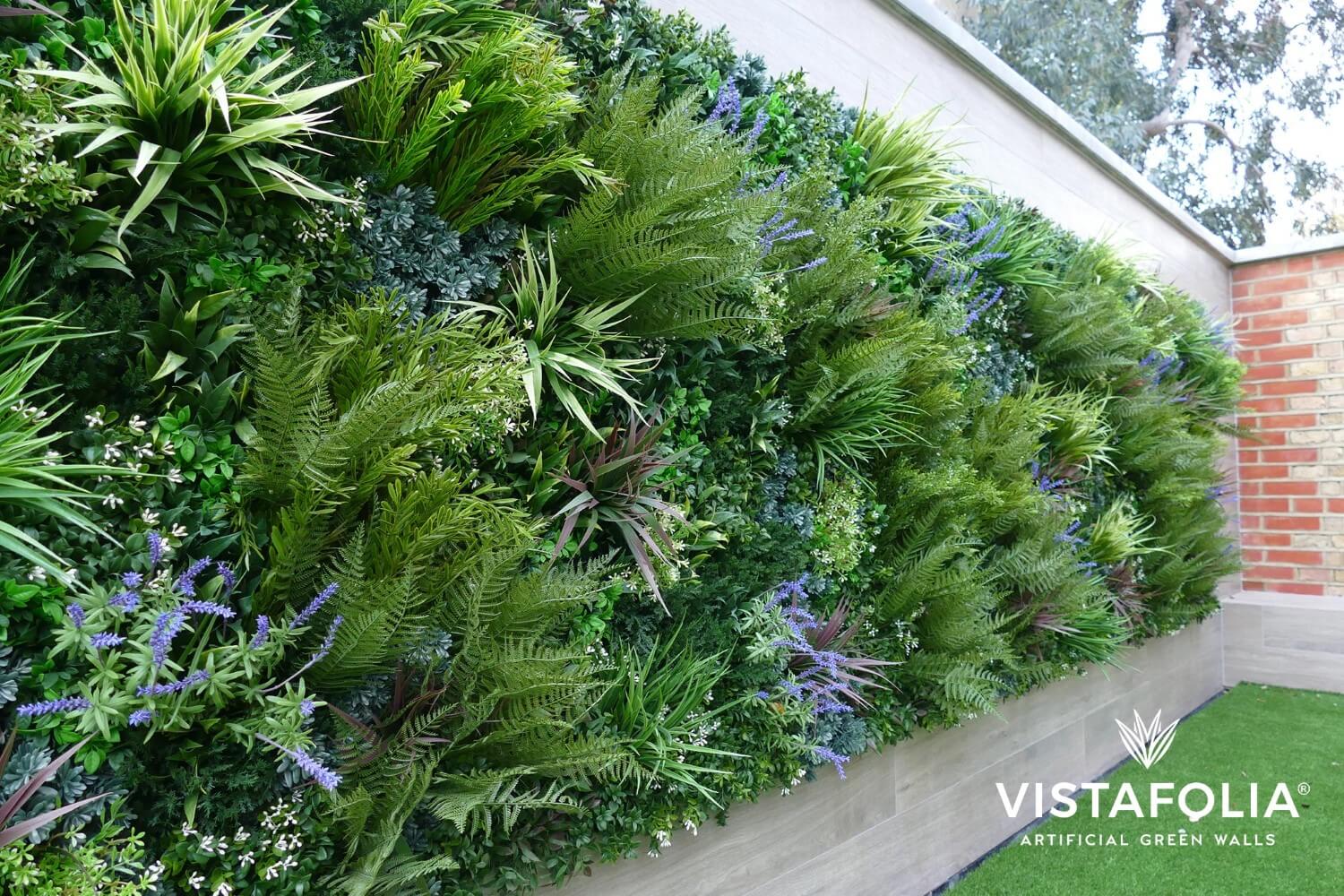 Artificial Living Walls by VistaFolia® in Bellaire, TX
VistaFolia® Synthetic Living Walls are ultra-realistic imitation flora that blend in flawlessly and may be customized in a number of ways. Our vibrant artificial foliage comes in a variety of custom plant combinations that faithfully mimic the colors, shadings, proportions, and movement of actual plants. VistaFolia® vertical gardens in Bellaire, TX are ideal for any interior or exterior design, and they don't need to be watered or maintained in any way.
Quick and easy installation
Indoor and outdoor designs
8 varieties of bright colors and lush textures to choose from
Lightweight panels designed to allow free movement of air
Unmatched realism: exact colors, shadings, and dimensions
UV-protection to minimize fading of outdoor installations
Customizable arrangements with a range of color boxes
Manufactured to ISO 9001 quality standards
Backed by a 5-year warranty
Schedule a FREE Consultation Today!
At SYNLawn® Houston, we pride ourselves on providing excellent customer service and precise Bellaire artificial turf installation services. Among the industry masters with whom we regularly partner with are landscape architects, landscape designers, architectural firms, general contractors, construction companies, roofers, sports facilities, sporting events, private schools, school districts, universities and many more! We collaborate to build settings that are safer, cleaner, and more technologically advanced than our competition. For more information on our services and products, please contact us today for a FREE estimate to see how we can assist you in making your design dreams a reality!
Please fill out all mandatory fields with an astrerisk *
Your information will be held confidential with our company.