Businesses and homeowners across the Katy, Texas area are discovering the ever-growing possibilities and benefits of replacing their landscapes with SYNLawn. Katy, TX artificial grass is fulfilling the desire for a luxurious green lawn that excites customers, family members, friends, and more. However, not all of us have the time or money to follow up with the seemingly endless maintenance required to achieve this year-round. SYNLawn artificial turf in Katy, TX offers water-savings, low maintenance, ultra-realistic, and eco-friendly solutions that are perfect for a wide variety of residential and commercial applications.
Katy, TX artificial turf saves customers time and money from the moment it is installed. On average, our customers are able to save anywhere from 50 to 70 percent on water bills as well as the money that they would regularly spend on maintenance crews and equipment. This makes it easier for commercial and residential property owners to focus more on the things that are most important to them. From providing the highest level of customer service and new experiences, to entertaining family members and making new memories with friends.
SYNLawn works closely with US farmers so that we can confidently offer products that give back to the environment. We utilize recyclable plant-based materials including sugar cane and soybean oil, to replace substantial amounts of petroleum from our manufacturing process. All SYNLawn products are manufactured at our in-house facility in Dalton, GA so that we can ensure both the quality of our products as well as meets environmental standards. Furthermore, SYNLawn is the first and only company to offer Katy, TX artificial grass options that are USDA-certified. Products with this certification from our catalog contain anywhere from 60 to 80 percent bio and plant-based content.


Additional exclusive features and benefits of SYNLawn include, but are not limited to:
Exclusive Super Yarn™ technology that combines DualChill™ IR reflectivity,
Sanitized® antimicrobial, and StatBlock™ anti-static
The plant based EnviroLoc+™ backing system locks in turf fibers to prevent shedding and prevents the spread of allergens
HeatBlock™ technology is scientifically proven to keep our surfaces up to 20% cooler than competing brands
UV stabilized yarns for long-lasting realism
ASTM E108 Class A fire-rated options
Unmatched limited lifetime warranty
KATY, TX PUTTING GREEN INSTALLATION
Passionate golfers across Texas are spreading the word about SYNLawn golf greens in Katy, TX. Create a putting green that can be used both indoors and outdoors, to fit any size or shaped landscape, with a variety of customization options from LED cup lights, sand traps, tee boxes and many others. You can practice your short game on authentic performing putting greens engineered to provide a realistic, consistent ball roll and natural slowing down characteristics, identical to those seen on a professional golf course. SYNLawn putting green turf will retain their vibrant color, natural appearance, and lifelike texture with minimum maintenance. Enjoy convenient access to a PGA-caliber putting green that will truly aid in improving your short game skills.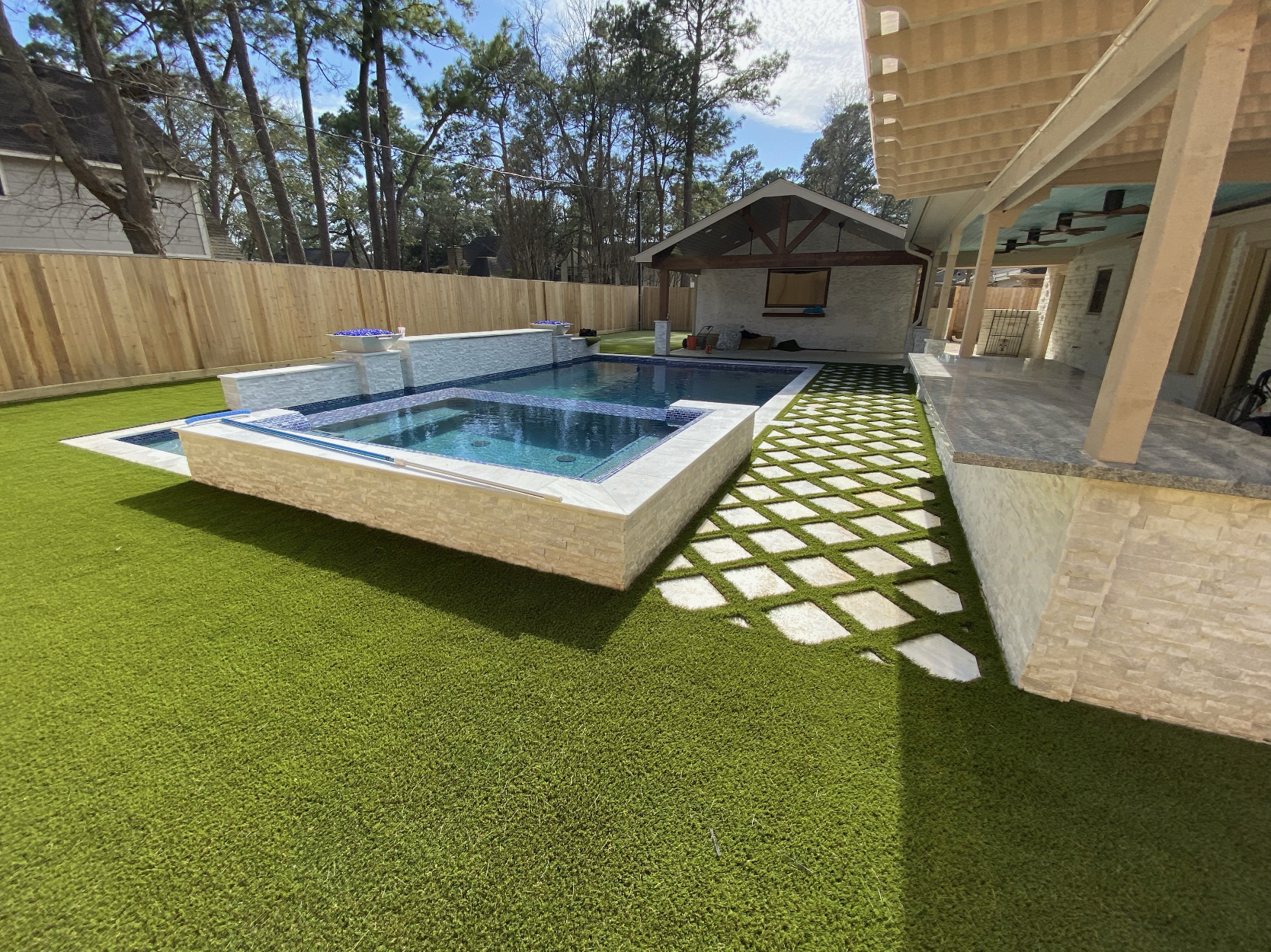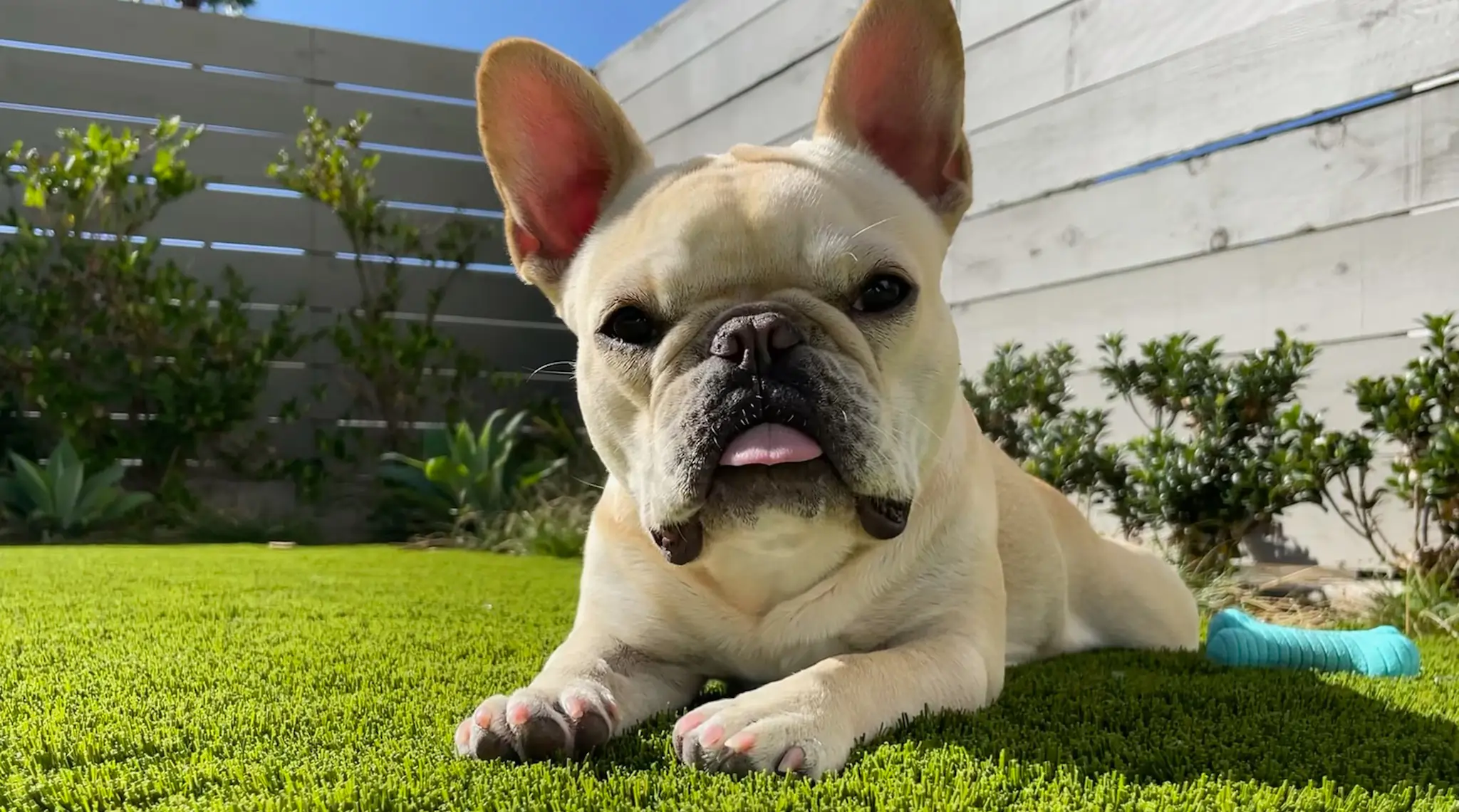 THE CLEANEST AND GREENEST PET TURF IN KATY, TX
Katy, TX pet grass from SYNLawn Houston is currently the most secure and hygienic surface for pets. It requires minimum upkeep and stays vibrant, lush, and beautiful year-round. Additionally, we add a non-toxic Envirofill® infill at every pet-friendly artificial grass installation. Envirofill® successfully removes up to 99 percent of stain and odor-causing bacteria. With our stunningly realistic, pet-friendly artificial lawns, you can say goodbye to muddy paws, holes dug in the lawn, and pesky insects such as fleas and ticks.
Stain & odor resistance
No more muddy paws or muddy yard
Significantly cooler surface temperatures on hot summer days
Protection from diseases, fleas, ticks, and other pests
Extremely resilient grass fibers that maintain grass realism
Optimal drainage allows for use right after it rains
Locked-in turf fibers that prevent pets from tearing through it
Sanitized®️ antimicrobial found within our Super Yarn turf yarn formula effectively eliminates 99% of bacteria from turf surfaces
KEEP YOUR CHILDREN SAFER WITH SYNLAWN PLAYGROUND TURF
Katy, TX playground grass from SYNLawn ensures the safety of your children by offering a high-performing, very lifelike, and exceptionally durable surface. In addition, thanks to its IPEMA certification and onsite testing of our Katy playground turf installations, your children are protected from accidents that may occur and falls of up to ten feet.
IPEMA certified, ADA compliant, and CSA certification
Protection from falls up to 10 feet
Exclusive Sanitized® antimicrobial technology that eliminates 99% of all bacteria
Cooler and fade-resistant surfaces, made possible by HeatBlock™ technology and DualChill™ IR reflective technology
TrampleZones™ that prevent tearing in high-traffic areas