The Woodlands, TX Artificial Grass Installation
The cost of lawn maintenance can add up quickly. Fortunately, SYNLawn provides the most cost-effective artificial grass The Woodlands has to offer. SYNLawn synthetic turf saves time and money without giving up the lush, green lawn of your dreams. SYNLawn artificial turf in The Woodlands, TX, is also one of the most effective solutions we have to help alleviate rising drought conditions across the United States. On average, homeowners can account for 70% of their water consumption on landscape irrigation. When you make the switch to artificial turf, you conserve tens of thousands of gallons of water each year and significantly reduce your carbon footprint by eliminating the use of mowers and other lawn maintenance equipment.
SYNLawn provides commercial properties throughout The Woodlands, TX with artificial grass for a comprehensive list of applications. We have decades of experience completing projects for local businesses, retail shopping centers, restaurants, fitness/agility facilities, mini golf courses, dog parks, schools, rooftops, lawns, landscapes, and more. SYNLawn's exclusive Super Yarn technology and EnviroLoc+ backing system provide an antimicrobial surface with superior durability to heavy foot traffic. These two technological innovations make SYNLawn the ideal choice for commercial landscapes and public playgrounds. Business owners simply do not always have the time to maintain their landscapes but understand that setting a stunning first impression is vital towards lasting, positive impressions.
Environmentally conscious businesses also love the eco-friendly benefits of SYNLawn artificial turf. SYNLawn is the first and only company to provide USDA-certified products that contain up to 80% plant-based contents within its turf composition. We partner with US farmers to source renewable materials such as sugar cane and soybean oil to manufacture turf that is recyclable and safe for all. In fact, commercial green builders and specifiers can earn LEED® credits for their projects by utilizing SYNLawn for their landscapes!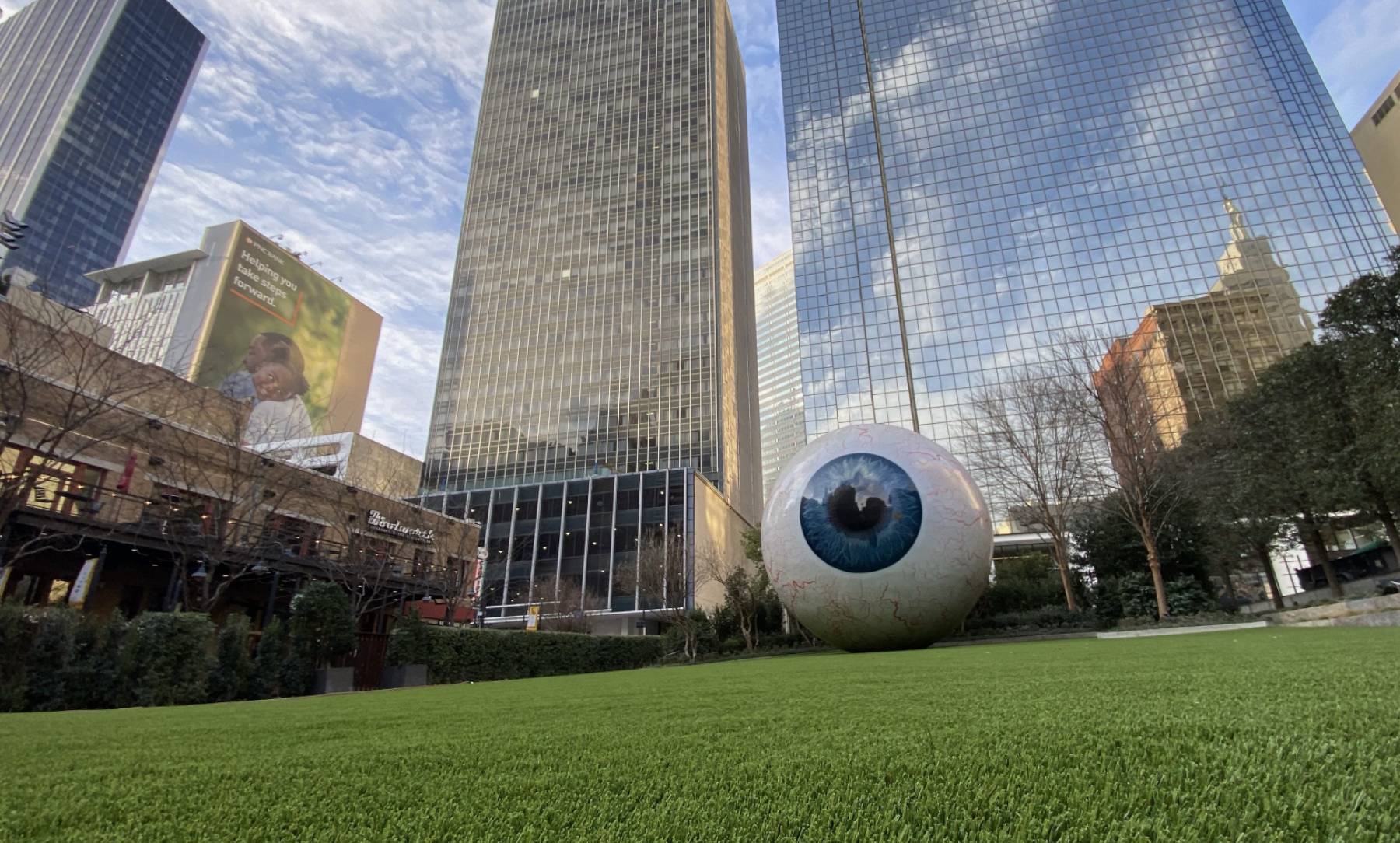 Give Your Pets a Safe and Sanitary Place to Play
SYNLawn pet turf in The Woodlands, TX is designed specifically with pets and their owners' needs in mind. SYNLawn Houston pet grass systems provide an antimicrobial-coated and exceptionally durable surface free of harsh chemicals that can harm your pet's health. With our EnviroLoc+ backing system, your pets can run and play hard without the lawn shedding or shifting on impact. No more muddy paws, no more holes in the lawn, and no more burned paws thanks to the cooler surface temperatures provided by our Super Yarn turf yarn formula.
Stain & odor resistance
No more muddy paws or muddy yards
Significantly cooler surface temperatures on hot summer days
Protection from diseases, fleas, ticks, and other pests
Extremely resilient grass fibers that maintain grass realism
Super drainage of 1,200 inches per hour allow for use right after heavy rains
Locked-in turf fibers prevent pets from tearing through it
Envirofill®️ antimicrobial is added to further prevent stains and odors from pet waste and bacteria buildup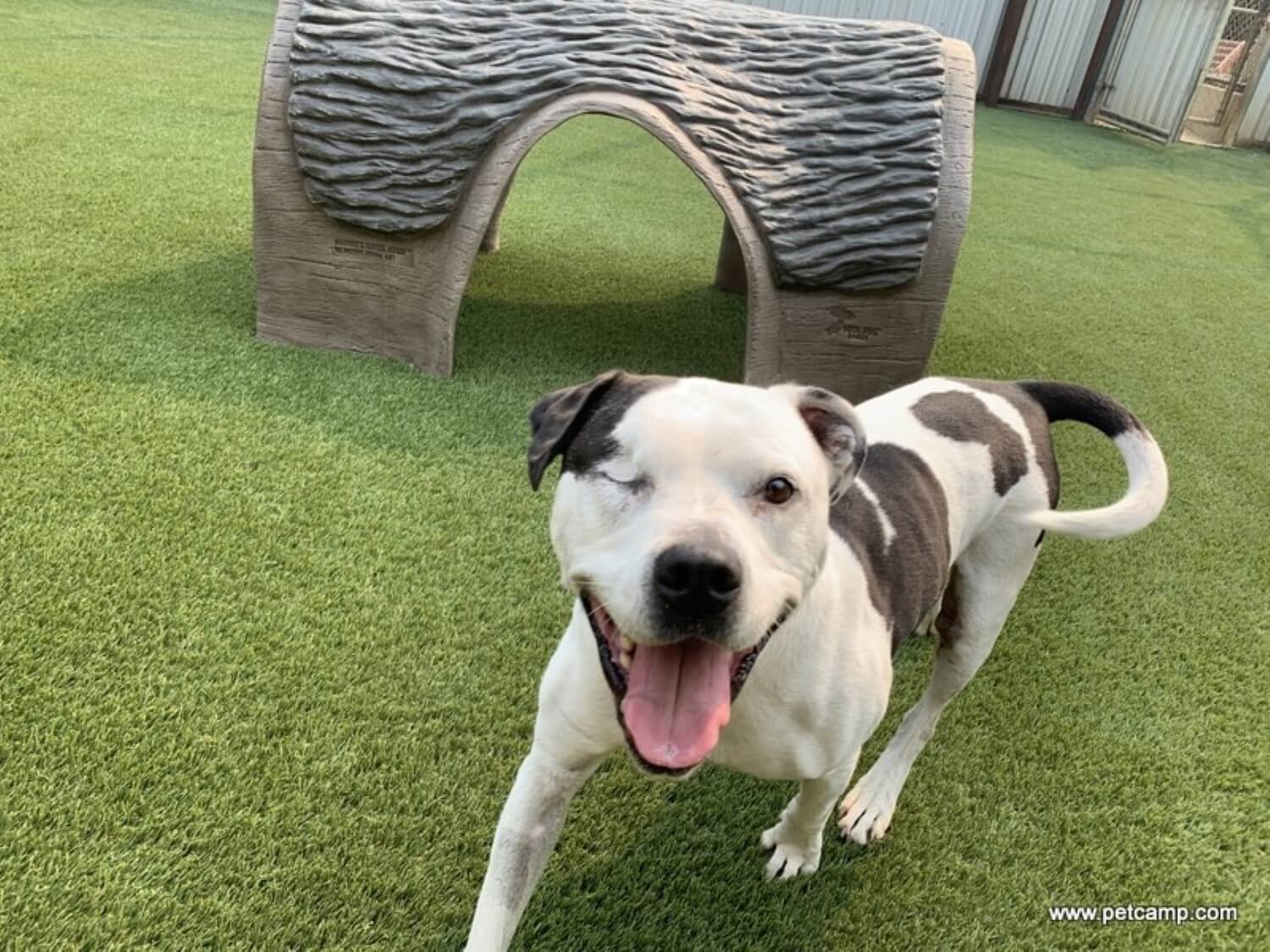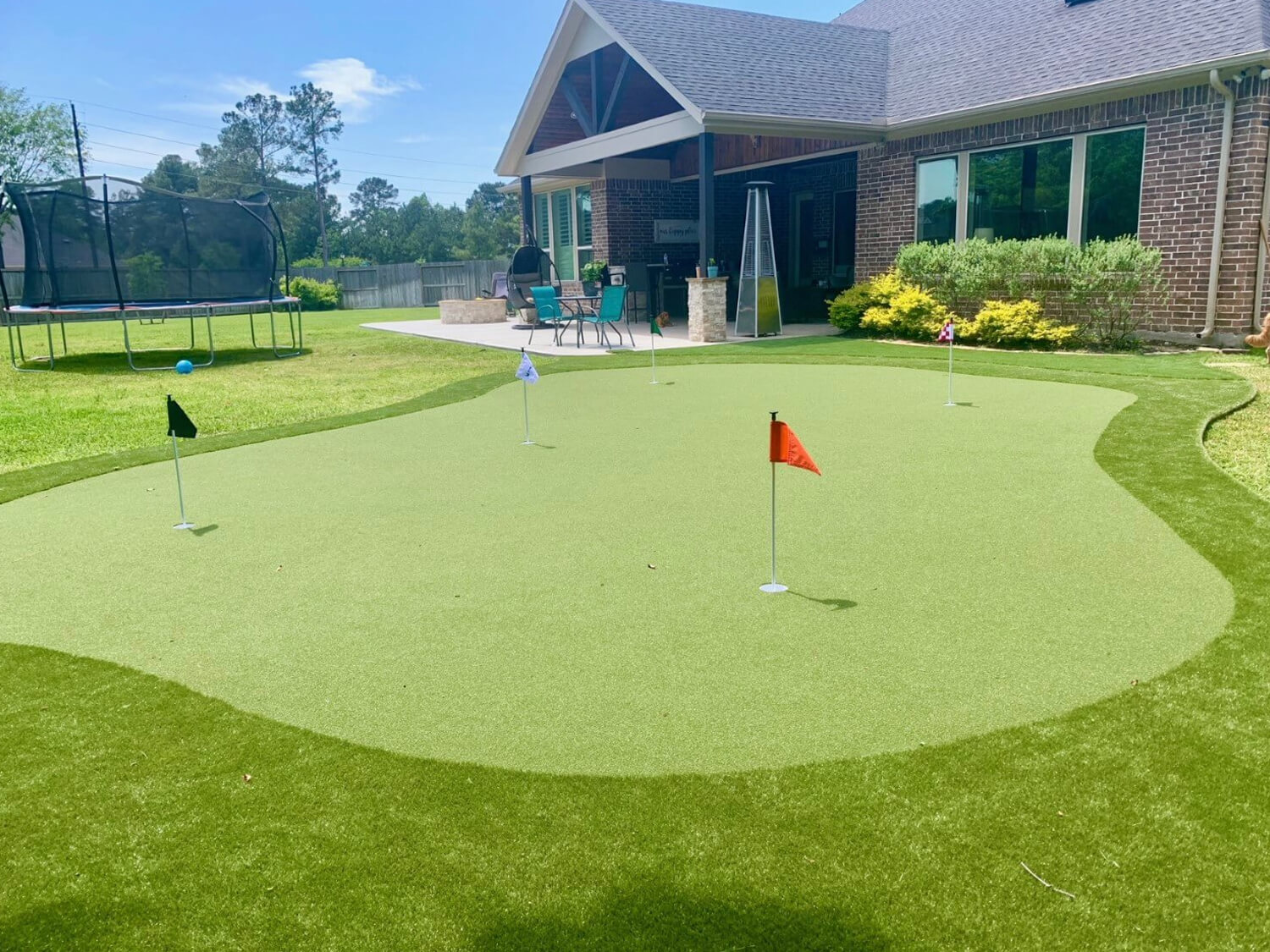 Putting Green Installation in The Woodlands, TX
All throughout Texas, you will find golf enthusiasts that are passionate about honing their golf skills and finding the perfect course to play on. However, they may not always be inclined to travel the distance every time they want to practice. SYNLawn provides cutting-edge golf greens in The Woodlands, TX that replicate real grass performance as closely as possible. Thanks to our partnership with golf professional Dave Pelz, we have successfully created golf turf that looks and feels natural while providing the most authentic ball performance from the comfort and convenience of your home or business.
Can only be installed by highly skilled and trained SYNLawn GreenMaster® certified installers
Offers true ball roll, realistic putt, and ball slow down characteristics
Extremely durable with the resilience to practice chipping and flop shots
One-inch-thick practice surfaces are available for a custom tee box that allows you to use a real golf tee and make a complete swing without grabbing the club head
Customizable with obstacles such as sand traps and turf bunkers to increase your challenge
Superior drainage prevents cup backfill and allows for practice after heavy rain
Backed by a lifetime warranty
The Woodlands, TX Playground Surface
When it comes to your children's safety, there is no such thing as "too safe." That is why we design SYNLawn playground turf surfaces that ensure your child's safety during playground time. SYNLawn playground grass in The Woodlands, TX, is independently laboratory tested for fall attenuation and can cushion falls up to 10 feet. SYNLawn playground surfaces are softer than any other traditional playground flooring, they do not leave behind an abrasive, and hot-to-the-touch black rubber crumb infill, and they help prevent injuries by adding a shock absorbing foundation. In addition, we offer highly resilient and easily replaceable TrampleZones® padding. These are low-pile height turf pads under swings, jungle gyms, and slide exits that make high friction areas more resilient and longer lasting.
Hypo-allergenic
Made with recyclable and eco-friendly materials
The top layer consists of soft synthetic grass that is non-abrasive
StatBlock™ is a carbon-based anti-static component that reduces static buildup and the transfer of static electricity from metal objects such as jungle gyms
HeatBlock™ lowers rising temperatures by reflecting sunlight and reducing heat buildup, resulting in up to 20% cooler surface temperatures
Fall Pad® subbase cushioning technology provides a soft padding foundation to aid in shock absorption
ASTM tested to meet HIC (Head Injury Criteria) requirements and more
ADA compliant and IPEMA certified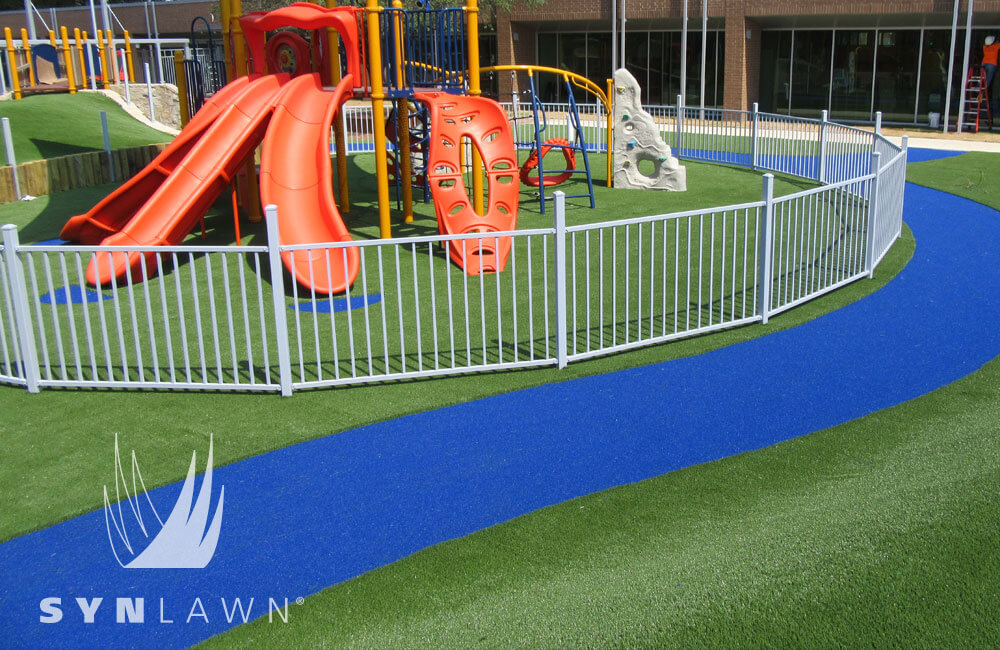 SYNLawn collaborates with experts in the field to design surroundings using cutting-edge artificial grass technologies and environmentally responsible materials. Our unmatched quality and realism set us apart from the competition and ensure that our clients will have a dependable and pristine lawn space for years to come. Our expert artificial grass installers in The Woodlands, TX make sure that each project is completed with precision and care. We are fully licensed, bonded, and insured to tackle projects of any size and offer financing options to all of our customers. For more information about SYNLawn artificial grass in The Woodlands, TX, contact us to schedule a free consultation today!
Please fill out all mandatory fields with an asterisk *
Your information will be held confidential with our company.