Houston, TX Artificial Grass Installation
With cutting-edge turf technologies and exclusive features, Houston artificial grass from SYNLawn provides residential and commercial buildings with the perfect low maintenance landscape solution. By replacing your natural grass with a hyper-realistic artificial turf, you will be able to save time and money on maintenance and get your weekends back! Traditional grass may be fairly time-consuming and expensive to maintain, but SYNLawn makes it possible to eliminate mowing, watering, dead grass, and muddy lawn spaces. Our plant-based Houston artificial turf is made from recyclable, eco-friendly ingredients, is safe for children and pets, and remains lush and vibrant throughout the year.
In addition, we work closely with US farmers to locally source environmentally responsible materials such as sugar cane and renewable soybeans to manufacture our products with. As a result, SYNLawn is the first and only company to provide a large collection of USDA-certified products containing more than 60% of bio-based contents within the turf.
Additional features and benefits of SYNLawn Houston synthetic grass include: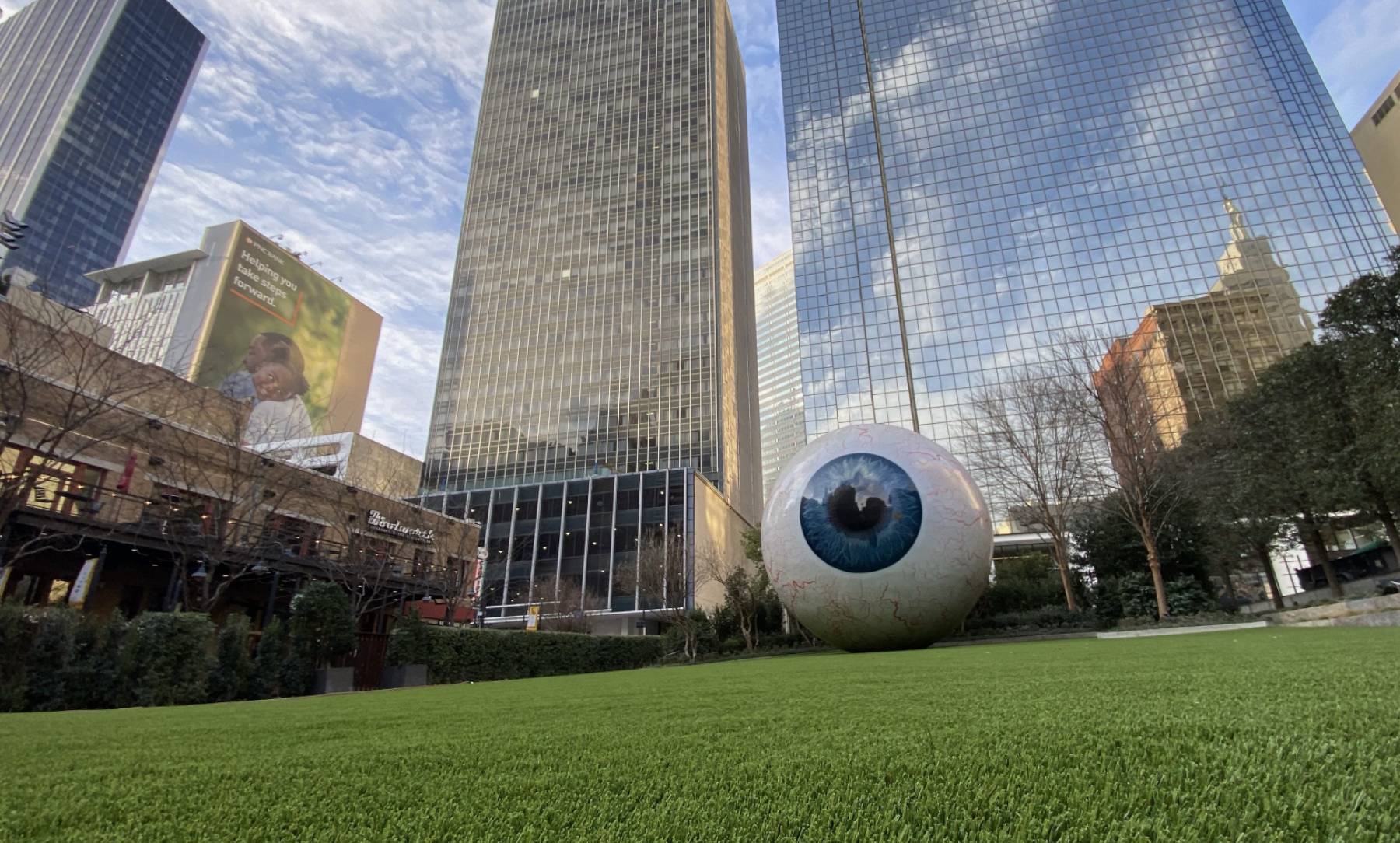 Custom Putting Green Installation in Houston, TX
Houston putting greens from SYNLawn are the perfect landscape amenity for golf lovers to practice their short game on. SYNLawn collaborated with professional golf coach Dave Pelz to create the most authentic performing putting green turf. Our state-of-the-art Houston golf greens are engineered to provide a realistic putting experience, with a natural and consistent ball roll, ball bounce, and slow down characteristics. SYNLawn Houston putting greens are perfect for any size application, including rooftops, underutilized backyard spaces, indoor putting greens and golf simulators, large commercial golf greens, driving ranges and more. In addition, we provide portable solutions that you can take with you anywhere you choose.
Authentic golf experience with little-to-no maintenance requirements
Extremely durable surface to practice chipping on
No water can settle beneath the putting green turf and wash the base out
Effective drains in each cup prevent backfill of water and mold
Ability to install LED cup lights for nighttime play
Add sand traps, tee lines, tee boxes, slopes, obstacles, and more
Monthly payment plans make it more affordable than ever to bring your dream backyard putting green to life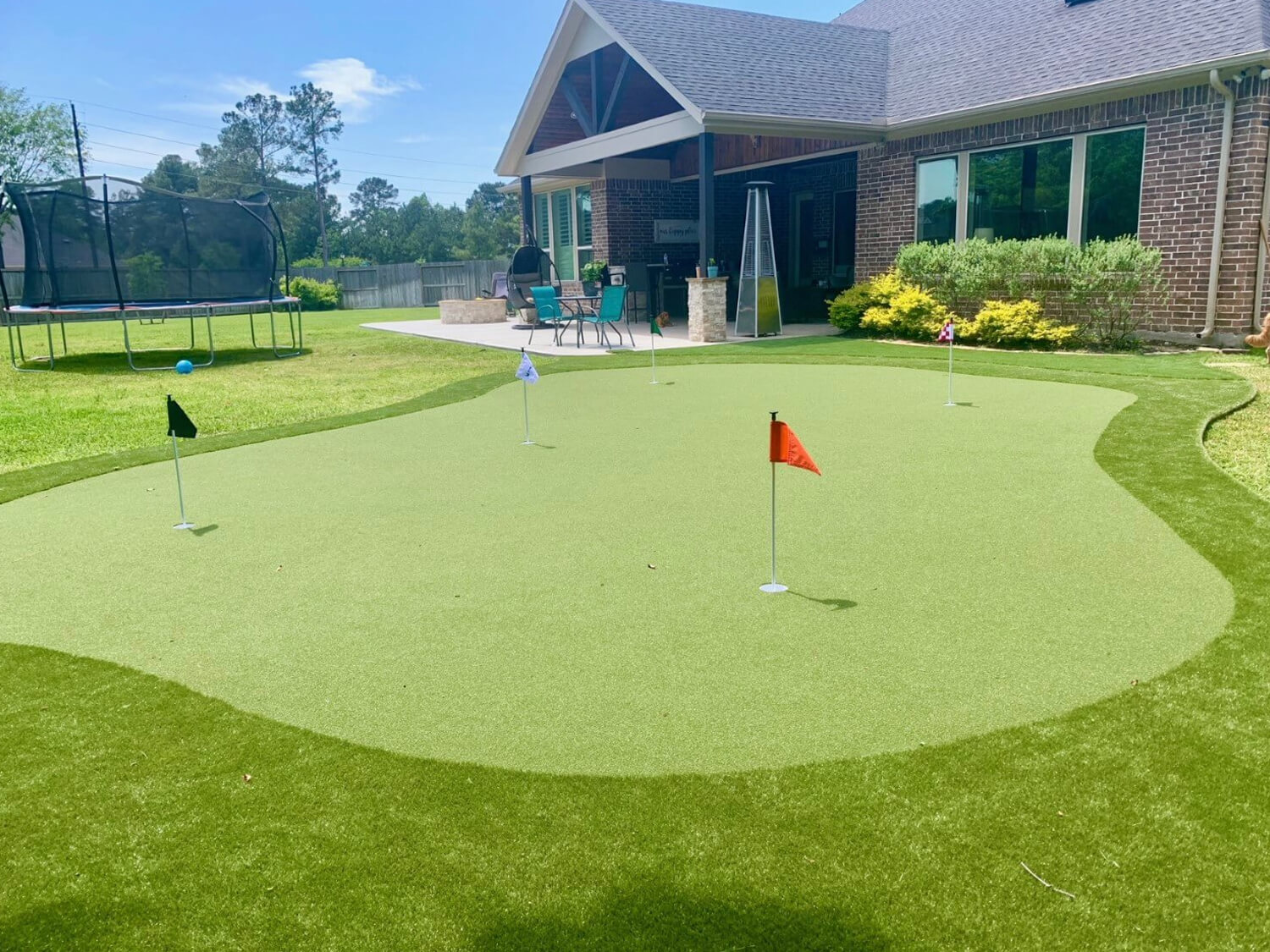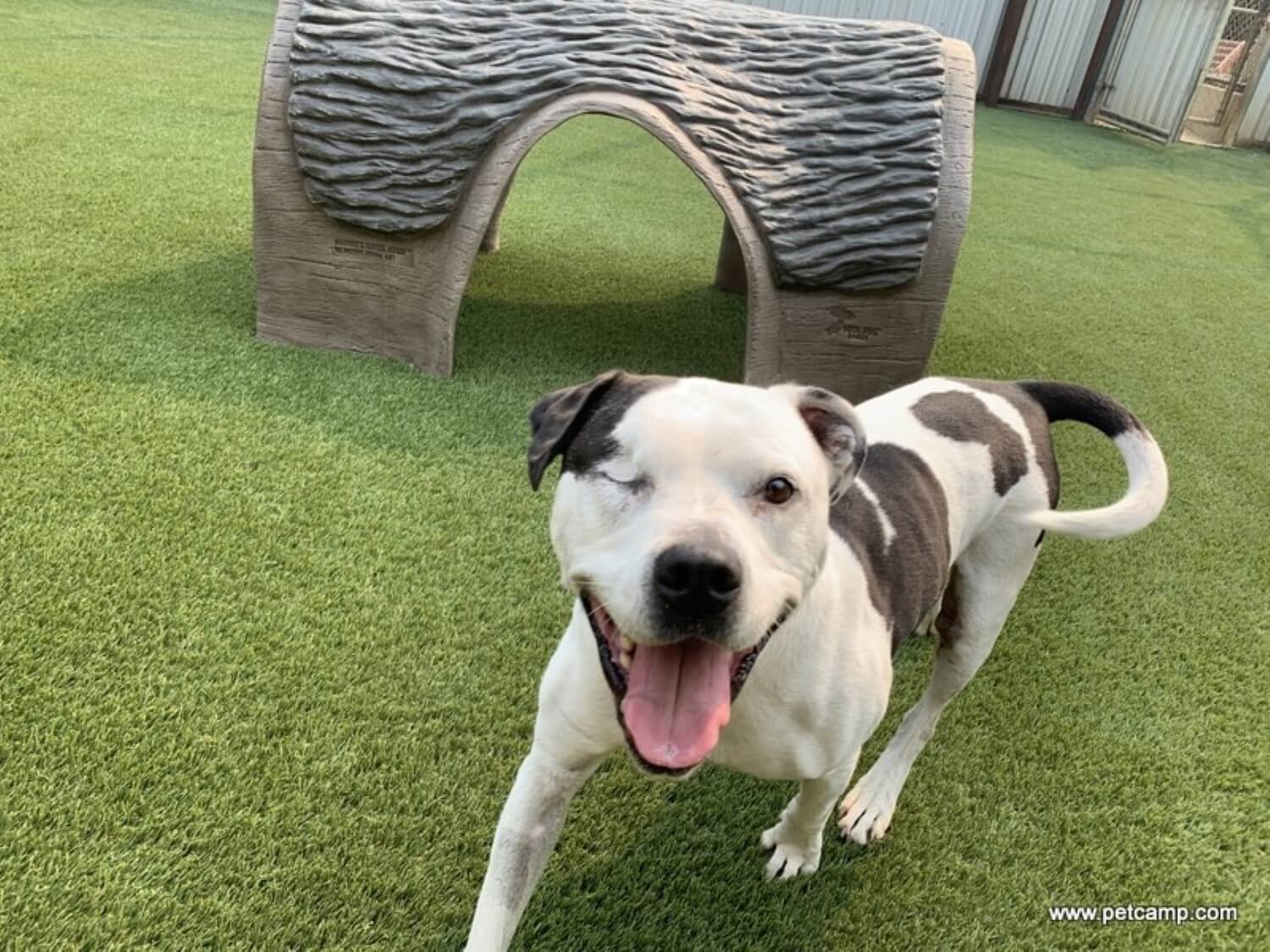 Pet-friendly Lawns are Safer and Cleaner with Houston Pet Turf
Every SYNLawn pet turf installation in Houston, TX provides a safer, more hygienic, and remarkably long-lasting environment for your dog to play and rest outdoors. No more muddy paws, holes dug in the lawn, fleas, ticks, or dead and yellow patches in the lawn. Transform your lawn with pet-friendly, Houston artificial grass and eliminate the time-consuming and expensive care of your lawn. Our pet turf is coated with an efficient antibacterial by Sanitized that eliminates up to 99 percent of stain and odor-causing bacteria from the surface. Additionally, for pet turf installations we utilize Envirofill infill to further eliminate and prevent stains and odors caused by pet waste so you and your pets can enjoy your pet-friendly artificial lawn for many years to come.
Houston Playground Surfaces
SYNLawn Houston playground turf systems are ADA compliant, IPEMA certified, and tried and tested to provide your children with safer playground spaces. Our playground surfaces in Houston, TX are safer than other alternative playground surfaces as they provide softer and non-abrasive exteriors, shock absorption, remove choking hazards and potentially dangerous materials such as wood chips and concrete. At SYNLawn, safety is our highest priority at every playground installation!
Each SYNLawn playground surface installation in Houston, TX provides benefits and features such as:
Hypoallergenic solutions for everyone to enjoy
Made with recyclable and eco-friendly materials including sugar cane and soybean oil
Non-abrasive and softer synthetic grass
Sanitized® antimicrobial eliminates up to 99% of bacteria found on play surfaces that can lead to staph and other infections
StatBlock™ carbon-based anti-static component that reduces and prevents static transfer
HeatBlock™ reflects sunlight and reduces heat buildup, resulting in significantly cooler surface temperature
Beneath our playground turf installations, we can add a thick, shock-absorbing cushion to further enhance protection against fall injuries
ASTM tested to meet Head Injury Criteria (HIC) requirements and more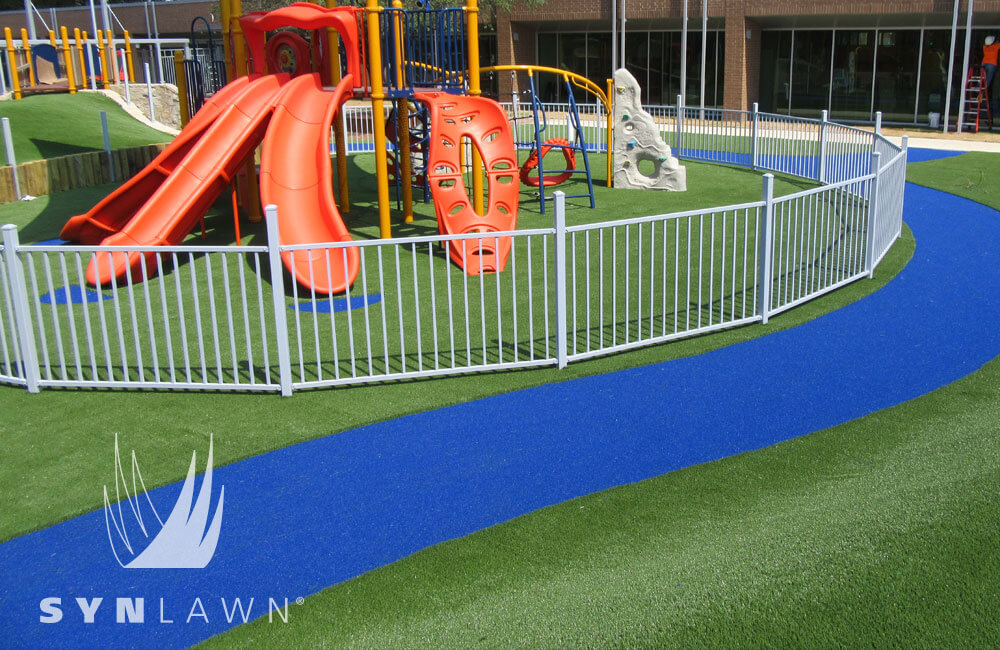 Houston Artificial Living Walls from VistaFolia®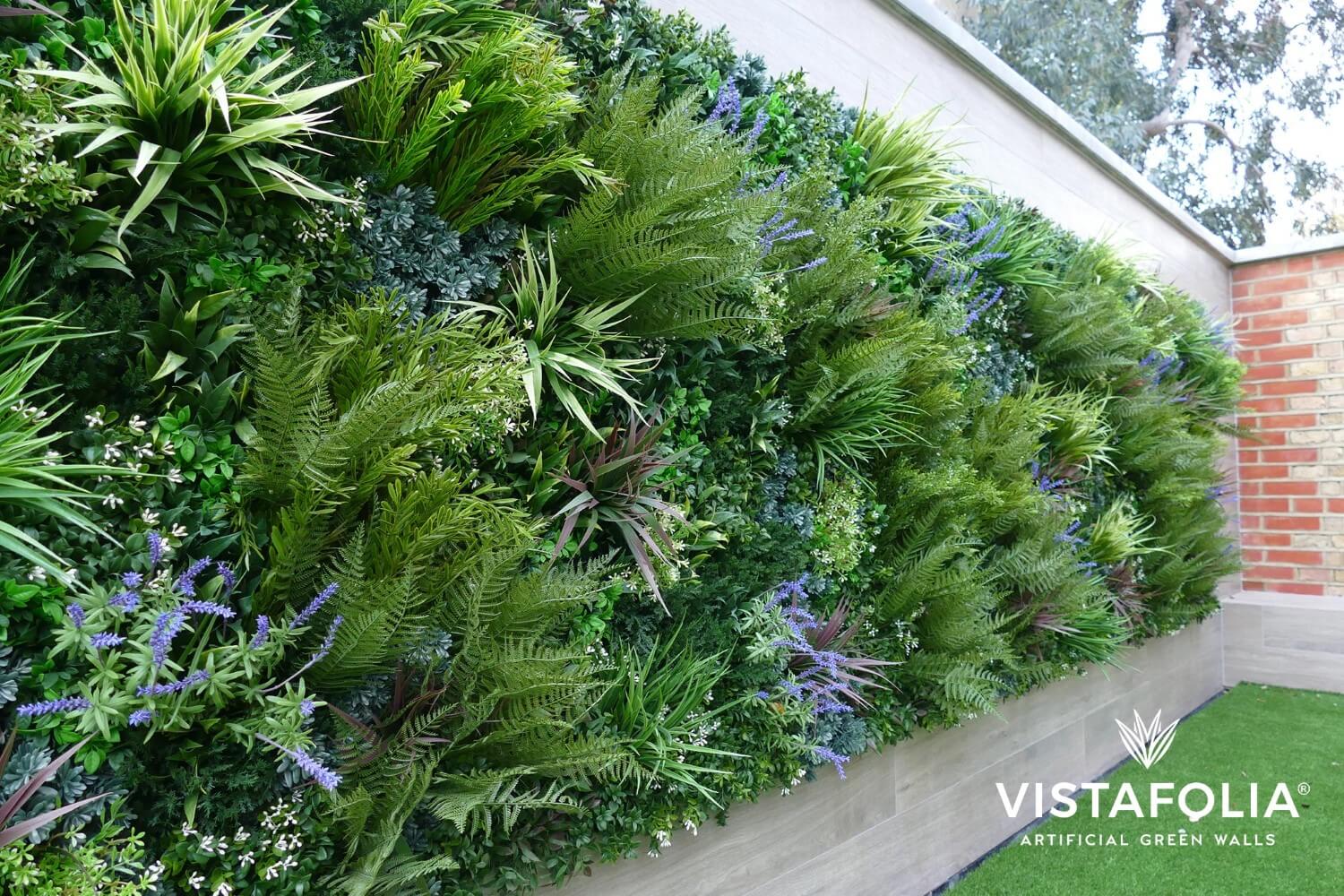 VistaFolia produces artificial plant walls that offer lifelike appearances and behaviors of real plants, without the need for expensive maintenance and irrigation systems. VistaFolia synthetic green walls in Houston provide luxurious backdrops, noise reduction, and enhanced privacy by utilizing lush and hyper-realistic artificial foliage on easy-to-customize panels. These panels fit together perfectly, do not require trimming or pruning, and save you a substantial amount of water by not requiring an irrigation system. Houston synthetic green walls from VistaFolia make it easier than ever to 'green' residential and commercial interior designs and landscapes.
Synthetic plant walls in Houston offer a variety of advantages such as:
Low maintenance; no watering or trimming of any kind
100% pure color pigments that provide the most natural appearance
Ultra-realistic artificial plants that replicate natural movement and airflow
Built to endure the harshest weather conditions
UV protection to prevent fading in direct sunlight
Seamless panel integration ensures a cohesive and natural green wall design
ISO 9001 manufacturing standards
Fire tested and certified
For over 50 Years, SYNLawn has worked closely with its many industry partners including architects, landscape designers, general contractors, interior designers, schools, municipalities, and more. In doing so, we have been able to create the safest, cleanest, and greenest environments to date. For more information on our Houston artificial grass and putting greens or installation services, contact SYNLawn Houston today and schedule a free consultation!
Please fill out all mandatory fields with an asterisk *
Your information will be held confidential with our company.