Cypress, TX Artificial Grass for Residential and Commercial Installation
Residents in Cypress, TX can enjoy a consistently more vibrant lawn without the onerous care needs by switching to SYNLawn Houston artificial grass. Homeowners and business owners adore their lush, green lawns, but keeping it that way on a regular basis can sometimes fall between the gaps in our hectic lives. It is easy to eliminate traditional maintenance and enjoy your environment all year round with Cypress artificial grass by SYNLawn. SYNLawn turf was created to enable consumers to save time, money, water, and to benefit the environment by lowering carbon emissions. We are dedicated to creating environmentally friendly surroundings and specialize in producing synthetic turf that incorporates our state-of-the-art technological advances.
Features of Artificial Grass From SYNLawn Houston
Some of the many benefits and features of artificial turf products from SYNLawn Houston include:
Super Yarn™ antimicrobial yarn combines antimicrobial by Sanitized®, DualChill™, and StatBlock™ technology
Environmentally safer – made with recyclable components derived from sugar cane and renewable soybeans
Made with a plant-based, soy backing system called EnviroLoc™
Super Drain+ allows for liquids to drain at a rate of up to 1,200 inches per hour
Delustered and UV protected, with weather resistance for long-lasting durability and realism
Odor-controlling top-dressing reduces odors caused by ammonia in pet waste
Fire tested
Safer for children and pet-friendly
Hypoallergenic
Made in the USA
Exceptional warranty
These advantages make our synthetic grass ideal for numerous applications in Cypress, Texas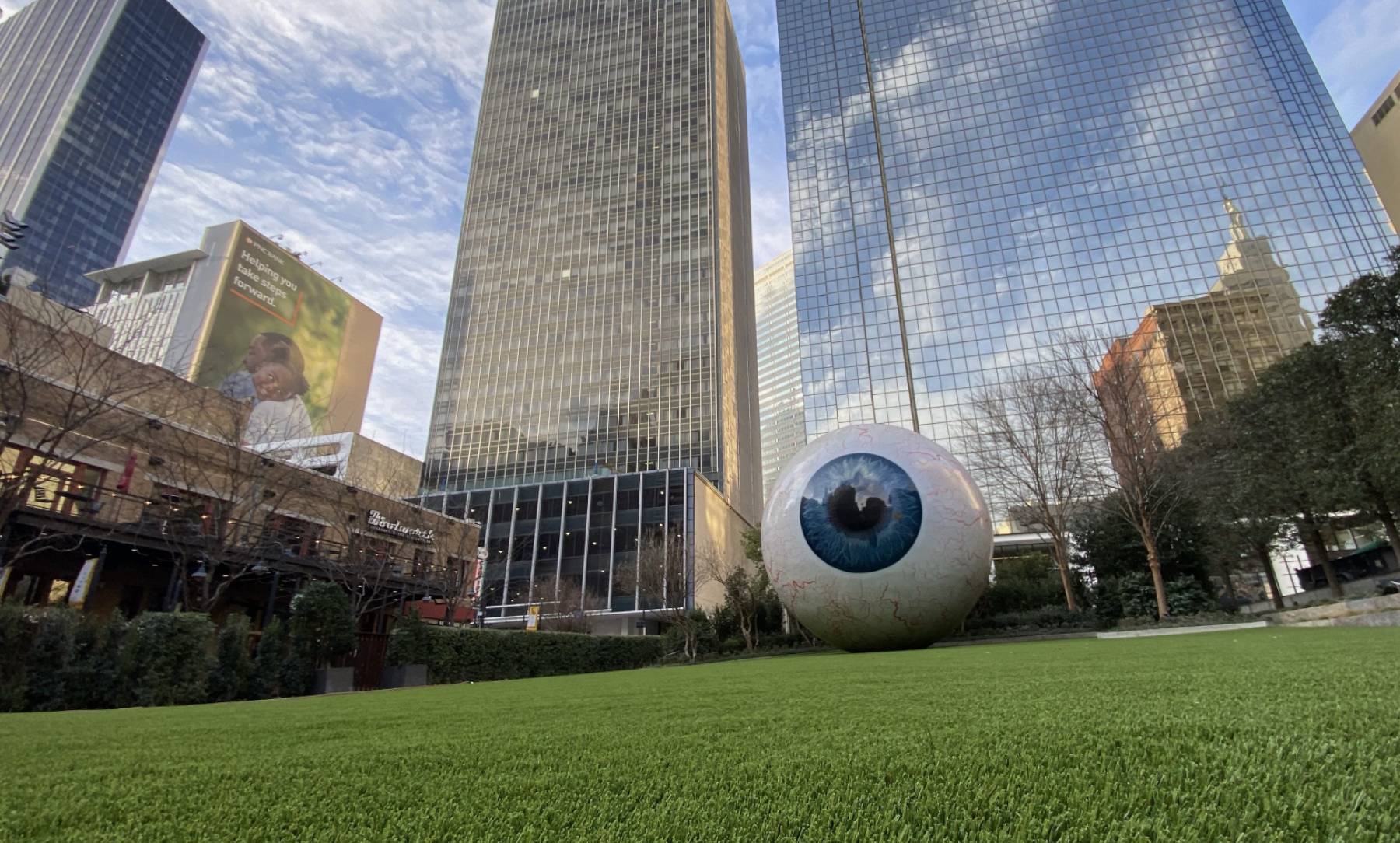 Cypress, TX Putting Green Turf
In Cypress, we offer artificial putting greens, which are designed for all ages and skill levels and provide a PGA-caliber performance for golf enthusiasts to practice their short game from the comfort of their backyard. Our synthetic golf turf is designed to replicate characteristics found on pro greens, such as an authentic ball roll, realistic putt, natural slow down, and ball bounce. Our artificial golf greens resist fading, have optimal drainage for playing practically anytime, and do not move or rip from heavy foot traffic or repeated usage. Other features include:
Surfaces such as our Precision Putt golf turf can deliver a 12 on the Stimpmeter
Extremely durable chipping surface
Add a tee box that allows the use of real golf tees
Effective drains in each cup prevent backfill of water and mold
Ability to install LED cup lights, bunkers, sand traps, and more
Competitive warranty and monthly payment plans available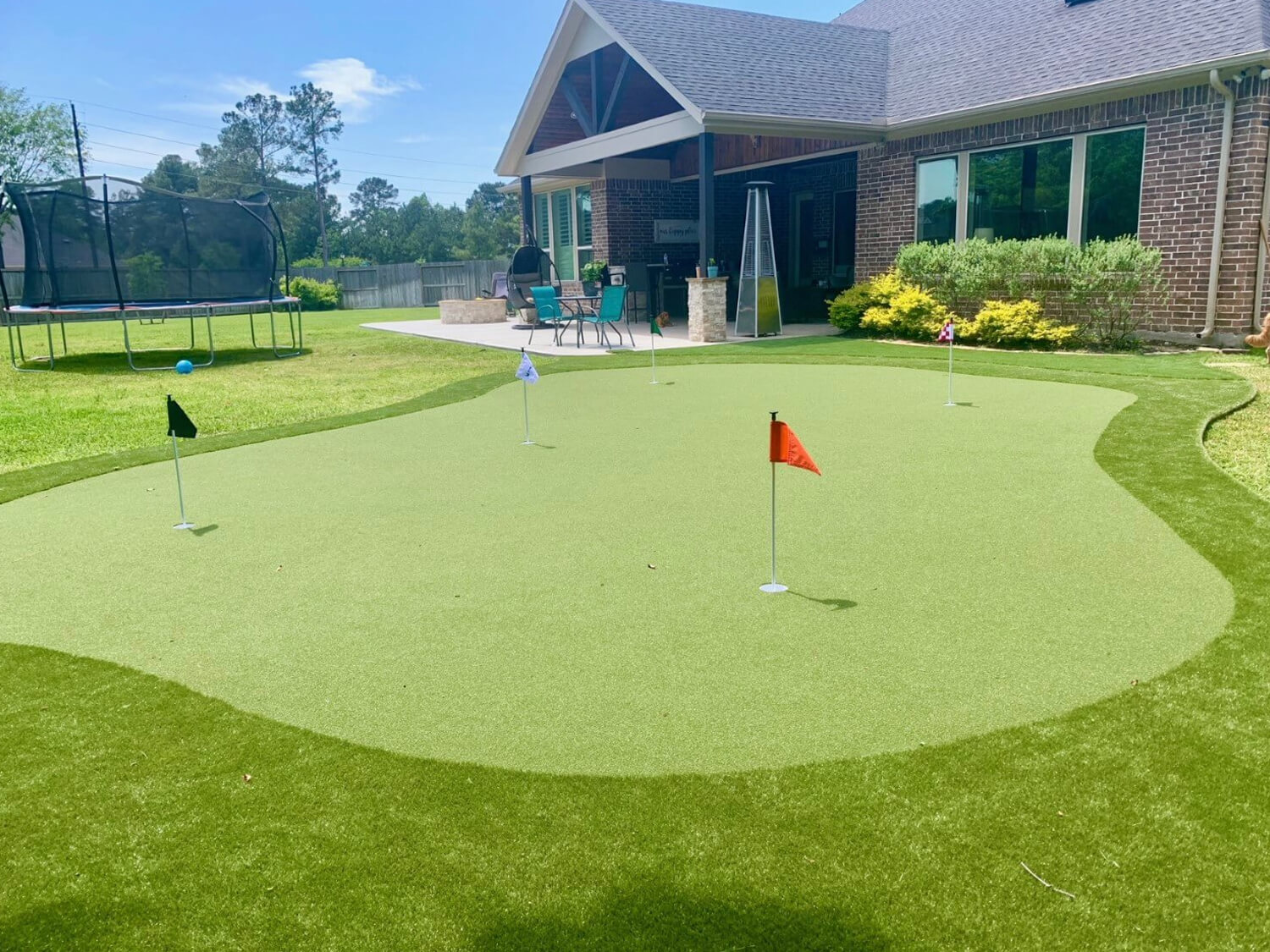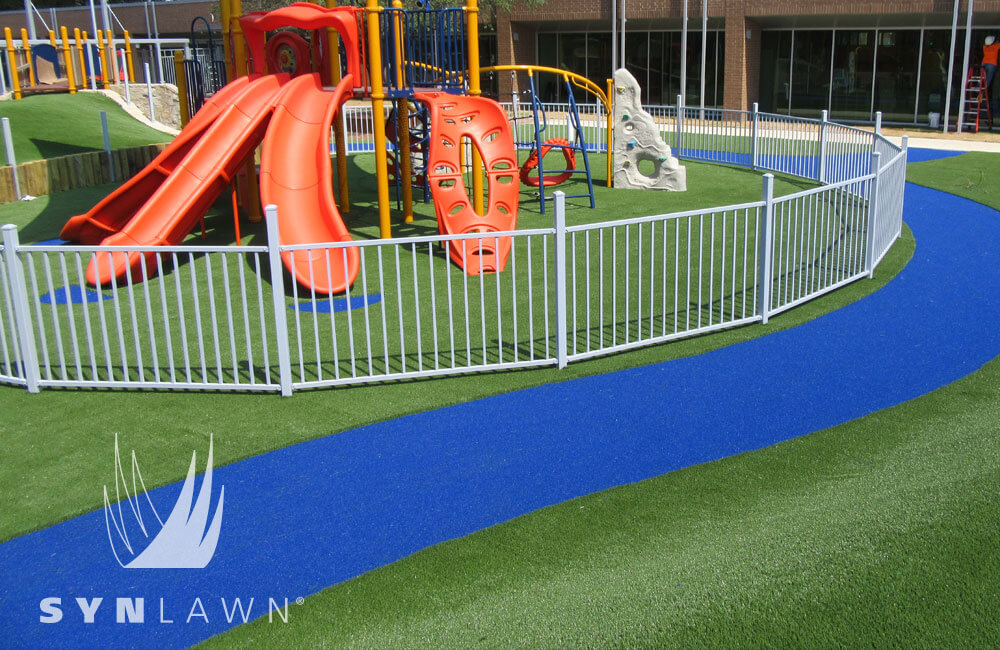 Playground Turf in Cypress, TX
At SYNLawn Houston, we offer safer and cleaner artificial playground turf for children to play on at home, at school, or on their favorite playground in Cypress, TX. Safety is our top priority at SYNLawn, and that is why we independently test our synthetic playground grass to meet commercial safety standards for your peace of mind. Advantages of our artificial playground grass include the following:
Antimicrobial properties to help eliminate bacteria & prevent mold growth
Cooler surface temperatures than any other turf on the market
Incredibly soft turf fibers help prevent abrasions
Fall Pad® underlayment added beneath the turf for added shock absorption
Tough and resilient EnviroLoc+™ backing system to prevent shifting & tearing
IPEMA certifications, ADA compliant, & ASTM Class A fire-rated
Keep Your Pets Safe with Cypress, TX Fake Grass for Dogs
SYNLawn Houston understands that every pet and pet owner has different needs for their lawn or landscape. That is why we designed our SYNLawn Houston artificial dog and pet turf for properties in Cypress, TX. It helps accommodate your desire for an immaculate lawn that supports the health and well-being of your companion. At SYNLawn Houston, our synthetic pet turf resists high activity and does not shed, thanks to our plant-based backing system. It also helps control stains and odors with an antimicrobial infill while staying cooler than other surfaces to help prevent burned paws.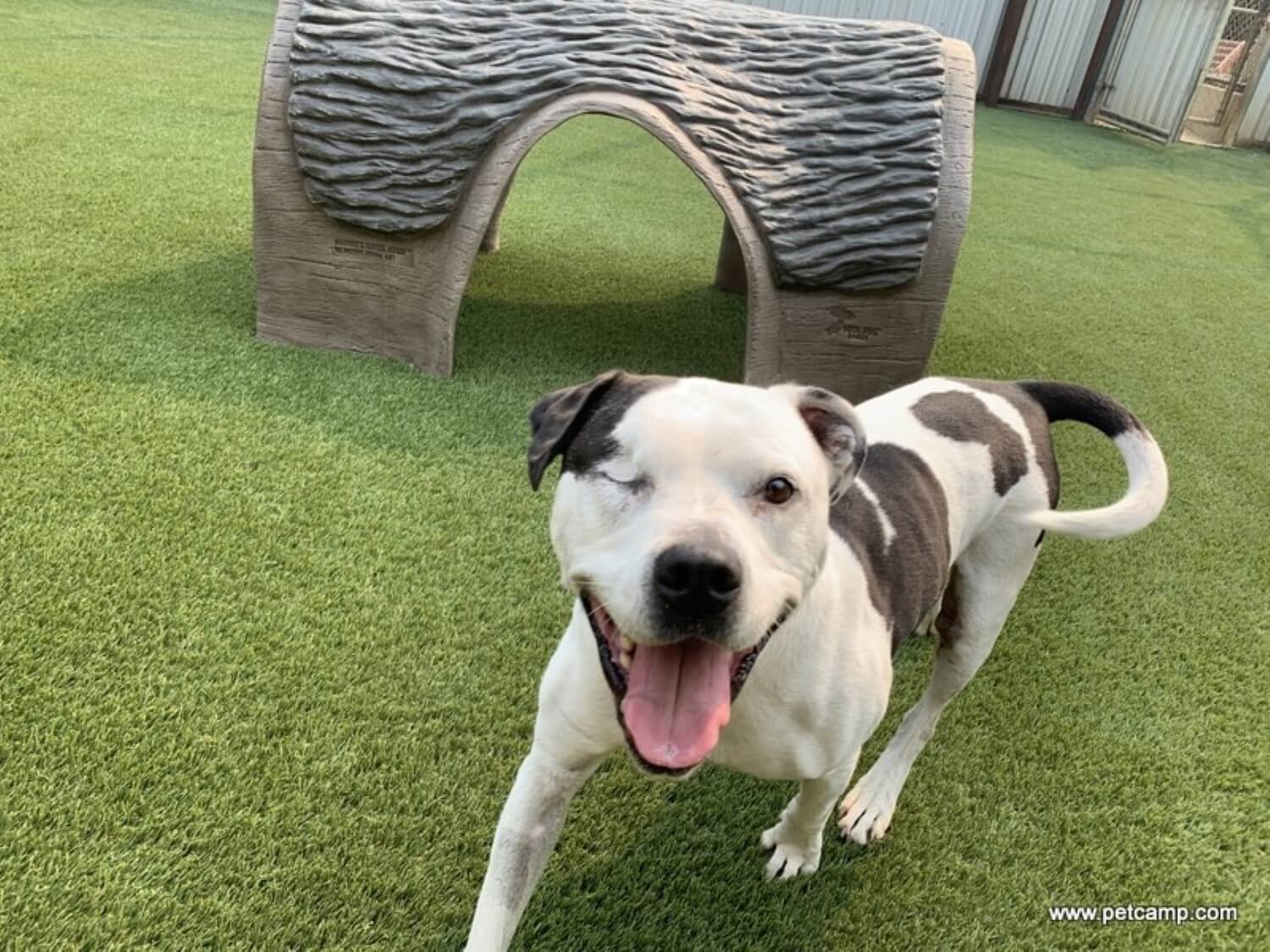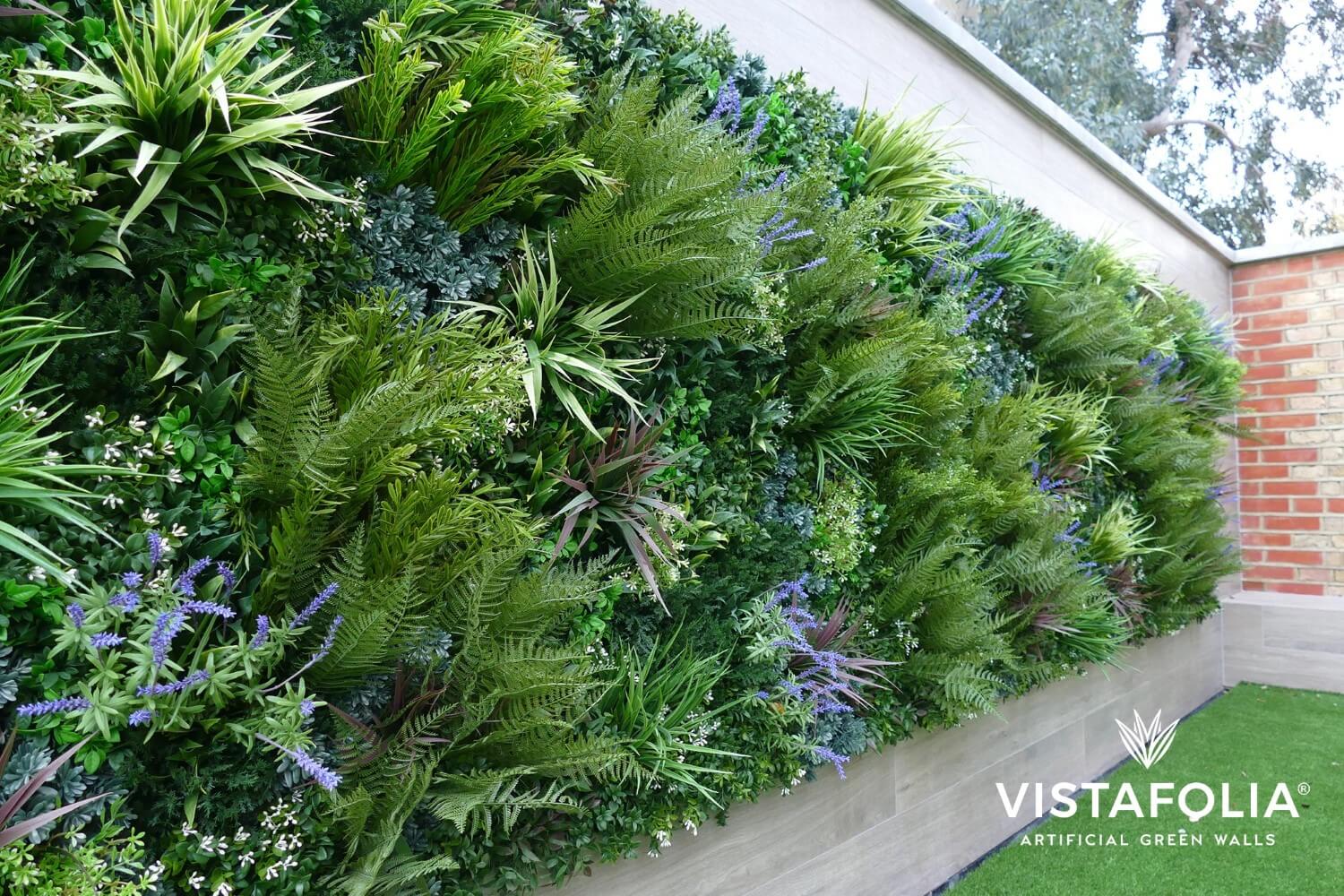 Artificial Living Walls by VistaFolia®
One of the most luxurious ways to enhance your interior or exterior design is through the use of artificial living walls. VistaFolia utilizes ultra-realistic faux foliage and ivies to replicate conventional plants as closely as possible. As such, the synthetic living walls we offer in Cypress can survive in all of the places that traditional plants cannot. They can be used to enhance privacy and even increase sound insulation. They are also fire and weather-tested and do not require any trimming, pruning, or watering. Other benefits include:
Eight varieties of bright colors and lush textures to choose from
Lightweight panels designed to allow free movement of air
Unmatched realism: exact colors, shadings, and dimensions
UV protection to minimize fading of outdoor installations
Customizable arrangements with a range of color boxes
Manufactured to ISO 9001 quality standards
Contact Us Today For More Information on Artificial Turf in Cypress, TX!
At SYNLawn Houston, we provide artificial grass for homes, businesses, and other applications in Cypress, Texas. Our team has years of experience providing our customers with ultra-realistic and highly innovative artificial turf. Our synthetic grass is available with affordable pricing as well as payment plan options. To learn more, contact us today and take advantage of your free consultation!
Please fill out all mandatory fields with an asterisk *
Your information will be held confidential with our company.