How to Make the Most of Your Synthetic Lawn
SYNLawn Houston provides a variety of options for integrating our sustainable products into your home or business. Consider these options: 
 BioBased Collection – USDA Certified and recyclable. 
 X-Series Collection – a thicker feel of hearty grass. 
 SYNAugustine Collection – a more multi-dimensional look with soft blades of grass at varying lengths and shades. 
There are many ways to spruce up your artificial landscape grass, some of which include:
Synthetic grass gives any building or home a warmer and more upscale ambiance. It can be used to create pathways around specific areas that you want others to notice, such as around a water fountain, statue, or garden. 
It can also cover concrete floors to give people better padding and showcase a cleaner look. 
In addition to aesthetic appeal, artificial grass can serve as a safety feature cushioning falls on concrete or tile patios, yards, balconies, and rooftops. Enhancing the artificial grass with extra greenery such as plants and flowers creates an even more softened and appealing ambiance.
2. Seasonal Decorations:
Anymore, many homeowners go all out when it comes to celebrating Christmas, Halloween, New Year's Day, etc. Artificial grass provides the perfect backdrop to inflatable Santas and displays. Even if your artificial grass becomes a little flattened out from your massive props, fluffing it back up again with your fingers or a rake takes just minutes.
3. Outdoor Pet Parks:
Whether or not your pup is trained to go indoors or outdoors, they can still benefit from being in a safe, enclosed area provided by artificial grass. While some homeowners prefer to have pets use gravel or even concrete as a pet waste station, the soft touch of artificial grass is far more inviting.  Having a synthetic lawn space where dogs can do their business will give your furry loved ones plenty of freedom to run around outside and not ruin any plants or damage materials. Not to mention, picking feces from a synthetic lawn is far simpler than pull the material from grass.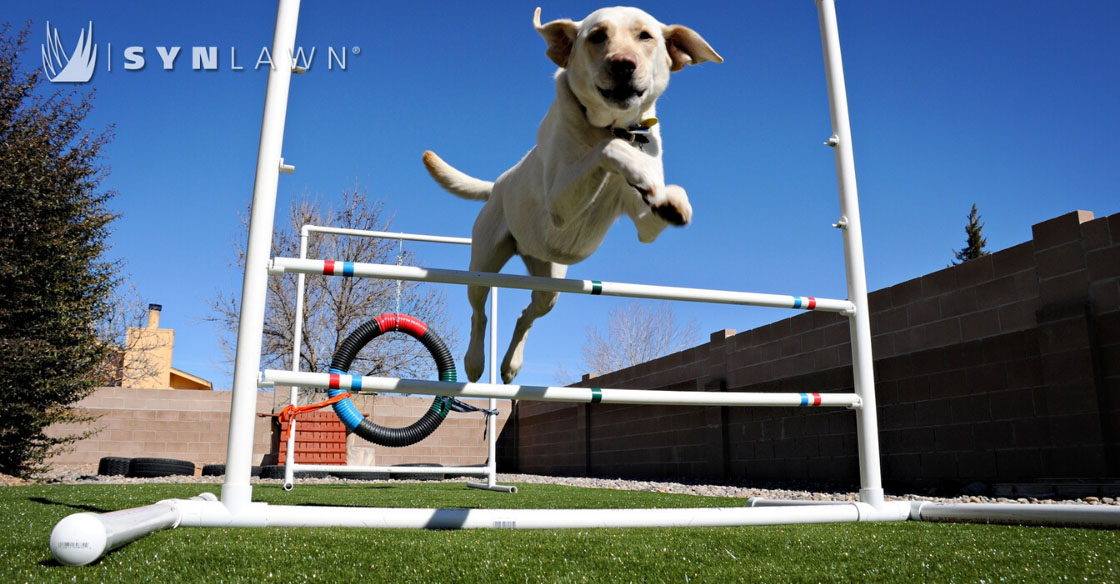 4. Kids Playground:
 Artificial grass built on specific cushioning helps soften kid falls. Swinging, sliding, running, and jumping lose all their danger when any loss of balance comes into play. 
More, because synthetic lawns don't require water, children's feet and shoes stay drier and cleaner. Even if it rains the day before, artificial grass drains a lot more quickly than real grass, so you won't have to worry about kids stepping in puddles and bringing splotches of mud into the house.
5. Putting Greens
Got a golfer in the house? No matter how big or small your yard may be, you can always make room for your own personalized putting green. Specific artificial grass options go a long way in mimicking fairway conditions. Plus, you can utilize the natural slopes and dips your backyard has to create challenging areas to putt against. Some homeowners even make their putting green more like a regular golf course, by adding artificial turf, a small pond, and sand traps. You'll soon see improvements in your swing and golfing techniques by having your own private practice area.
6. Pool Parties:
Many homeowners have a pool in their backyard, as well as a hot tub. Yet on hot days, the concrete can burn your feet or make you slip and fall when water spills over from the pool. With artificial grass, you won't have to worry about slipping, and it'll be easier to get in and out of the pool safely. Also, having a synthetic lawn won't lead to any colors fading or staining due to the chlorine or sun. It can even keep your water cleaner. Overall, artificial grass is free of harmful chemicals, as it is made up of non-toxic materials and substances.
7. Rooftop Lawns:
Take advantage of the sweeping views of your neighborhood and city you live in by creating an impressive rooftop lawn. You can use the area to hold outdoor barbecues or make a recreation center. A synthetic lawn can allow you to do yoga outside, play a game of volleyball, etc. You can also add decorative lights and heating to keep your space feeling like summer, all year long. Moreover, you can green your roof, to keep it looking unique and feeling cooler due to the added insulation. There is no need to tend to the grass, either-a simple rinse or brushing with a broom will suffice.
Who Knew Synthetic Lawns Could Do So Much?
Whether you just moved into a new home or are seeking a complete renovation, it's never too early or late to add a synthetic lawn. SYNLawn Houston's grass is highly durable, plant-based, and perfect for revamping pool decks, rooftops, playgrounds, putting greens, etc. Each landscape is creatively designed and installed with the utmost care and quality.
To learn more about synthetic lawns, contact the experts at SYNLawn Houston at (832) 494-8333. Our professionals will be happy to answer any questions you have via phone or when you reach out with your specific issues on our online form.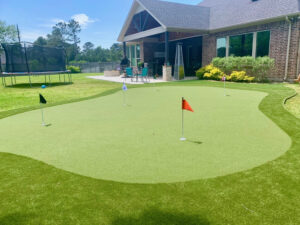 At SYNLawn Houston Artificial Grass, the popularity of our artificial grass is continuously on the rise in Houston, TX. Many residents are excited to make the change from traditional grass due to the many benefits our synthetic alternative has to offer. However, many homeowners and business owners still have questions about artificial turf and whether…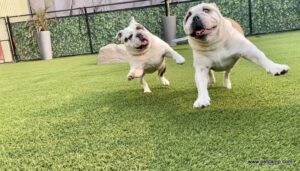 Your pet holds a special place in your heart and because of that, we as owners aim to give them the best that life has to offer so that they can stay happy and healthy. As a result, we designed Houston artificial grass for pets to accommodate them in every way and all of your…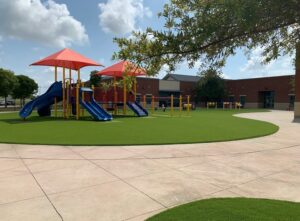 Playgrounds are a wonderful place for our children to exercise, unwind after school and on the weekend, make new friends, and explore their imagination. In an ideal world, we would design all playgrounds with surfaces that have their best interest in mind, but many are made with materials and components that tend to be a…