At SYNLawn Houston Artificial Grass, the popularity of our artificial grass is continuously on the rise in Houston, TX. Many residents are excited to make the change from traditional grass due to the many benefits our synthetic alternative has to offer. However, many homeowners and business owners still have questions about artificial turf and whether or not they should make the commitment. Below, we will discuss three of the most frequently asked questions and why our team is the best provider of synthetic grass in Houston, Texas:
#1. Is It a Good Idea to Put Artificial Grass in the Backyard?
In short, yes, it is an excellent idea to put artificial grass from SYNLawn Houston in your backyard! While it can be more expensive upfront, it is more affordable in the long term and can help increase your property value. Our Houston artificial turf provides stunning appearances year-round, saves customers time and money on traditional maintenance, and is safer for children and pets. Alternatively, homeowners would have to devote much of their free time each week to maintaining their backyard lawn or landscape. You would also need potentially harmful chemicals and pesticides to keep pests out of your conventional grass, which can also be unhealthy for your children and pets.
At SYNLawn Houston, our synthetic grass is the first and only turf that is made with plant-based materials. In fact, because of our partnership with American soy farmers, SYNLawn is also the only company to manufacture and offer USDA-certified synthetic grass. This is because we are dedicated to promoting environmental sustainability, and we do so by utilizing renewable materials derived from sugar cane and soybeans while also conserving valuable water resources.
For many residential homeowners in Houston, TX, a significant portion of their water consumption is attributed to their lawn care routine. Thankfully, with SYNLawn Houston synthetic turf, we can not only help save you thousands of gallons of water, but we can also help cut your water bill with our synthetic surfaces. In addition, without the need for gas-powered lawn mowers and other lawn care equipment, you can aid in preventing the many carbon emissions that come from a single lawn mower. Finally, our SYNLawn turf is also recyclable and helps to reduce the impact on local landfills. Ultimately, this makes our artificial grass exceptionally environmentally friendly!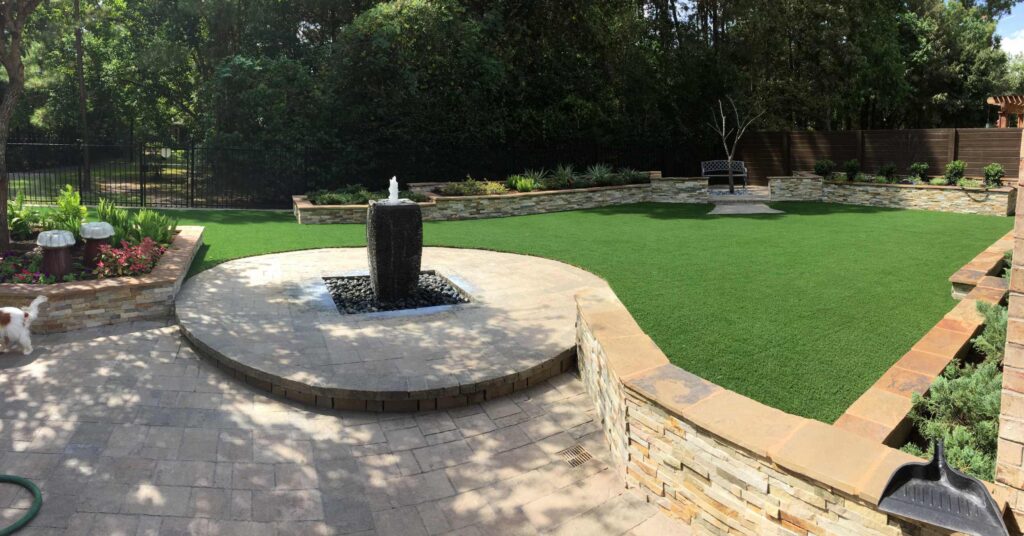 #2. Does Artificial Turf Get Moldy?
While many artificial turf brands struggle with mold, the synthetic grass from SYNLawn Houston does not. Mold can be terrible for your health. Too much exposure to mold leads to allergy symptoms, such as watery eyes, a runny nose, sneezing, itching, coughing, wheezing, difficulty breathing, headaches, fatigue, and more.
Fortunately, our exclusive turf technologies, EnviroLoc+ and Super Yarn, work together to provide safer and cleaner synthetic turf. In the DNA of Super Yarn technology is the highly effective Sanitized® antimicrobial. Sanitized® eliminates up to 99% of bacteria found on faux grass surfaces. In addition, EnviroLoc+, our plant-based backing system, provides maximum drainage to further protect against algae and fungal growth and help keep your soil healthy beneath your installation. EnviroLoc+ has a drainage rate greater than 1,000 inches per hour. This is 40 times greater than the highest recorded US rainfall.
Ultimately, with SYNLawn Houston, you can enjoy fresher and cleaner synthetic turf thanks to our exclusive technological advancements!
#3. How Long Does Synthetic Grass Last in Houston, TX?
Artificial grass from SYNLawn Houston is more rigid and durable than traditional sod and other competing turf brands. While many older turf brands only came with 2 to 3-year warranties, now, you can find several that offer 15 to 20-year warranties, but they typically only cover the installation or just the product. At SYNLawn Houston, we offer an unmatched lifetime warranty that covers both the turf and installation. With proper care, your SYNLawn lawn, landscape, or putting green can last for many, many years with a lush texture and vibrant colors intact.
While we are confident that we offer the highest quality faux grass and the most precise installations, we believe that the mark of a great artificial grass company is providing you with the same peace of mind. All SYNLawn synthetic turf is manufactured locally in the United States at our in-house ISO 9001-certified facility in Dalton, GA. Here, we can ensure the quality of our products from start to finish of their manufacturing, as well as ensure they meet environmental standards.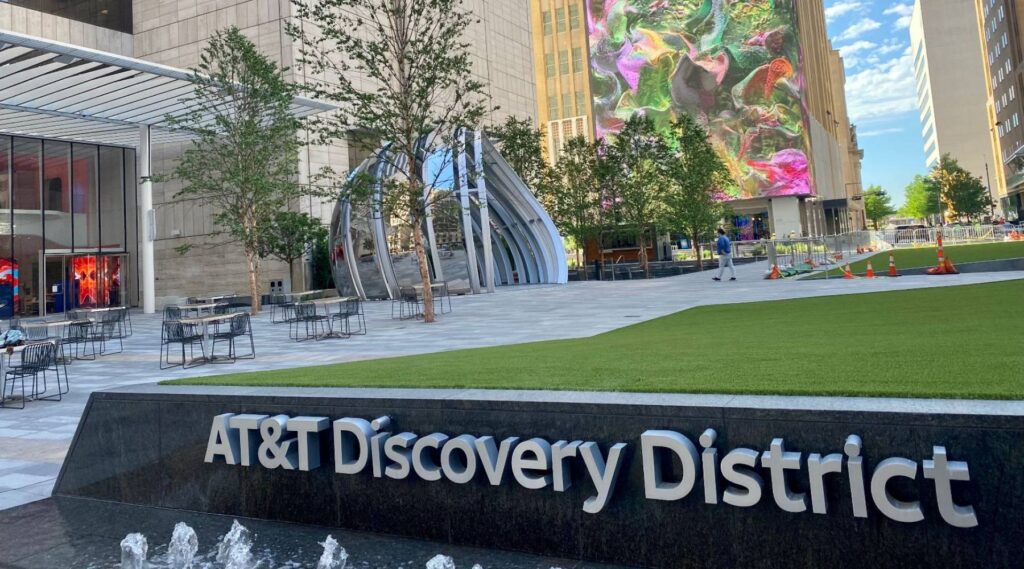 Contact Us Today to Learn More About The Benefits of Installing Artificial Grass!
Transforming your backyard or other outdoor space is easy in Houston, TX with artificial grass from SYNLawn Houston. While you may have some concerns about installing artificial turf, our top-quality products provide numerous benefits, making them ideal for backyards, resistant to mold, and long-lasting.
Contact us at SYNLawn Houston today for more information about our artificial grass and all our services. You can also take advantage of our free consultation to get an estimate on your project!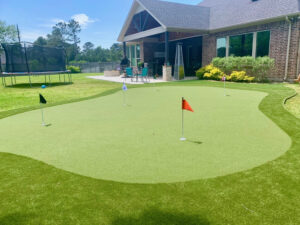 At SYNLawn Houston Artificial Grass, the popularity of our artificial grass is continuously on the rise in Houston, TX. Many residents are excited to make the change from traditional grass due to the many benefits our synthetic alternative has to offer. However, many homeowners and business owners still have questions about artificial turf and whether…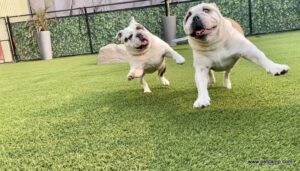 Your pet holds a special place in your heart and because of that, we as owners aim to give them the best that life has to offer so that they can stay happy and healthy. As a result, we designed Houston artificial grass for pets to accommodate them in every way and all of your…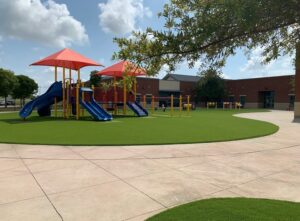 Playgrounds are a wonderful place for our children to exercise, unwind after school and on the weekend, make new friends, and explore their imagination. In an ideal world, we would design all playgrounds with surfaces that have their best interest in mind, but many are made with materials and components that tend to be a…