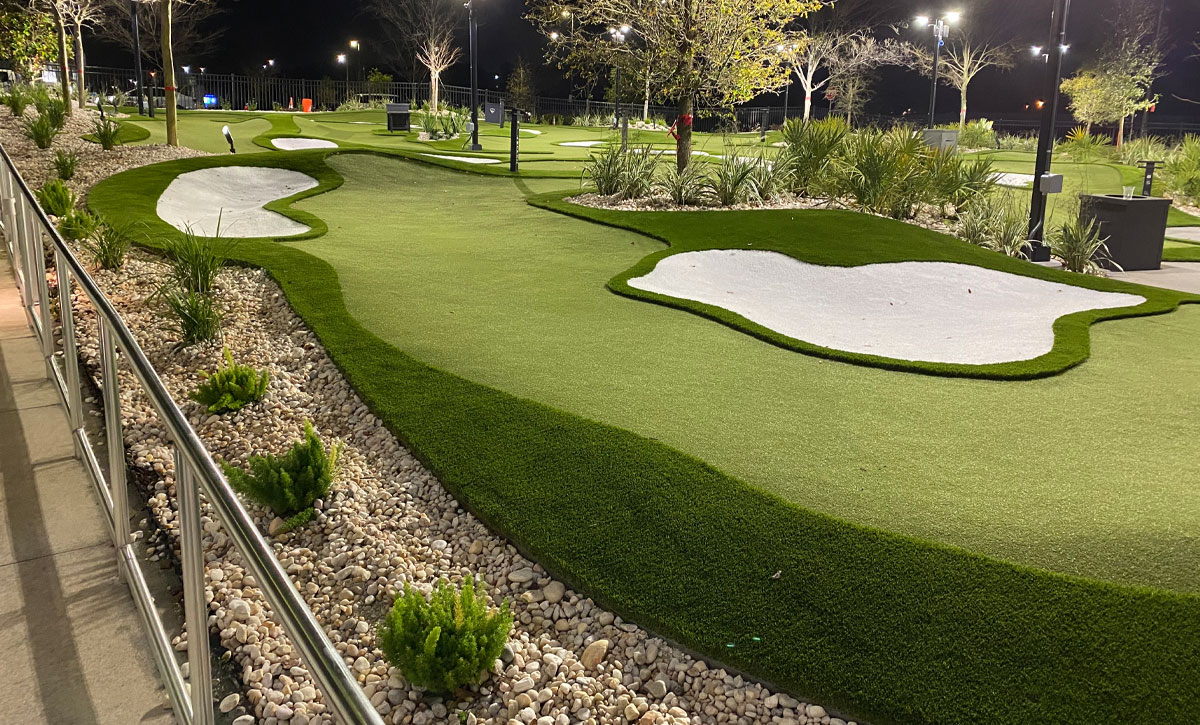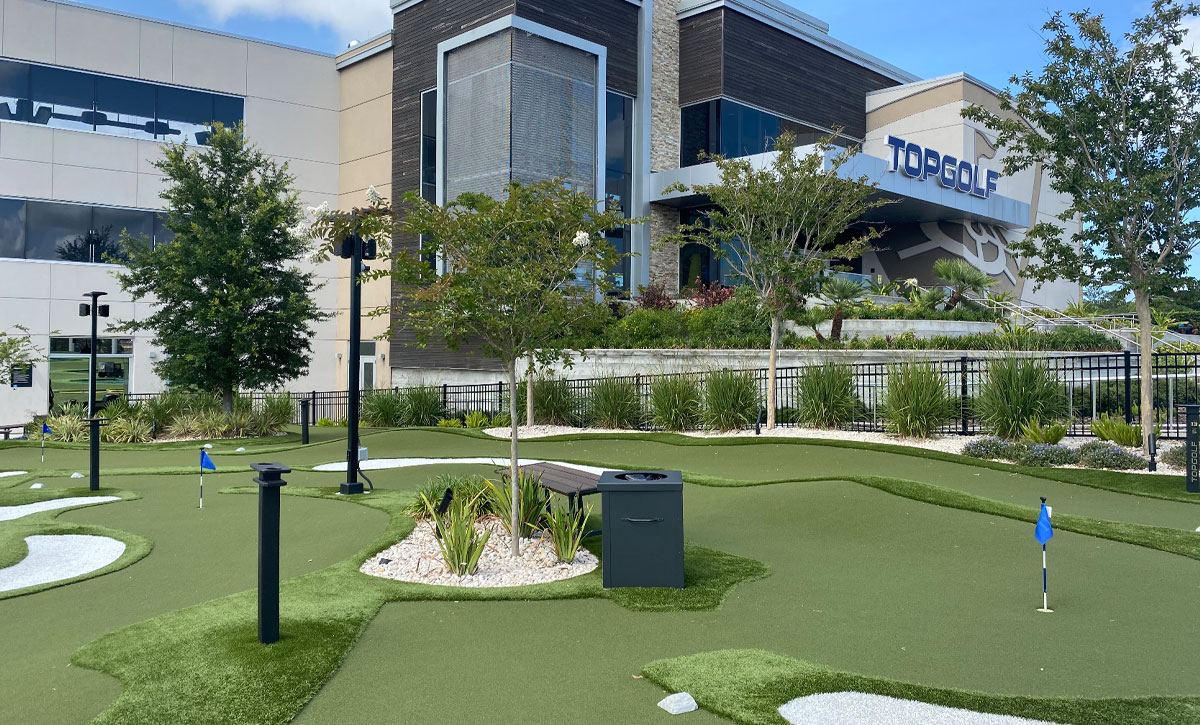 Location: Jacksonville, Florida
Project Size: 14,000 square feet
Products Used: SYNAugustine X47 and SYNLawn® Precision Putt
Installation Time: 2 months
Maintenance: Program of power brooming and infill replenishment
Offers a level of realism that is unmatched by our competition. SYNAugustine x47 and SYNLawn® Precision Putt were the perfect choices for this project due to their playability, performance, and natural color schemes. SYNAugustine X47 offers soft yet dense, multi-colored blades in delustered olive, field green, and apple that are blended together with beige thatch to create the most realistic looking synthetic turf on the market. Manufactured with reduced sheen, UV stabilizers, and proprietary turf innovations such as the industry's first-of-its-kind Super Yarn™ turf yarn and our soy-based EnviroLoc™ backing system.
Utilizes an antimicrobial enhancement from Sanitized® that removes up to 99% of bacteria from the turf surface while inhibiting odors and mold and bacteria development. DualChill™ IR reflective technology helps minimize infrared light absorption, which helps prevent fading and increases the durability of synthetic fibers, while StatBlock™ helps prevent static electricity accumulation.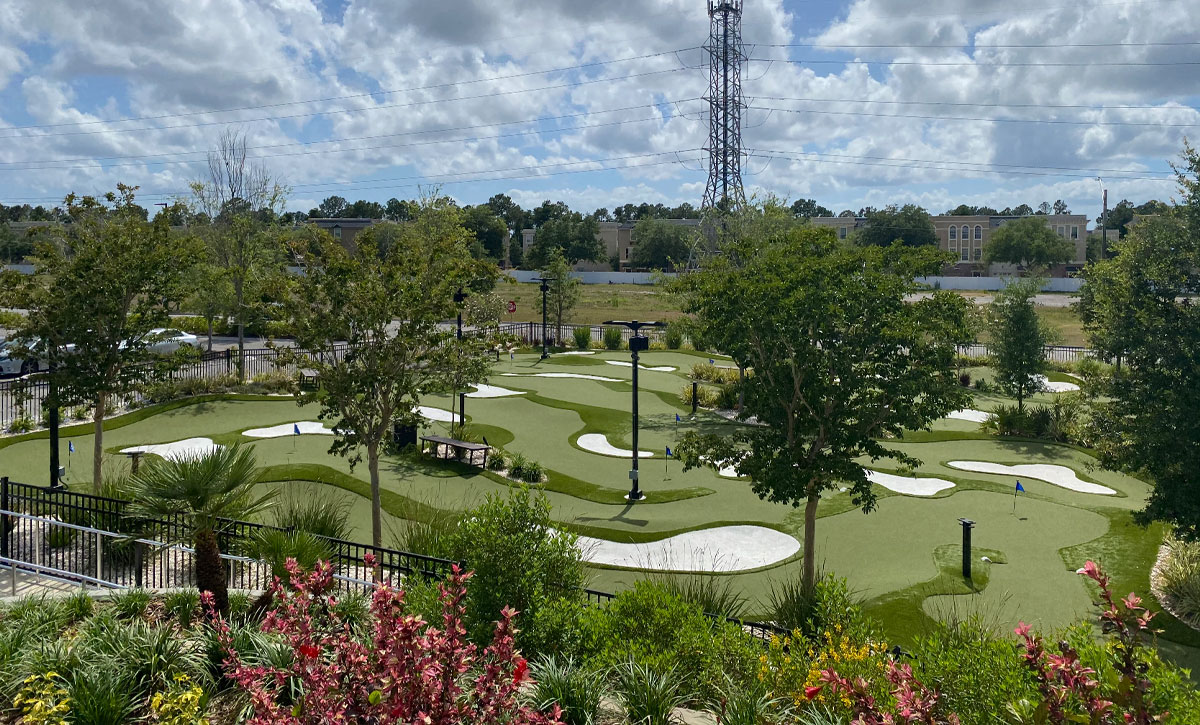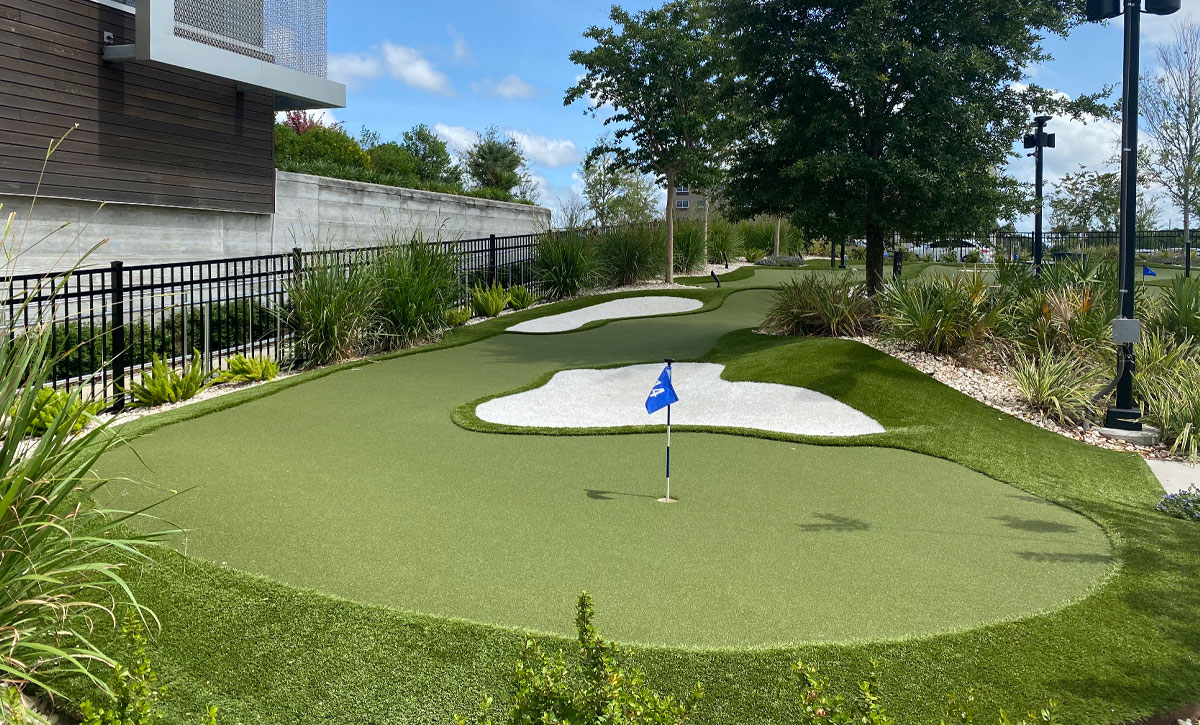 Created for golfers of all ages and skill levels to practice to their heart's content with the same level of performance you would find on professional courses. The highest quality nylon fibers are used to create a realistic ball roll, natural slowdown characteristics, and consistent chip shots. Additionally, Precision Putt includes our exclusive HeatBlock™ technology to provide cooler surface temperatures and to prevent fading! To prevent the spread of fires, SYNAugustine X47 and SYNLawn® Precision Putt are both designed to meet ASTM Class A fire safety standards. This means that the window of time between when a fire ignites and when first responders arrive is maximized; minimizing the fire's destruction and potentially saving the lives of those nearby. Finally, we provide an unrivaled lifetime warranty for both SYNAugustine X47 and SYNLawn® Precision Putt.
Commercial golf greens from SYNLawn®
An excellent addition to any sporting facility or complex, mini golf facilities, golf clubhouse, or staff lounge. We combine the highest-quality artificial grass with the most realistic performing golf surfaces available to not only save you time and money on lawn care, but to function as an appealing amenity for golf enthusiasts of all skill levels. Our putting greens can be fully customized with a wide variety of rough, fringe, and fairway surfaces. Install LED cup lights to add additional flare, obstacles to toughen the course and much more. In addition, our golf greens are designed to provide optimal drainage to avoid the backfill of water and mold beneath the surface and in each cup hole.
We take pride in working alongside various professionals, such as landscape architects, landscape designers, architects, general contractors, school districts, park planners, construction companies and more. Together we will create lush and vibrant landscapes that are sustainable, clean, safe, and incredibly resilient for athletic use. For more information on our services and products, contact SYNLawn® Texas today to schedule a free consultation.