Playgrounds are a wonderful place for our children to exercise, unwind after school and on the weekend, make new friends, and explore their imagination. In an ideal world, we would design all playgrounds with surfaces that have their best interest in mind, but many are made with materials and components that tend to be a bit forgetful when it comes to maintenance, appearance, the environment, and most importantly, safety. Houston playground grass, however, is changing the game, once and for all.
Traditionally, most playground surfaces are made with materials and components that are abrasive, uncomfortable, and can increase the risk of injury on the playground. SYNLawn playground systems are designed with our state-of-the-art artificial grass. The very same artificial grass continues to lead the industry year after year. Houston playground turf is eco-friendly, meets stringent safety standards, requires nearly zero maintenance, and so much more. This can be especially beneficial to commercial properties that experience heavy foot traffic consistently. This means that your turf will not shift and shed under intense conditions.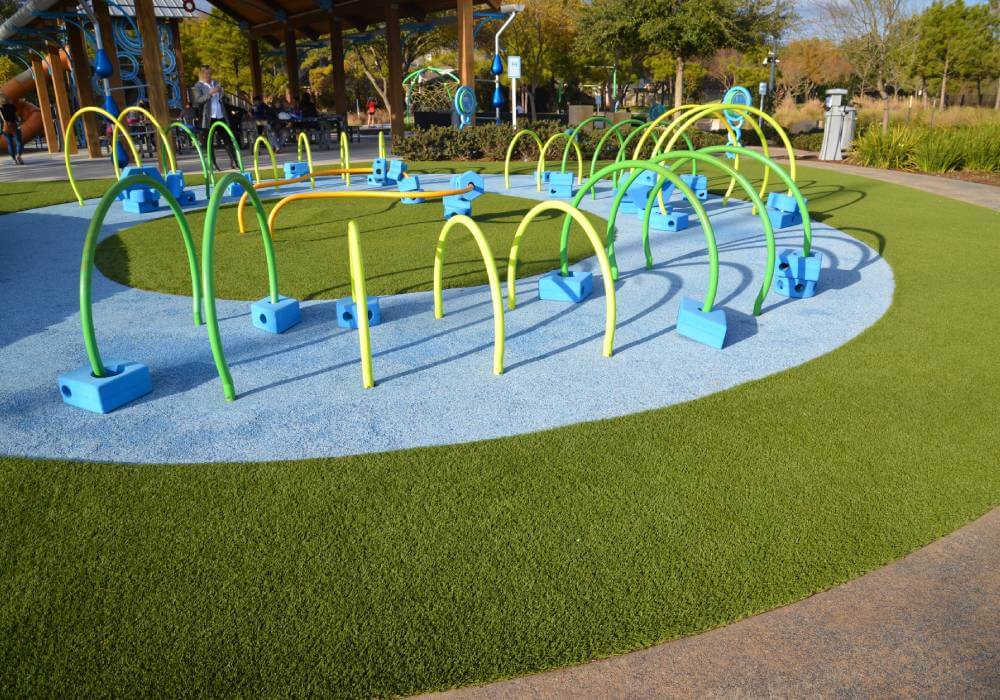 Commercial and residential properties across Texas love the time and money that they save as a result of our low-maintenance philosophy. No more mowing, watering, pulling weeds, or spreading fertilizer. Instead, your playground installation features the ultra-realistic appearance and behaviors of real grass with minimal effort. Parents will additionally love letting their children run wild without coming home with muddy shoes and grass stains on their new clothes! SYNLawn products are made in partnership with US soy farmers. With their help, we locally source eco-friendly materials such as sugar cane and soybean oil to replace materials harmful to the environment and greatly reduce the impact we have on local landfills.
Save Time and Money With SYNLawn® Playground Grass
Think about all of the money and resources spent on water and equipment to maintain your landscape. On average SYNLawn products can save customers up to an astounding 70% on their water bills as well as 70% of residential water use. This is exceptionally important in parts of the country that are experiencing drought conditions. SYNLawn artificial grass is engineered with the purest color pigments and most natural behaviors that replicate real grass as closely as possible. So much so that to the naked eye you would never know the difference.
The Safest and Coolest Artificial Grass for Playgrounds in Houston
In addition to our natural appearances, SYNLawn playground options don't stop there. Our playground installations offer the highest level of performance and superior durability to withstand even the most intense athletic training making us a top choice for sports facilities. However, with playtime comes the need to uphold safety. In response to this, playgrounds designed by SYNLawn are IPEMA and ADA-certified to prevent common injuries and abrasions. Even further, Trample Zones can be added beneath swing sets and jungle gyms for increased padding and protection from falls up to 10 feet. Finally, SYNLawn playgrounds are conscious of head injuries and confidently meet HIC (Head Injury Criteria).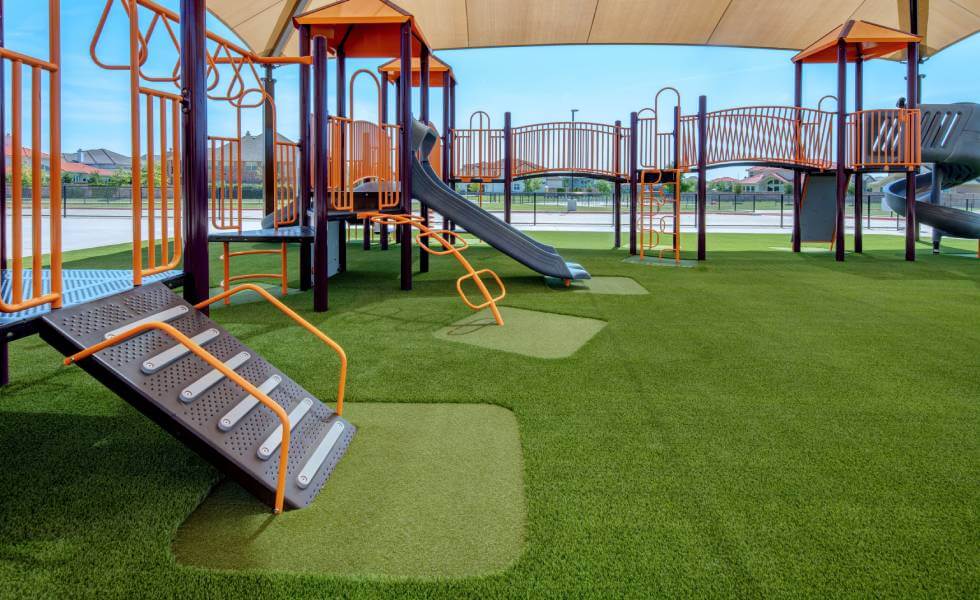 When summer comes around or your area is affected by increased temperatures, we're not always inclined to plan activities outdoors. Fortunately, with our exclusive HeatBlock technology, our surfaces stay cooler all year long. It actively combats heat emissivity to ensure that your surface remains comfortable even in exceptionally hot climates. HeatBlock is scientifically proven to keep Houston playground turf systems 20% cooler than all other competing brands. This means that children and pets can enjoy our products without the risk of burning their feet or paws.
When designing a playground there is a lot to take into consideration. SYNLawn products take away the checklist and provide ease of mind knowing that all of your concerns and specifications are met. For more than 50 years, we have researched and developed our exclusive technologies, benefits, and more to ensure that we provide the safest, cleanest, and most durable artificial grass Houston has to offer. For more information about our products and how they can transform your playground or backyard, contact SYNLawn Houston today to schedule a free consultation!