Between mowing, watering, fertilizing, aerating, and spraying for pests, taking care of a natural lawn can be a lot of work. Not only is the process time-consuming, but the materials needed to get the job done right are expensive. Whether you decide to do the landscaping yourself or hire someone else to do it, you can be sure that a natural grass lawn will be a costly hassle to maintain. Luckily, artificial turf presents a low-maintenance, budget-friendly solution to having a beautiful lawn year-round. 
What is Artificial Turf? 
Artificial grass has come a long way in recent years thanks to advancements in production and technology. In the past, synthetic turf looked fake because the grass blades were stiff, sparse, and neon green. Today, artificial turf is constructed to mimic the look and feel of real grass while providing numerous benefits. The turf can be installed indoors and outdoors for decks, front yards, backyards, and more to suit your home design and lifestyle needs. 
Turf Installation Process
Before you start installing artificial turf, it's important to understand the installation process. First, a specialist will need to measure your yard and determine the amount of material that will be needed to cover the area seamlessly. Next, the technician will remove any existing vegetation or grass and the first few inches of topsoil, which will be compacted and graded to drain away from your property. 
After the ground has been prepared using either a weed killer or fabric weed barrier to prevent unsightly weeds, the turf will be rolled out and aligned to your liking. To secure the synthetic turf, the specialist will either use nails or landscape staples, which will be invisible and undetectable when you walk across your new lawn. Installing an artificial lawn is quick, easy, and the results can last for over a decade. 
Benefits of Artificial Grass
One of the key reasons why more and more homeowners are turning to synthetic grass is the reduced time and labor costs. But, did you know that installing artificial grass at your home can offer other benefits, especially for children and pets? Parents and pet owners love the material because it is nonabrasive, antimicrobial, and doesn't leave any stains. On top of that, the under-layer that makes up each roll of grass is constructed with rubber, which has a soft, cushioning effect and has been proven to reduce the impact of falls. Artificial turf is a great option for homeowners who are looking to improve the health and safety of their property without sacrificing their lush green lawns. 
Maintaining Your Lawn 
While the low-maintenance quality of artificial turf makes it an appealing landscaping choice, the material still requires some regular upkeep to retain its durability and quality over time. Typically, you will only need to clean your artificial lawn every one to three months, but you should increase the frequency of maintenance if you have children or pets who regularly play on the surface. 
To keep the grass free of dirt, dust, and debris, you can use a leaf blower to blow away fallen leaves and other unsightly elements. Additionally, you should use a stiff brush across high traffic areas to erase the impact of traffic and make your grass blades stand upright again. Finally, consider rinsing down your artificial turf to eliminate any odors from pet waste and rinse out dirt and debris. 
For the modern homeowner, artificial turf is a low-maintenance option that will let you spend more time enjoying your home and yard instead of taking care of it. Visit our friendly team of experts at Synlawn Houston if you're interested in making the switch to synthetic grass.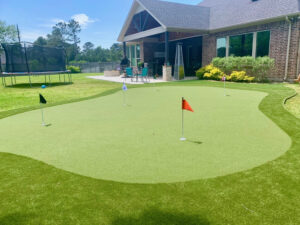 At SYNLawn Houston Artificial Grass, the popularity of our artificial grass is continuously on the rise in Houston, TX. Many residents are excited to make the change from traditional grass due to the many benefits our synthetic alternative has to offer. However, many homeowners and business owners still have questions about artificial turf and whether…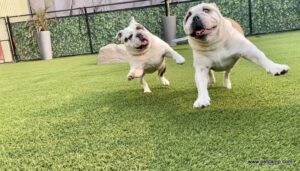 Your pet holds a special place in your heart and because of that, we as owners aim to give them the best that life has to offer so that they can stay happy and healthy. As a result, we designed Houston artificial grass for pets to accommodate them in every way and all of your…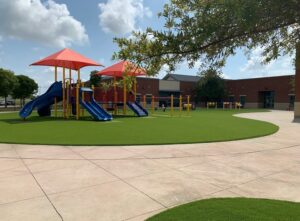 Playgrounds are a wonderful place for our children to exercise, unwind after school and on the weekend, make new friends, and explore their imagination. In an ideal world, we would design all playgrounds with surfaces that have their best interest in mind, but many are made with materials and components that tend to be a…