Playgrounds are places for children to have fun. They are places to which kids can escape, if only for a little while. Playgrounds can come with a variety of surfaces such as rubber, mulch, and pea gravel. However, playgrounds need to be safe, preventing as many injuries as possible. 
One way that safety can be achieved is through the installation of playground turf from SYNLawn, which is proven to have yielded positive results. With this and other safety tips in mind, you can make the playground a safe zone for kids to play on as they experience some much-needed leisure.
Playground Turf
Unsafe surfaces can be a problem when children fall on playgrounds. Such surfaces include dirt, gravel, wood chips, and grass. However, artificial grass from SYNLawn (which is part of the International Playground Equipment Manufacturers Association) would be very safe for children. Complete with soft padding underneath the grass, it meets safety standards thanks to SYNLawn's exclusive Heatblock Technology, which reduces heat buildup by reflecting sunlight. 
Other synthetic turfs would be uncomfortable as they absorb and emit heat, but the Heatblock Technology in SYNLawn's playground turf makes the fibers 20% cooler. As a bonus, the turf is resilient enough to keep looking good even after a lot of rough play.
The results speak for themselves; a school in Blue Springs, Missouri reported a 20% decrease in playground injuries thanks to SYNLawn. This led to the Blue Springs School District installing SYNLawn's playground turf on 33 playgrounds at a dozen schools. SYNLawn even received the John Preston Award for Child Safety. So children would be in good hands with playground turf safety.
Rubber Mats
Another safe surface material to consider would be the rubber mat. These are generally installed over concrete or asphalt, which would be likely to cause more injuries. If a child falls while playing, rubber mats would soften the blow. 
With concrete and asphalt, the skin can be scraped, or perhaps even something worse. Rubber mats would alleviate some of those worries, making the playground an even safer environment. Professional installation might seem expensive depending on the situation, but rubber mats require very little maintenance once they become permanent fixtures on the playground.
Guardrails
If you are still looking for more playground safety tips, another thing to keep in mind is that there should be guardrails or barriers for elevated areas. Particularly, they would be needed for platforms that are at least 30 inches above the ground. Falls are a leading cause of playground injuries. So the inclusion of guardrails or anything of the like would decrease the number of falls. The children would also feel safer knowing that they are protected despite being on a high (from their perspectives) platform. 
When children play, you want them to not feel too worried about whether or not they may get hurt. It is good to keep safety in mind, but they are also there to just have fun.
Safety First
Whether it be via playground turf, rubber mats, or guardrails, you are now equipped with the knowledge of the equipment that would make playgrounds safer. With all of these tips in mind, you are one step closer to making sure that playgrounds are not dangerous places, thus allowing children to have as much fun as they deserve to have. 
As long as you fall in line with safety guidelines, you would see a decrease in falls that could potentially lead to injuries. So go ahead and check out the materials that are available, and see how soon you can get them installed.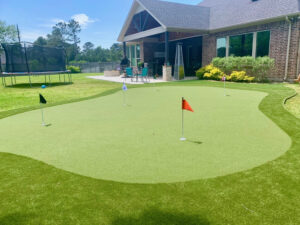 At SYNLawn Houston Artificial Grass, the popularity of our artificial grass is continuously on the rise in Houston, TX. Many residents are excited to make the change from traditional grass due to the many benefits our synthetic alternative has to offer. However, many homeowners and business owners still have questions about artificial turf and whether…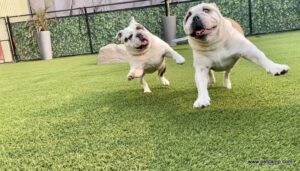 Your pet holds a special place in your heart and because of that, we as owners aim to give them the best that life has to offer so that they can stay happy and healthy. As a result, we designed Houston artificial grass for pets to accommodate them in every way and all of your…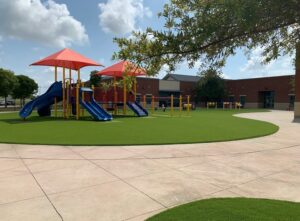 Playgrounds are a wonderful place for our children to exercise, unwind after school and on the weekend, make new friends, and explore their imagination. In an ideal world, we would design all playgrounds with surfaces that have their best interest in mind, but many are made with materials and components that tend to be a…