In and around Cypress, Bellaire, Friendswood, Kingwood, Tomball, Missouri City, Bryan, Pearland, Conroe, Katy, and Houston, SYNLawn® designs and installs synthetic putting golf greens, artificial pet turf runs and faux grass lawn applications for recreational spaces of all shapes and sizes. Many families with pets are turning to synthetic turf lawn products that look and feel just like natural grass, but without the tiresome hassle and upkeep that goes into keeping the area looking clean and pristine all year round.
If you have ever been curious about using fake grass applications to create a soft, lush, aesthetically pleasing dedicated pet turf run, SYNLawn® Houston's premium synthetic backyard dog and cat turf may be exactly what you're looking for! Here are five reasons why we think you'll love our artificial pet turf lawn installations.
1. Reduced Clean-Up
The start of a new year sometimes means a lot more rain, and our synthetic pet turf keeps your life as a homeowner simple and stress-free because it reduces the chance of animals tracking mud and dirt inside your home after a sudden downpour. In fact, rainfall is known to be the best – and cheapest! – turf cleaner available, as it revitalizes and rejuvenates the grass turf fibers and effectively wipes away muddy paw marks made by your furry four-legged friends. We are proud that our pet dog turf lawns are hypoallergenic and remain a much cleaner alternative to natural grass lawns. 
2. Reduced Pests and Irritations
Due to the nature of our artificial dog turf products, fleas and ticks find it extremely difficult to live in fake grass for extended periods of time. In addition, mice, moles and gophers avoid synthetic turf applications like the plague! Our synthetic turf features organic zeolite crystals that eradicate up to 80 percent of pet waste odors. When it comes to pet waste, remember that promptness is key, since it is so much easier to clean a fresh stain than to remove it from artificial pet grass turf once it has dried and hardened. All you have to do to keep your faux pet turf grass looking as good as new is take away solid pet waste and quickly rinse the surrounding area with a hose.
3. Reduced Maintenance
SYNLawn® Houston customers switch to artificial grass systems to save time, money and effort. No more mowing, watering, weeding, seeding, or re-sodding your lawn ever again! Any synthetic grass fibers that get flattened can be reinvigorated with a soft-tipped brush to return the area to its former immaculate glory. Just imagine an eye-catching, low-maintenance pet grass space that looks great without having to lift a finger, especially during the scorching summer months!
4. Increased Durability
Each of our artificial grass lawns is engineered to stop your pets from digging and burrowing holes, which minimizes the possibility of unsightly and uneven areas in your backyard! Designed to withstand heavy foot traffic and boisterous behavior, our Houston artificial pet grass turf installations are extremely versatile and durable. Thanks to the resilient infill layer beneath the top surface, homeowners will avoid a nasty soggy lawn. You also won't have to deal with yellow, patchy or faded spots, either. Furthermore, our turf is designed with superior drainage capabilities of thirty inches per hour to prevent turf discoloration.
5. Our Commercial and Residential Turf is Extremely Cost-Effective
Synthetic pet grass is cost-effective over time because you don't need to water the area, lowering your water usage and reducing your utility bills by up to sixty percent. You also won't need to keep buying gas for your lawnmower or purchasing insecticides, fertilizers, or other chemical products on an ongoing basis. Our artificial grass turf is recyclable and made with lead-free materials.
We understand that every pet owner has different needs, which is why our skilled team of installers will work with you to design the perfect dog turf run. As well as pet turf systems, SYNLawn® Houston designs and installs long-lasting turf applications for a variety of commercial and residential spaces, including synthetic landscaping turf for homes and businesses, artificial playground lawn turf for municipal parks, and championship-quality golf greens and putting practice greens. Please contact us online or call 888.507.TURF today for a FREE design consultation.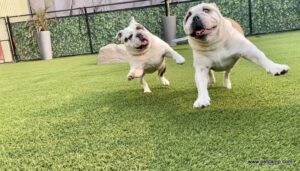 Your pet holds a special place in your heart and because of that, we as owners aim to give them the best that life has to offer so that they can stay happy and healthy. As a result, we designed Houston artificial grass for pets to accommodate them in every way and all of your…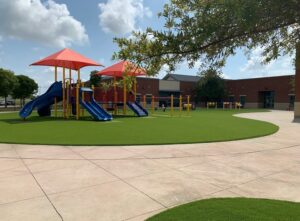 Playgrounds are a wonderful place for our children to exercise, unwind after school and on the weekend, make new friends, and explore their imagination. In an ideal world, we would design all playgrounds with surfaces that have their best interest in mind, but many are made with materials and components that tend to be a…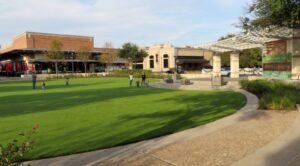 Here at SYNLawn Houston, we pride ourselves on providing the most luxurious artificial grass products for all of Houston, Texas's commercial landscaping needs. We have created an impressive reputation as the leading manufacturers and installers of synthetic grass for residential and commercial customers throughout Texas. Our Faux Grass Is Perfect for Your Commercial Needs We…