Make your home stand out with artificial grass installation
Thanks to numerous technological advances in the artificial turf industry over the years, the old-fashioned faux grass of yesteryear has evolved into state-of-the-art synthetic grass installations that are durable and versatile enough to be used in countless residential and commercial projects. At SYNLawn® Houston, our experienced team designs many different turf projects for businesses and homes, such as golf putting greens, residential lawns, backyard pet turf runs, city and school playgrounds, sports fields, artificial grass applications for casino hotel foyers, courtyards and much more.
No matter the shape or size of the backyard, it has become increasingly popular to replace a property's existing landscaping with synthetic turf. Artificial lawns effortlessly complement and enhance the style of a home as well as its accompanying outdoor landscaping space, giving owners a perfectly pristine finish to the home of their dreams. Furthermore, our aesthetically pleasing Houston artificial lawn turf installations do not need to be mowed, seeded or watered on a regular basis, which means that you save time, money and effort not having to do any tiresome maintenance work!
In recent years, one of the most popular uses for our artificial turf is rooftops, patios and decks for homes and luxury apartment complexes. SYNLawn® Houston's synthetic lawns are ideal for homeowners and business owners who want to become more environmentally conscious. The soft and supple synthetic grass fibers boast the look and feel of a natural lawn, while the Integrated HeatBlock™ Technology helps to decrease thermal emissivity, thereby helping to reduce surface temperatures. Our turf is perfect for both kids and family pets to enjoy!
Regardless of whether you want an artificial turf installation for your newly renovated home's backyard, rooftop or patio, our long-lasting synthetic grass gives you an immaculate-looking lawn all year round. Why not call us today to learn more about the artificial grass installations in which we specialize? In and around cities such as Cypress, Memorial, Sugarland, Katy, The Woodlands, and Houston, we have built ourselves a reputation creating stunning artificial lawns for residential and commercial locations that are simply second to none!
Builders, designers and architects throughout Texas are turning to synthetic lawn applications to maximize their client's budget. Our installations are fully customized, which means that you call the shots and get the look and design you desire. If you would like more information about our AstroTurf applications, designs and installations, please call SYNLawn® Houston at 832-494-8333 for a FREE artificial lawn design consultation.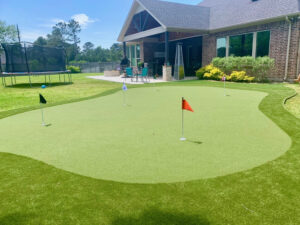 At SYNLawn Houston Artificial Grass, the popularity of our artificial grass is continuously on the rise in Houston, TX. Many residents are excited to make the change from traditional grass due to the many benefits our synthetic alternative has to offer. However, many homeowners and business owners still have questions about artificial turf and whether…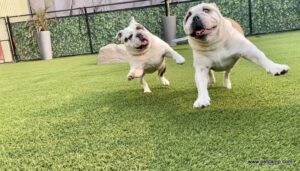 Your pet holds a special place in your heart and because of that, we as owners aim to give them the best that life has to offer so that they can stay happy and healthy. As a result, we designed Houston artificial grass for pets to accommodate them in every way and all of your…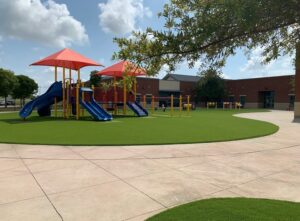 Playgrounds are a wonderful place for our children to exercise, unwind after school and on the weekend, make new friends, and explore their imagination. In an ideal world, we would design all playgrounds with surfaces that have their best interest in mind, but many are made with materials and components that tend to be a…