How to Keep Your Artificial Playground Turf Clean
Keeping kids safe has always been important, but it's even more important as we begin returning to a new normal after a global pandemic shut schools and kept kids at home.
We want our kids to be safe and healthy, but also have the freedom to run and play on playgrounds at school or in city parks. Many parks and playgrounds already feature artificial playground turf and surfacing, which can help keep kids safe while also being easy to keep clean.
Here is how you can keep your playgrounds and artificial playground turf clean and safe for everyone.

Cleaning Artificial Playground Turf
Whether you are trying to keep a backyard playground or a city playground clean, many of the steps are similar. No matter where your children are playing, you want to know it's clean and safe, especially when others may also be joining them in their playtime.
Artificial turf is easy to keep clean. Here are the simple steps involved in the artificial turf care process:
When the turf is dirty or dingy or has visible stains (as might happen as kids run and play on and around the area), rinsing and cleaning is simple. Just use a hose to remove dirt and debris from the surface.
If water alone doesn't do the trick, use a household cleaner or artificial lawn cleaner and a soft scrub brush to clean and sanitize the surface of the turf.
Another option for keeping kids safe on playgrounds is a specially designed infill found in SYNLawn Playground Systems. This antimicrobial infill protects kids from harmful germs and eliminates odors. It works in the long-term to prevent the buildup of microbes on the turf.
Artificial Turf Options for Playgrounds
There are three key components that SYNLawn Playground Systems have that sets it apart from other turf and make it ideal for playgrounds in a backyard, at school, or in a city park. These components make it a safe surface that can limit an injury or a fall and even keep germs at bay.
Fall Pad® Underlayment System
SYNLawn Artificial Grass with EnviroLoc ® and HeatBlock ® Technologies
Envirofill® Antimicrobial Infill
If you're looking for the right turf for a playground for children and their friends to play and grow on, an expert can walk you through the requirements you have and the best turf for your needs. These are some of the key things the expert will ask you to consider:
The height of the playground equipment
The areas of high use
HIC (Head Injury Criteria) requirements
Preference for grass products
Foam padding protection
Keep everyone safe with the antimicrobial properties and proper cleaning procedures to ensure happy kids on the artificial playground turf. SYNLawn Houston can answer your questions about artificial turf cost, safety, cleaning, and installation by calling (866) 796-5296 or filling out this contact form.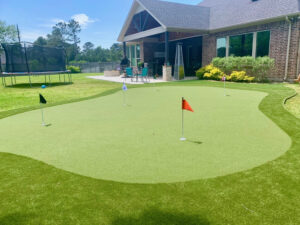 At SYNLawn Houston Artificial Grass, the popularity of our artificial grass is continuously on the rise in Houston, TX. Many residents are excited to make the change from traditional grass due to the many benefits our synthetic alternative has to offer. However, many homeowners and business owners still have questions about artificial turf and whether…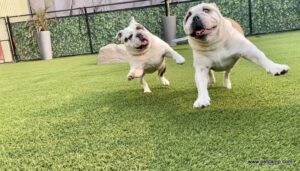 Your pet holds a special place in your heart and because of that, we as owners aim to give them the best that life has to offer so that they can stay happy and healthy. As a result, we designed Houston artificial grass for pets to accommodate them in every way and all of your…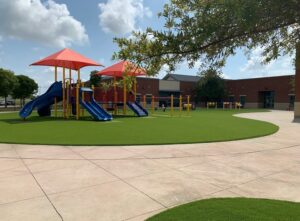 Playgrounds are a wonderful place for our children to exercise, unwind after school and on the weekend, make new friends, and explore their imagination. In an ideal world, we would design all playgrounds with surfaces that have their best interest in mind, but many are made with materials and components that tend to be a…