As you continue to spend more time at home and make upgrades to your home to make it into an oasis you truly enjoy spending your time, you may be looking for your next big renovation project. For some, these renovations are purely for personal enjoyment. For others, they are for future benefits, like an increase in home value.
No matter your goals with home improvement projects, there are an unlimited number of changes you can make. One such thing that many homeowners are turning to is artificial turf. From backyard play areas for kids or pets, to front lawns, to artificial turf putting greens, there are many ways you can use turf in your yard. Here is what homeowners should know about custom putting greens for the backyard.
Tips for Building a Custom Putting Green at Home

Tip #1 – Buy the Right Kind of Turf
There are many types of artificial turf, so you'll need to determine the best type for your needs. If the area's primary use is a putting green, then a golf or putting green turf is best. If you are planning to use the space in a hybrid way, an artificial turf expert can discuss options with you to ensure you get just the right turf for your needs. You will want to buy enough turf for the entire space you plan to use, as well as supplies like nails, glue, and edging.
Tip #2 – Prepare the Space
As you clear the area for your custom putting green, remove any debris, rocks, or grass. You will need to level the ground, so you can lay the turf effectively. You should add base to ensure the area is level before you grade the area so it can drain properly during rain or cleaning sessions.
Tip #3 – Install Your Putting Green Correctly
After you've prepped the area, begin cutting the turf down to size and shape. If you are using more than one piece of turf to cover the space, be sure the blades go in the same direction. This is important so when you are putting, the ball rolls smoothly.
After you have the turf where it should go, glue the seams to secure it and allow the glue to set for about 20 minutes. Then secure the perimeter using turf nails, with one nail every 6 inches or around the perimeter of the putting green.
Tip #4 – Keep Your Putting Green in Good Condition
One of the benefits of a synthetic lawn is that it has lower maintenance needs. When there's a storm or something spills on the turf, you'll need to clean it up so that there is no damage or stain on the turf. You don't need much to do this: a broom can remove debris and a simple hose (with standard household cleanser) can help with most spills and stains.
Custom Putting Green Ideas
There's more than one way your custom putting green can look. You can design it to fit just about any size or shape space, and be used for more than one purpose, if that's what you want. There are some unexpected uses for synthetic grass, so when looking at custom putting greens for your home, consider some of the following options for your backyard.
Indoors or Outdoors: One thing you may not have considered is that your putting green can be indoors, as well as outdoors. A putting green can be put in the garage, shed or other out-buildings, or even in a home office. There are so many spaces in your home that can be used to improve your golf game, so take a good look around to see what might be the best fit.
Multi-use Area: Your home putting green doesn't have to be just for putting practice. You can create a space for pets to run and play or kids to enjoy as well. The area can be a multi-use area, and can even give your family a place to play together. A fun idea many have implemented with backyard putting greens is elements that can convert the area into a mini golf course for family nights, with planks, windmills or other features. You can also create custom flags or other elements to make it your own.
Small Spaces: If you don't have extra indoor space, and you have a small backyard or most of the yard is being used by other things, you can still reap the benefits of a putting green. Even with a small space, like a side yard or patio, you can create a putting green to get your at-home practice time in.
If you need to talk through ideas or get expert opinions on your putting green installations, the SYNLawn Houston team is ready to help. We've helped homeowners all over the Houston area install turf for lawns, dog runs, and custom putting greens in backyards. Call (866) 796-5296 or fill out this contact form for help.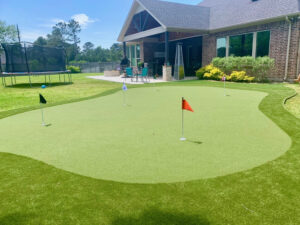 At SYNLawn Houston Artificial Grass, the popularity of our artificial grass is continuously on the rise in Houston, TX. Many residents are excited to make the change from traditional grass due to the many benefits our synthetic alternative has to offer. However, many homeowners and business owners still have questions about artificial turf and whether…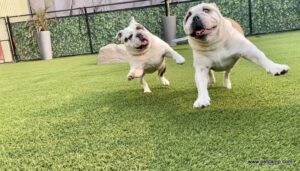 Your pet holds a special place in your heart and because of that, we as owners aim to give them the best that life has to offer so that they can stay happy and healthy. As a result, we designed Houston artificial grass for pets to accommodate them in every way and all of your…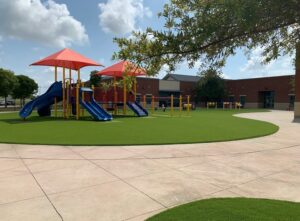 Playgrounds are a wonderful place for our children to exercise, unwind after school and on the weekend, make new friends, and explore their imagination. In an ideal world, we would design all playgrounds with surfaces that have their best interest in mind, but many are made with materials and components that tend to be a…