One of the greatest joys of parenthood is watching children run and play with the carefree freedom only they know. 
A well-designed backyard playground offers this space for parent and child enjoyment, as well as for friends and their parents to join in. 
Still, with so many different types and styles of backyard playgrounds, figuring out what will be ideal for your home and family can be overwhelming. These tips orient you to your options. 
Backyard Playground Ideas
If you're looking to create a unique backyard playground, here are tips to help you start brainstorming what it can look like.
Select a Theme
You can scour the internet for different theme ideas. Pirate ships, yard games, whimsical fantasy, rustic nature are just a few you will find as you start researching options for your playground. There are many DIY backyard playground ideas on home publications and Pinterest. Your ideal vision may require some mix-and-match of different playground elements, but with some creativity, you can even create an outdoor wonderland complete with its own treehouse!
Design So the Playground Grows with Them
If your kids are young, you may want to consider a play set that can "grow" with them. One option is to have just a few key permanent pieces (like a swing set), with some others that can be swapped out as the kids get bigger and older. Another option is to select different parts of the yard to accommodate different ages and stages. This arrangement allows all siblings to participate in parallel play. Kids can move through the yard as they grow as well.
Include Their Interests
If you have the next big soccer star or a little gymnast on your hands, consider ways you can include their interests in your backyard playground. You may be able to set up a small soccer field with artificial turf, or a trampoline. Whatever your kids' hobbies are, the backyard can be a great place for them to practice.
Plan for the Materials You'll Need
Manufacturers build playground equipment with many different materials. You can have plastic, wood, or metal materials for the playground itself. As far as the surrounding area, some families find dirt, turf, or wood chips work best, but for others, turf for playgrounds can create the safest space.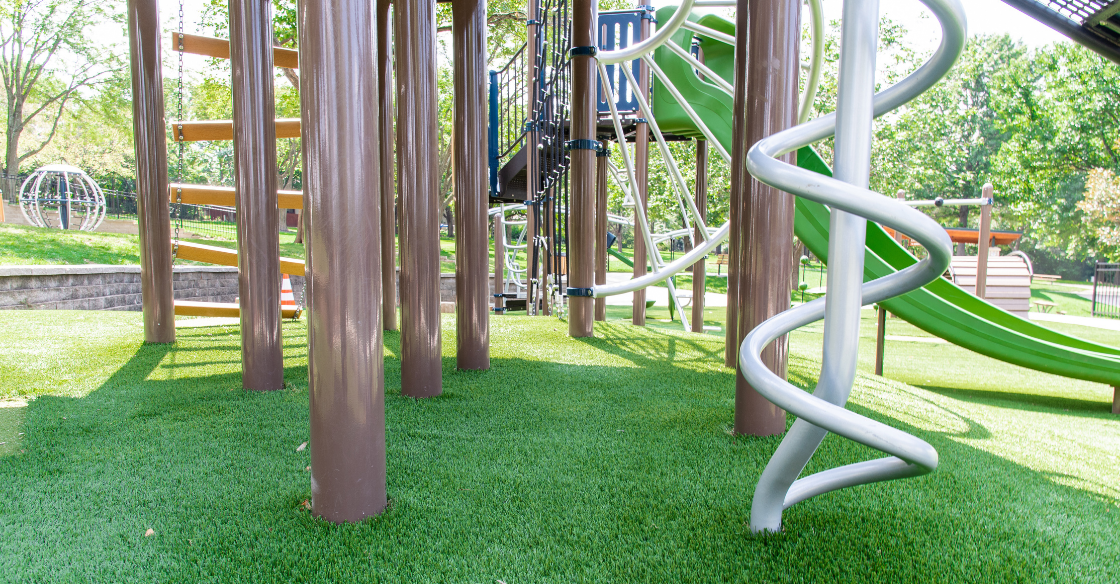 Safety for Backyard Playgrounds
It's incredibly important to have a safe, clean space for your little ones to play when they come home from school or activities. Playground turf for backyards provides the soft space for them to land as they jump from the swings or dive for a frisbee. With safe playground turf and materials, kids can get wild and parents can stay relaxed. 
When it comes to playground safety with artificial turf, some of the key things to know include:
Artificial turf is safe.

Even if your kids end up face-planting during a backyard ball game, they won't have any more damage than they would from natural grass. 

Artificial turf won't pull up.

If installed correctly, the seams should be invisible and your kid won't twist their ankle running across the grass.

Artificial turf can be padded

. If your kid does fall (because let's face it, kids fall all the time), the padding under turf can help protect them from injury. 

Artificial turf can be cleaned.

If kids spill or have an accident, turf can be easily cleaned up with water and a household cleaner as needed.

SYNPour can keep playgrounds safe

. As a poured-in-place system for playground surfacing,

SYNPour Surfacing for playgrounds

adds safety and stability to playgrounds, including those in a backyard.
If you have ideas on how you want to create a backyard playground, SYNLawn Houston can help you identify the right turf or surfacing for your yard. We've helped homeowners create fun, functional spaces for the entire family. Call 832-494-8333 or fill out this form to get started.