If you've ever had a natural lawn, you know the downsides: high water bills, dangerous chemicals and pesticides, constant upkeep, and the dread that the grass may die anyway. 
As a business owner, your landscape choices have even more dire options. 
Rest assured that the moment your artificial turf installation is complete, you will save a small fortune in water, fertilizer, pesticide, and maintenance costs. Perhaps the most significant benefit, however, is the simple fact that artificial turf is beautiful. Artificial turf maintains its lush and gloriously green look year-round, despite the heat, storms, and rain.  
The last 10 years have seen added variety in artificial turf color and texture options. Today's turf looks more natural and is more durable than ever. The technology in the construction and materials has business owners raving about their landscape improvements.  
Artificial Turf for Small Businesses
Business properties have a handful of options ideal for a professional landscape. When considering small businesses, cost efficiency coupled with eco-friendliness is a huge plus. For example, SYNLawn offers commercial artificial turf in Houston and has an entirely sustainable BioBased collection that is beautiful and made entirely of recycled plant-based materials. Their SYNAugustine 547 turf is a light-weight option that leaves virtually no carbon footprint, making it ideal for both large and small landscaping areas.
Artificial Turf for Large Businesses
With larger businesses comes larger groups of people coming and going from your office space. Landscaping takes more of a beating due to heavy foot traffic. At two inches tall, SynFescue 243 looks great while maintaining durability. Being exceedingly flexible and resistant, this product is recommended as a synthetic turf that can handle constant use. Its heat-blocking technology ensures customers remain comfortable while walking over it. 
At the top of the line, the SYNLawn X-series collection is a heavyweight option that boasts a natural radiance that could compete with any natural sod. Its 120-oz face fiber makes it SYNLawn 's most lush. They also offer a SYNAugustine collection that holds multi-dimensional blades of synthetic grass that differ in shape and color, giving it an all-natural look that could fool the most trained eye. 
With so many options available to choose from, you can craft the look of your business' landscaping to fit whatever ideas you have.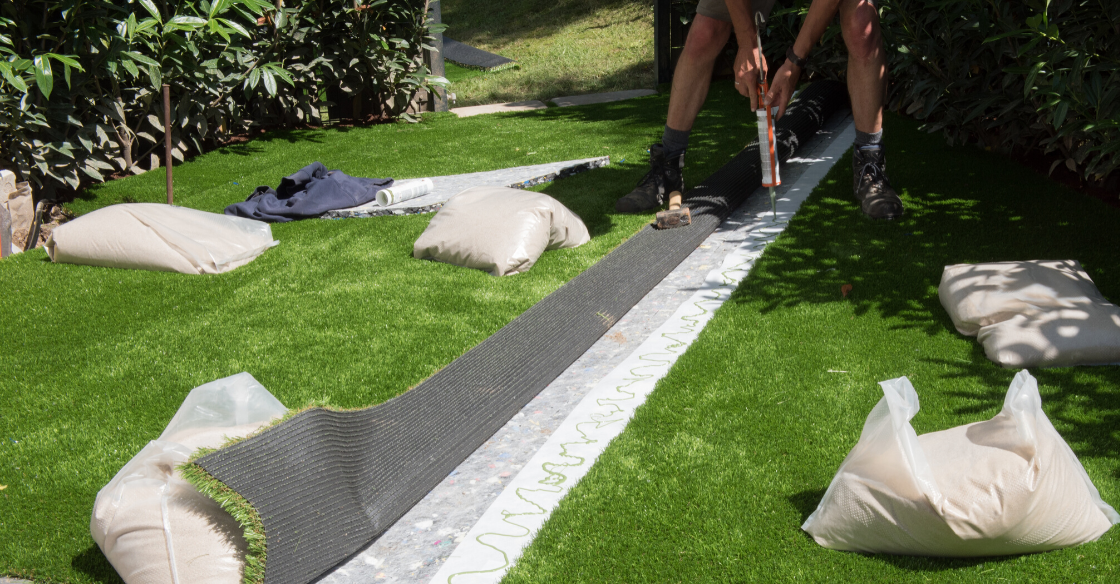 Benefits of Artificial Turf for Businesses
Positive Brand Awareness
As a business owner, you're well aware that your brand or image fuels sales. You've worked to make sure your business reputation intrigues potential clients rather than repels them. Having that working relationship dampened due to poor landscaping in front of your business property is simply not an option. 
Maintenance Cost Savings
Hiring a proper landscaping company can cost your company thousands every year, especially if you want your grass and garden continually maintained weekly. You'll be fronting the bill for working hours, dangerous chemicals, pesticides, and fertilizers that are used, and that's all before you even look at your monthly watering bill. 
The fact is, even all the high-priced landscaping work in the world can't offer you a green-all-year guarantee. Natural grass depends on the weather. The artificial lawn will be beautiful despite Houston's temperamental heat.  
Longevity and Durability
Heavy foot traffic is often considered natural grass enemy number one. Luckily, synthetic turf can handle the constant treading with ease, maintaining its shape despite pedestrians who stray from the sidewalk. Synthetic greens are specifically designed to preserve their quality despite turbulent weather or circumstance. However, should a tear occur within your artificial lawn, you or a synthetic lawn professional can repair it easily, within minutes. These repairs are virtually undetectable. 
Rest assured, too, that with proper maintenance, artificial turf can last 15 to 25 years. Think of how much grass seed that saves! 
Proven Sustainability
Maintaining natural grass is not only time-consuming and expensive, but also uses resources that we should be preserving. Synthetic lawns are made of recycled and sustainable products that require no watering, no fertilizers, and no pesticides. These harmful chemicals can have long term, dangerous effects on the environment. Artificial turf also means saying goodbye to gas-engine lawn equipment, which emits harmful emissions. 
Year-Round Beauty
There are many reasons to consider investing in an artificial lawn, but perhaps the top of that list is the bright, healthy look it gives to any property. The grass comes with a guaranteed thick lushness, coupled with a deep, vibrant green hue that will make your lawn the envy of the neighborhood. The professional and well-maintained appearance of synthetic grass can enhance the property values of your business. It's no wonder countless businesses, sporting centers, golf courses, and residential areas have all turned their attention and investments towards synthetic grass. High-quality artificial turf feels soft and thick to the touch and will appear flawless no matter the time of year. 
To learn more about the benefits of having a synthetic lawn for your business in Houston, contact the experts at SYNLawn at (866)-796-5296. Our professionals will be more than happy to answer any questions that you may have.